Bed Bath & Beyond sees 40% increase in online sales
2015.01.30
---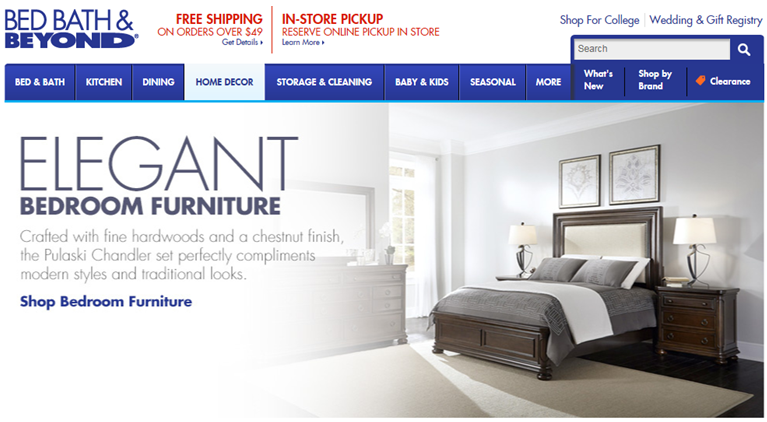 Bed Bath & Beyond recently posted its fiscal Q3 2014 earnings, reporting a 2.7% increase in revenues, which amounted to more than $2.94 billion. Though these numbers fell below many analysts' projections of $2.97 billion in revenues, and same-store sale growth remained relatively stagnant, the home furnishings retailer wowed with its report of growing ecommerce sales.
According to the January 2015 earnings call, the retailer has expanded its online selection by close to 40%, which boosted the number of its offerings to 200,000 SKUs. The expansion in products on its ecommerce site includes goods that go well beyond home furnishings, such as audio and electronics, pet care, and lawn and garden care, among other things, CEO Steven Temares said on the call.
And consumers have responded accordingly. During the earnings call, Temares said that online and mobile sales increased around 40%, compared with almost flat same-store sales at its brick-and-mortar stores.
In the home furnishings and even the home improvement space, this story of online success—and figuring out how to align the business to meet digital consumers' demand—is not a new one: The Home Depot reported bullish ecommerce numbers earlier in 2014, especially after its acquisition of Blinds.com. In the trailing 12 months (TTM), the company has increased its ecommerce revenues nearly 40%, according to eMarketer, and Lowe's has grown its ecommerce revenues almost 36%. And according to eMarketer calculations, The Home Depot's TTM ecommerce sales are above $3.52 billion, representing 4.3% of revenues.
What it comes down to is that consumers want to find the best prices possible—fulfilled in the most convenient possible ways. This means shopping online and making use of discount coupons when possible, especially if they've just shelled out money on a new pad they need to furnish. For many consumers, comparing prices online and shipping an item directly to their doorsteps is a luxury they feel the internet affords that brick-and-mortar stores do not.
On the whole, eMarketer expects US retail ecommerce sales to increase 14.2% in 2015 to reach $349.1 billion.
Source: Emarketer
The 48th Jinhan Fair
Jinhan Fair Online Exhibition