Golden Globes: 6 Design Ideas From 'The Grand Budapest Hotel'
2015.01.14
---
This Sunday, how many Golden Globe Awards go to Wes Anderson's latest film, The Grand Budapest Hotel. The world he created for the movie may be his most enchanting yet, earning nominations in the Musical or Comedy category for Best Director, Best Screenplay, Best Motion Picture and Best Performance by an Actor. The film stuck in my brain long after I watched it. I found my eye going to photos of interior designs on Houzz that reminded me of the movie's enchanting style.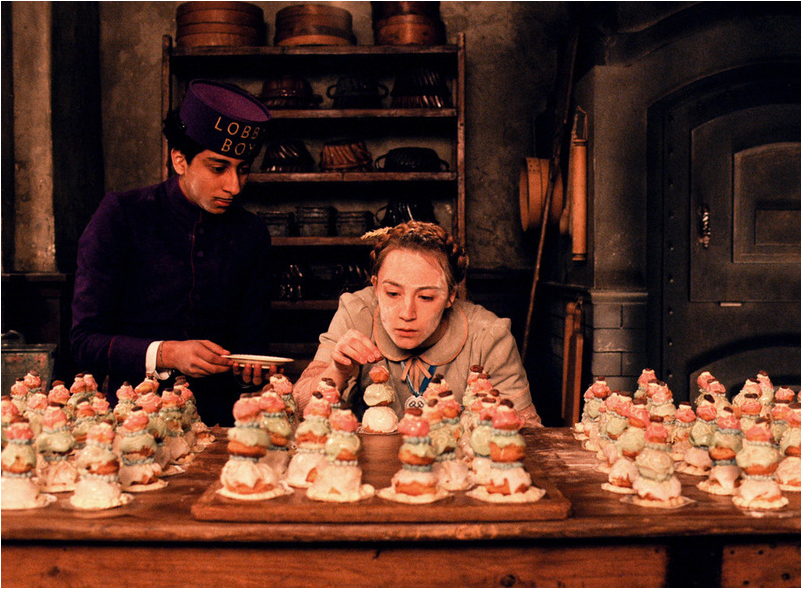 Lobby boy Zero Moustafa (Tony Revolori) and his fiancée, Agatha of Mendl's bakery (Saoirse Ronan), pictured above in a still from the movie, cook up a plan to rescue hotel concierge Gustave H. (Ralph Fiennes) via tools concealed inside towering pink pastries.
The Grand Budapest Hotel (left) is a marvelous pink confection of a building, its layers of pastel colors looking a bit like a giant version of Agatha's cakes.
6 Style Lessons from the Film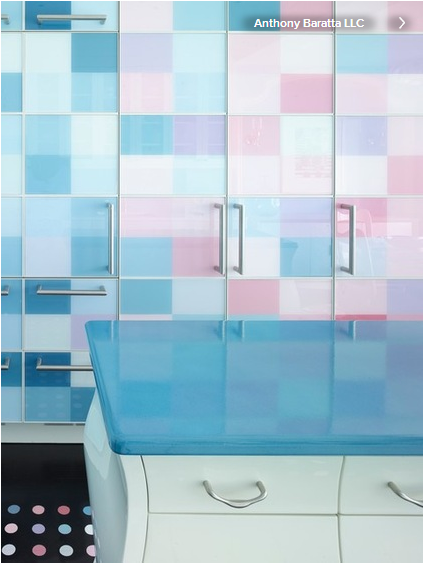 1. Pink and blue aren't just for baby showers. The colors of the movie's pastry boxes (with Revolori and Ronan, above) can delight in today's interiors as well.
This only thing this pastel-blocked kitchen (left) is missing is a Mendl's bakery box on the island.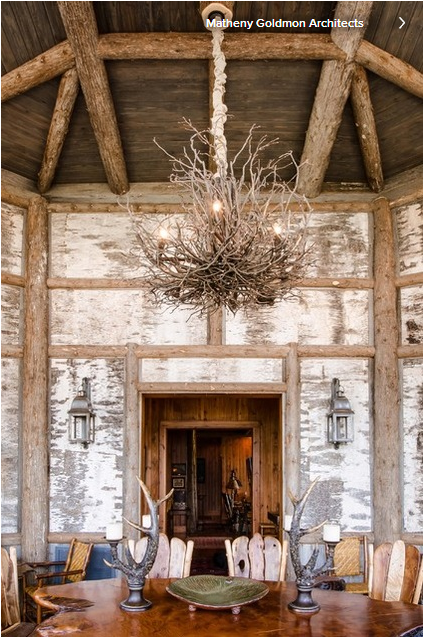 2. Birch makes a fine rustic backdrop. In the movie a rather intimidating hunting room in the Dowager Countess's mansion (seen above, with Adrien Brody as Dmitri, and Revolori) is softened by strips of a woodsy wall covering.
And in this Alabama lake house (left), birch bark paneling and a twig chandelier accentuate the room's rustic style in a very Anderson-esque way.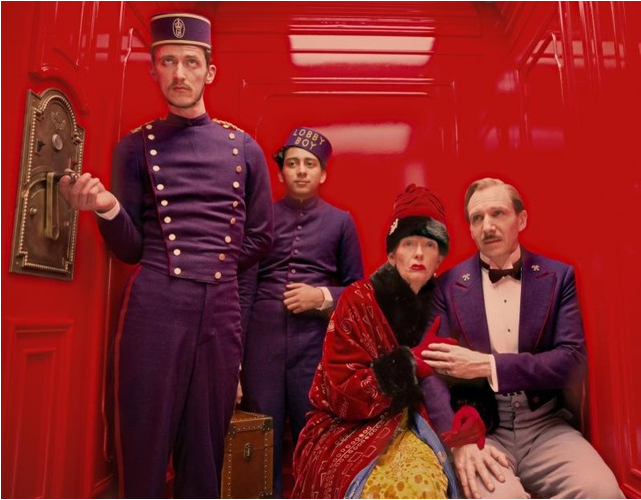 3.Pairing red and purple will always dazzle. Grand Budapest employees — Igor (Paul Schlase), Zero and Gustave, with Madame D. (Tilda Swinton) — wear snazzy bold purple uniforms with key pins on the lapels.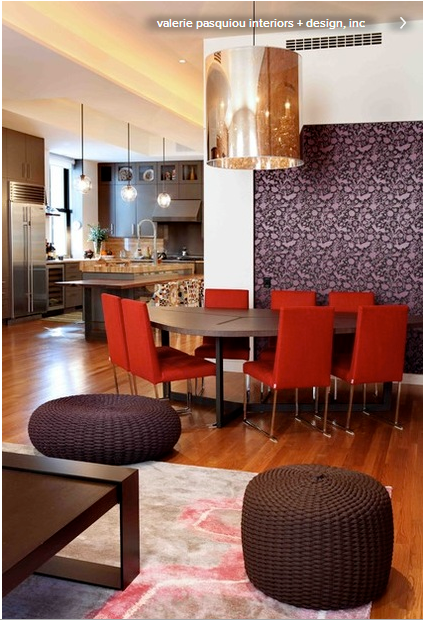 In this New York condo (left), the bold combination delineates the dining room within an open plan.
A popular duo during the era when Jane Fonda's workout videos launched, purple and red make a brilliant combination, best accented with metallics.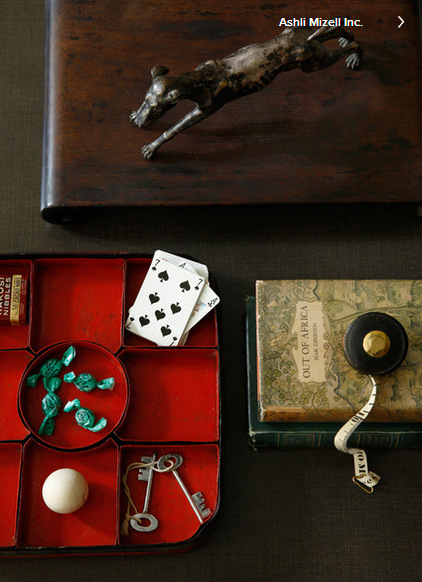 4. Keys are a great accessory. Keys — hung at the author's grave in the first scene, in Agatha's special pendant, in the safe Gustave is hiding (above) and with the Society of the Crossed Keys — are a recurring motif throughout the film.
Today, whether hanging on a nail, framed in a shadow box or part of a tablescape (left), vintage keys are charming additions around the house.
5. Spartan practicality can go bohemian. A wrought iron bed, practical blankets and burlap curtains hung with rope compose Agatha's living quarters (above); the style makes her an unwitting bohemian. It's apt, as the fictional Republic of Zubrowka, where the Grand Budapest is located, could very well have been located in Bohemia, or at the very least, could have been Bohemia-adjacent.
The whimsical flowers, soft colors, wood details and classic bedding in this Spanish bedroom (left) create a "splurge" version of Agatha's living quarters.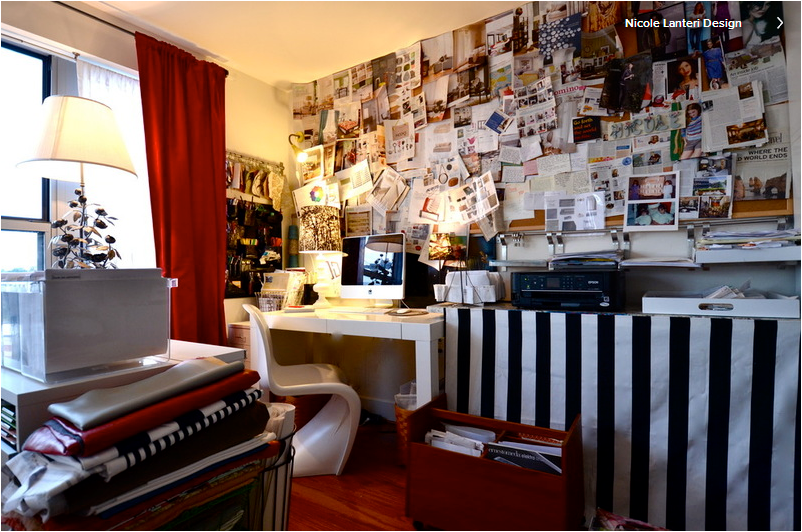 6. A good bulletin board will always help you stay organized and solve challenges. Whether you're solving a murder, keeping a family organized, staying on point with a diet or compiling inspiration for a color palette, a bulletin board corrals it all in one place where you can study it. Did you know that details are so important to Anderson that he even writes full articles to go in all of the fake newspapers seen in the movie? There is probably a story behind every piece hung on the wall of Inspector Henckels (Edward Norton, seen above).
Souce: houzz.com
The 47th Jinhan Fair
Jinhan Fair Online Exhibition