3 DIY HEADBOARDS THAT TOTALLY TRANSFORM A BEDROOM
2015.01.09
---
A unique and luxurious-looking headboard can instantly make over a space. Our home team shares three suprisingly easy ways to craft your own (in as little as one hour!) plus ideas for extra touches to completely update your bedroom.
GLOBAL BAZAAR
Eclectic prints and lots of texture mix with treasured finds for a well-traveled vibe.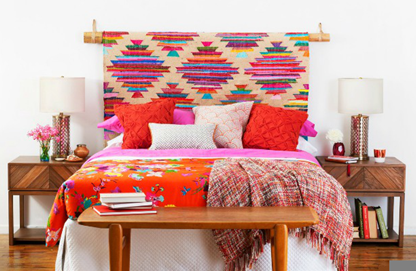 HEADBOARD HOW-TO:
1. Find a sturdy dowel, curtain rod, or (as seen here) bamboo pole over which to drape your rug.
2. Hold pole up against wall horizontally; measure the desired height and length for "headboard." Two inches in from each end of pole, drill two screws into wall, leaving a half inch of screw exposed.
3. Wrap rope or twine around pole four or five times. Then wrap three more times, leaving three inches of slack for hanging onto screws. Drape rug over top.
ACCENT IDEAS:
1. Try organic details.
Calm a bright and colorful palette with rustic woods for the tables, bench, and decorative vases.
2. The more pattern, the merrier!
When it comes to prints, think variety. Just remember to anchor them in the same two or three colors, then let your imagination be your guide.
3. Throw in one modern element.
Keep the room interesting by choosing lamps that stand apart from the rest of look.
Source: Elle Deco
The 47th Jinhan Fair
Jinhan Fair Online Exhibition