6 Smart Ways to Work Your Square Footage
2015.01.08
---
The Hardworking Home: From Juliet balconies to movable walls, here's how to make a home of any size feel more open, flexible and fun.
New homes are getting bigger. The size of the average American home built in 2013 was 2,600 square feet, which is bigger than ever, according to the U.S. Census Bureau. While it can be nice to have such a spacious dwelling, many of us live in much older homes, built early in the previous century, with smaller floor plans that reflect the routines of a different era. Many people are continuing to flock to urban environments, too, where living spaces are generally smaller. So how do you make a smaller home feel bigger? If you have limited space, consider these design solutions to improve the livability of your home.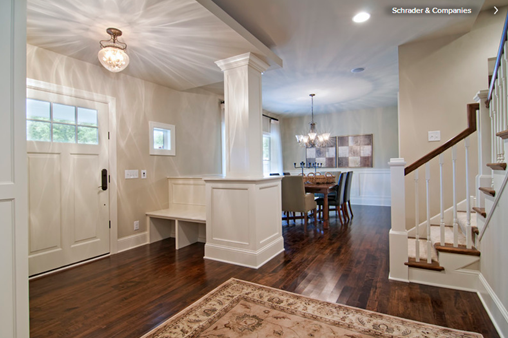 1.Fake a foyer. Does your front door open right into the living room? Tired of seeing the explosion of coats, shoes and backpacks from your spot on the couch? You can still create the feel of a foyer by introducing some space-defining elements. The partial-height wall, oversize post and bench pictured here keep the entryway from spilling into the dining area beyond. The lowered ceiling and decorative light further define the space within the larger room.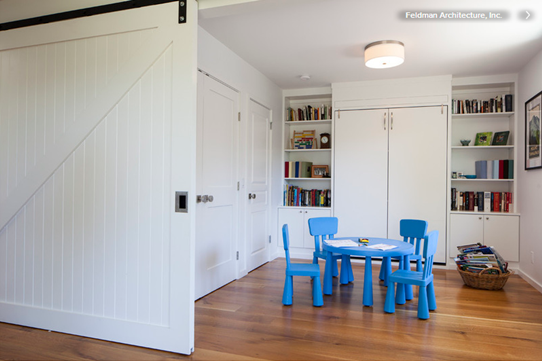 2.Create movable walls. Full-height sliding doors can be a great way to create separate, flexible spaces for sleeping and living. This strategy can be particularly useful for small alcoves off larger rooms. In this house an open playroom for the kids can be quickly converted to a guest bedroom, thanks to a sliding barn-style door and a pull-down bed.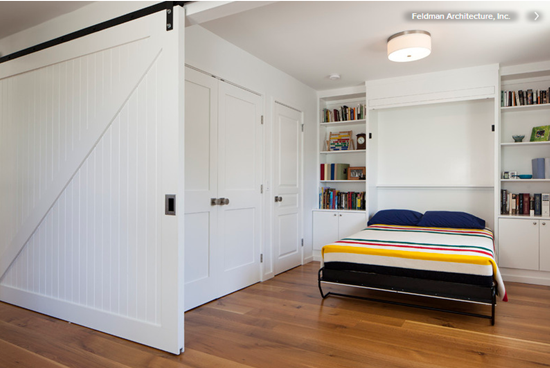 Large sliding doors can be very easy to move, but they can also be very heavy! The doors typically hang from a track that needs to be securely attached to a wall or ceiling. You'll need to provide a concealed guide at the floor to prevent the door from swinging out at the base.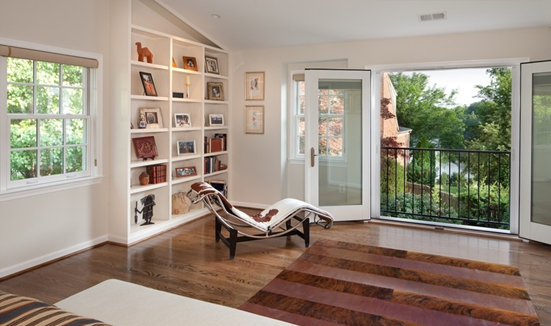 3. Consider a Juliet balcony. In urban environments few things are valued more than outdoor space — no matter how small it is. However, proximity o the property line or a budget limitation might restrict your ability to build an outdoor balcony or deck. A large sliding door or in-swing patio door with a small railing on the face of the building can create a micro outdoor space, providing a breath of fresh air and a connection to the outdoors.
This can be particularly effective on an upper story, where the addition of an actual deck may be a complicated and expensive structural endeavor. The railing for a Juliet balcony needs to be attached to the wall to meet building code requirements and let you safely enjoy the view from up close. And as with any new door or window opening, you will want to consider proper weather sealing to keep the outdoors where it belongs.
4. Just one bathroom? Add another door. Only one bathroom is a common challenge in older houses. Can you still have a master bathroom if it's the only bathroom in the house? Or maybe the bathroom can be reached only through your bedroom.
In this project adding a door between the bedroom and the reconfigured bathroom created the functionality of a master suite while allowing access from the hall.
When laying out multiple doors in a small bathroom, their locations need to be planned carefully so the doors don't bang into each other. Pocket doors may be useful if space is tight. Before making new openings in existing walls, consult a building professional to help you evaluate whether the wall is load bearing and if structural improvements will be needed.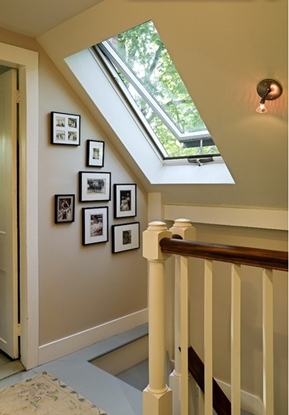 5. Use skylights to improve headroom. A stairway with limited headroom can be very uncomfortable to use and might discourage you from making the most of the rooms on an upper level. Sometimes this low clearance is an issue only for a small area at the top landing. Raising the roofline or adding a dormer can be very expensive solutions for such a small area.
But a well-placed skylight can be used to raise the ceiling height where it's needed most. It also brightens the room and provides the opportunity for ventilation. An architect or engineer can help you evaluate how to add an opening in the roof structure. You will want to consult your local building code for the minimum headroom required at the stair as well.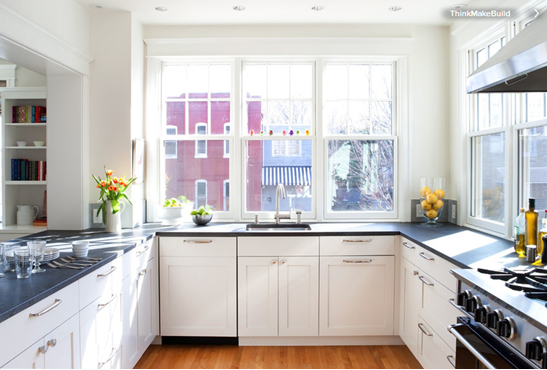 6.Go easy on the uppers. Wall-hung cabinets above the counter are one of the most common features in kitchen design. But having too many upper cabinets in a small kitchen can make the space feel confined. Consider replacing those blank boxes with something more unexpected, such as open shelving or a bank of windows.
This change can transform a dark kitchen into your favorite room in the house.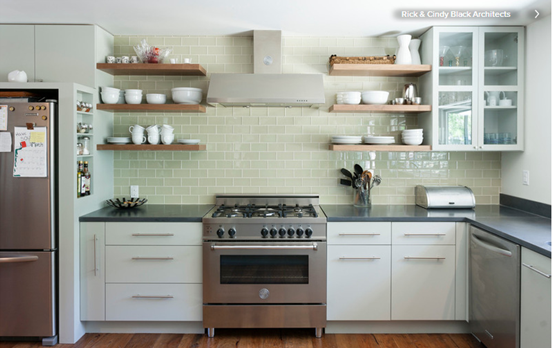 Eliminating upper cabinets doesn't have to mean cutting back on storage, however. Open shelving can be used to conveniently store those items that are used most, while also giving the room more visual depth. In this example the tile backsplash continues behind the shelves, up to the ceiling. This simple move provides a dramatic focal point and makes the room feel taller too.
Source: houzz.com
The 49th Jinhan Fair
Jinhan Fair Online Exhibition