Home Office Chandeliers – Designer Fixtures For Your Workspace
2014.12.26
---
Lighting is rarely a top priority when designing a home office. After all, there's a long list of expenses and considerations that have to come first, from furniture to electronics to simple connectivity. But good lighting is one of the few ways that you can make a home office feel more like home than the office. Instead of flat, generic overhead lights (like recessed lighting or, worse, the fluorescent tubes typically found in office buildings), consider a fixture with a little personality. A chandelier – whether traditional or modern – can add a polished, elegant look and feel to a home office, and can really help you feel at home while you're working.
A traditional chandelier is the perfect finishing touch for a formal, Victorian style home office
(by Hendel Homes)
Chandeliers are typically associated with a very traditional style, so it's no surprise that classic chandeliers show up most often in home offices with very traditional features: a big, dark-stained wood desk, wood paneled walls, button-tufted leather chairs, oriental rugs, and old-world style library walls. An ornate antique chandelier is the perfect finishing touch for this sort of Victorian-inspired home office. To match the masculine feel of the space, skip on crystal chandeliers in favor of ones with a simple metal construction; it will stand up better to all that dark wood and lush fabric.
Petite chandeliers or chandelettes are great for dressing up a more casual home office
(by Yunker Associates Architecture, photo by Karen Melvin)
Of course, a chandelier can be a good choice even if your home office isn't a picture-perfect Victorian parlor. A petite crystal chandelier can be great for adding a sophisticated touch to a more casual space. The office above has a clean, farmhouse style look, with white paneled cabinetry and lots of medium-toned wood surfaces. But the little chandelette (complete with a little crown-molded recession) elevates the style of the room from simple to elegant, and highlights the matching hardware on the cabinet doors and drawers. Where solid cast brass or wrought iron chandeliers are hefty and masculine, a small crystal chandelier in a light color feels very delicate and dainty, and can add a nice soft, feminine touch to your space.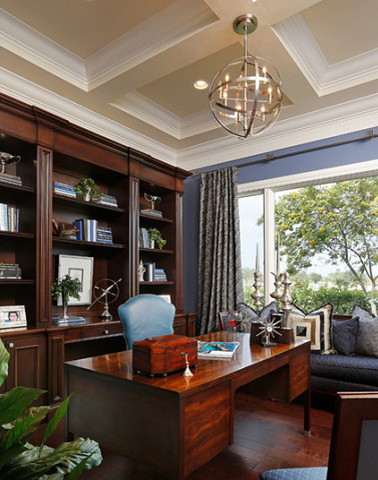 A modern chandelier can add a nice contemporary touch to a more traditional home office design
(by Diamond Custom Homes, Inc.)
It's also worth noting that chandeliers don't necessarily have to be traditional in design. The gyroscopic chandelier in the home office above is about as far away from a classic design as you can get, but it serves the space beautifully, updating some of the more traditional elements by proximity and giving the whole office a slightly more contemporary feel. Unlike more traditional chandeliers, this one is made with a brushed steel finish that makes it feel bright and clean, and relies on simple lines to create a dramatic visual effect.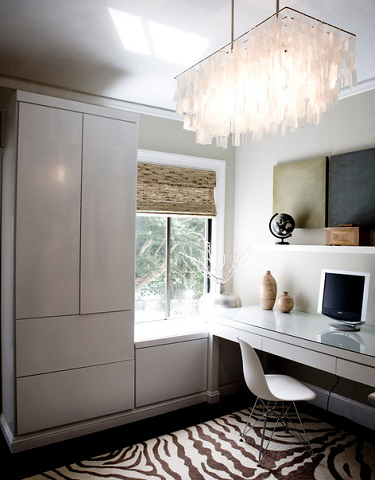 The right chandelier can save a spare, contemporary styled home office from feeling overly sterile
(by Amoroso Design)
Chandeliers are also great for making a more modern home office space feel a bit less sterile. Simple lines and cool, neutral colors make for a very clean, spare working environment, but without any other homey touches, this look can feel a bit cubicle-like. A statement chandelier will give the space that little extra something it needs to keep it from feeling too cold. Modern chandeliers are the obvious choice, but ones that riff on traditional designs – either simplified chandeliers in a more modern material, or ones that mimic elements of a classic design, like crystals – can really give the space a more chic, sophisticated edge.
A bold, distinctive chandelier can make an eclectic home office feel unified rather than cluttered
(by KS McRorie Interior Design, Attic Fire Photography)
If your home office is a rather eclectic space – somewhere where you gather trinkets from your work, personal mementos, or even an assortment of mixed-and-matched furnishings and decor items – a chandelier can help make the space feel more cohesive and intentional. The more disparate elements you have, the harder they are to unify, but choosing one big, distinctive, and unconventional lighting fixture can set the tone for the room and give all those oddball elements a sense of purpose. Repeating elements helps (like the repeated use of slightly tarnished brass in the room above), but simply having a bold statement light can help designate the room as eclectic rather than merely disorganized.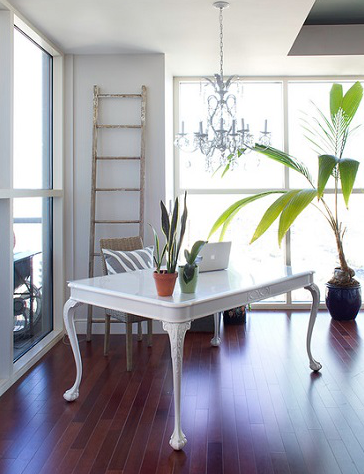 Hanging a chandelier over the desk is a great way to define a home office that's part of a larger room
(by Stacy Paulson Design, Meg Mulloy)
If your home office is actually only a small part of a larger room, a chandelier is a great way to anchor the space. The office setup above is actually in one corner of a large greatroom, and is only bounded by the two walls in the corner. Hanging this lovely crystal chandelier over the desk gives the space more purpose and helps distinguish it from the surrounding room. Though the office isn't separate, having its own permanent lighting fixture marks the space as one that belongs there, rather than just some furniture pushed into a corner.
Chandeliers certainly aren't the most common option for a home office, but they're one that's well worth considering. What do you think of these unique home office designs? Let me know in the comments below!
Source: Home Thangs
The 49th Jinhan Fair
Jinhan Fair Online Exhibition