Holiday Decor Goes Fresh and Rustic
2014.12.26
---
Heavenly scented pine branches and other decorations courtesy of the outdoors make for naturally lovely displays.
Decorating with natural elements for the holidays is not only budget friendly, but it helps create a beautiful rustic ambience. While in my household we use an artificial tree, the wonderful scent of freshly cut pine branches quickly uplifts our family's seasonal spirit and is an easy way to bring the outdoors in. We trim branches off my parents' white pine trees every year; the long and soft needles are easy to work with, giving a nice wispy look to garland. Try re-creating some of these looks in your own space or use them to inspire your own fresh take.
In our farmhouse kitchen, I chose red as an accent color to add a special holiday touch to our everyday look. For the island centerpiece, I put pieces of freshly cut pine branches around a vintage enamel pail filled with collected pinecones.
Above the hood hangs a red holly wreath tied with a handmade burlap ribbon.
Tip: To create a burlap ribbon for your own natural wreath, simply cut a narrow piece of burlap, which you can purchase at your local crafts store, and sew it on the sides to prevent fraying.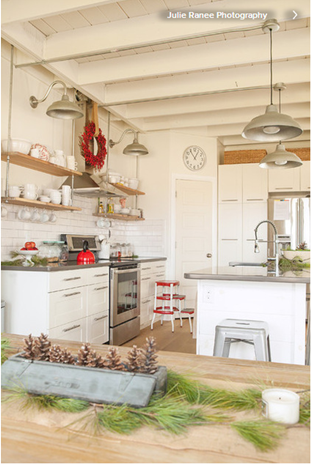 This view of the kitchen includes the dining table, where another display of pine garland and pinecones comes together atop a burlap table runner. The simplicity of the display allows the natural elements to take center stage.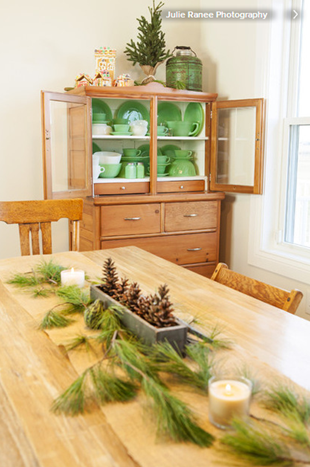 My kids and I made gingerbread houses out of graham crackers and icing, and paired them with a small evergreen tree on top of our hutch. While during the year I display the jadeite dishes you see, the antique green thermos plays nicely with the holiday color palette.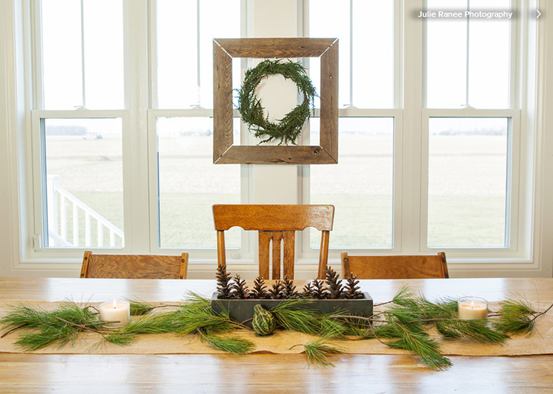 Nothing says "rustic" like old barn wood. I used an empty flea market frame and filled it with a simple green wreath to complement the table display.
Tip: Finding different ways to display pinecones allows you to use them throughout the house without the threat of too much repetition. For the centerpiece, I used an antique wooden box to stand the pinecones upright. A shorter display like this allows for easy table conversation.
In the living room, the natural elements used on a sofa table that's a wooden ironing board include pine garland, buckeyes, peach pits, pinecones and sand from a beach vacation. While we use an artificial Christmas tree, it fits right in with my rustic holiday decorating style. The paper garland on the tree was made by hand using vintage sheet music.
Straw hats topped with a red star are a rustic alternative to a traditional Christmas tree. Antiques such as the typewriter, metal drawers, cameras and baskets nod to the rich history of the season.
I normally have these hats on display but was prompted to add the red star for Christmas after a friend told me their collective shape reminded her of a tree. One of the hats is one that my father wore while he helped us build this house. The others are sourced from flea markets and thrift stores.
More pine garland is placed in the transom window and on top of the cabinet finished in blue milk paint. A natural wood Nativity scene sits beside a small evergreen tree on top of the cabinet.
Tip: To make the long pine garland, I tied together pieces with string. The seasonal window greeting is made of papier-mâché letters covered in strips of vintage sheet music. I purchased the letters at my local crafts shop and used a decoupage medium to adhere the sheet music.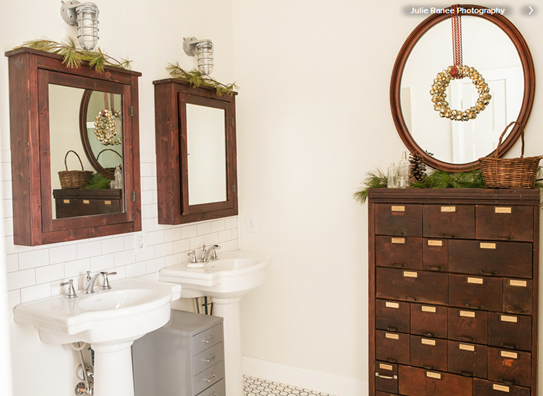 In the bathroom, I placed natural pine garland above the medicine cabinets. The antique apothecary cabinet was purchased at a local auction for only $15 and fits in easily with the rustic holiday decor.
Tip: The bathroom is an ideal place for seasonal greens because the high humidity keeps them nicely hydrated.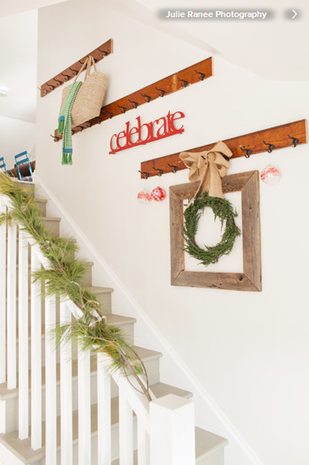 On the staircase, I added another wreath-filled flea market wood frame and a pine garland to showcase red glass ornaments and a typography sign that captures true spirit of the season.
Source: Houzz
The 49th Jinhan Fair
Jinhan Fair Online Exhibition