The Biggest IKEA Store In The World Just Opened In South Korea
2014.12.23
---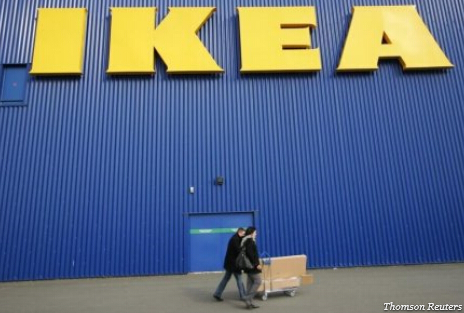 People push a shopping cart past a warehouse of the Swedish furniture maker IKEA in Bordeaux
Iconic Swedish furniture retailer IKEA built its biggest store in the world to serve South Korea's shrinking households, targeting millions of people living alone with Korea-only items like super-sized single beds and in-store kimchi rice.
The store opened on Thursday in Gwangmyeong, less than an hour's drive or 14 minutes by train from central Seoul, with a sales space nearly as big as the Louvre museum at 59,000 square meters. The previous record-holder at IKEA, known for its inexpensive, self-assembly products, was in Stockholm spanning 55,200 square meters.
Stiff domestic competition and sluggish spending have made South Korea an unhappy hunting ground for global retail giants like Wal-Mart and Carrefour, who exited years ago. But IKEA's design appeal to South Korea's urban crowds, and few big local rivals, leave it well placed, retail experts say.
"Korea has a population structure that fits IKEA's basic growth DNA — demand from design-conscious one-person and two-people households," said Suh Yong-gu, professor of marketing at Sookmyung Women's University.
With the world's fastest-aging population, South Korea's attraction has faded for general retailers. Private spending growth fell from 4.4 percent on-year in 2010 to 1.9 percent in 2013.
But IKEA, now present in 43 countries with 365 stores, could fill a niche as it plans to grow to five outlets by 2020. As younger people marry later or not at all, the number of one-person households in the nation of 51 million people will climb to 34.3 percent of the total by 2035 from 25.3 percent in 2012, according to Statistics Korea - and each home needs furniture.
IKEA will offer a new challenge to the country's legion of furniture makers, many of which are small. About 61 percent of a total of 1,247 firms in 2012 employed less than 20 people, private think tank Hana Institute of Finance said.
"I came because it's inexpensive and useful, and I wanted to buy after seeing for myself," said Woo Jin-sook, a 46-year old from Seoul. Woo said she took a day off work to be at the store's opening.
Among the 8,600 items on sale, some were modified for local tastes. The "super-single" bed, brought specifically for Korea, offers sleepers up to 40 centimeters more snooze width than a standard single bed.
Alongside its Swedish meatballs, the store's restaurant offers kimchi bibimbap, a rice bowl mixed with the spicy South Korean staple side dish, and Korean barbecue.
"We never planned the biggest store, we just planned a big store, because we believe we need one for a 23-million city (the Seoul metropolitan area)," said Patrick Schuerpf, IKEA Korea's Country Project Manager.
Source: Business insider
The 48th Jinhan Fair
Jinhan Fair Online Exhibition