Gift Wrap Ideas That Add a Personal Touch
2014.12.23
---
Have you ever received a gift so beautifully wrapped that you didn't open it right away, but let it sit unopened so you could admire it a little longer? There is something heart warming about receiving a gift that has been wrapped creatively with extra loving care. For me the time taken to wrap a gift beautifully, with added personal touches, is almost as important as the present itself. This holiday season why not try a more personalized approach to wrapping and inject more meaning into your gift giving? Here are some unique and simple ideas to get you started.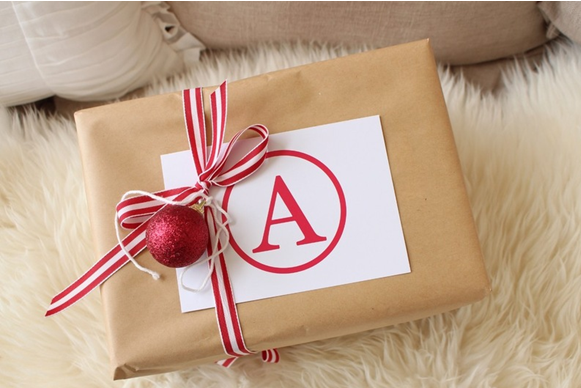 Letters
I get a warm and fuzzy feeling when I receive gifts that are wrapped especially for me. Nothing says personalized like adding initials to your wrapping. The options for adding letters are endless! You can use washi tape, precut letters, cards or wire, to name just a few.
This gift features a rich red letter "A" printed on a white card. The Christmas bauble is a festive addition to a classically wrapped present.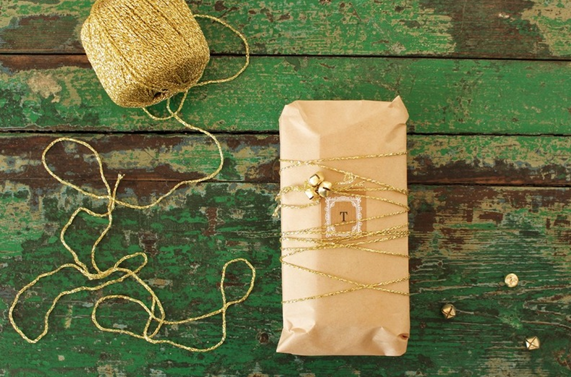 There is no need to purchase special items or have letters professionally printed. You can print letters in any size, color or font straight from your computer, making it an affordable way to add a personal touch to your gift giving.
Metallic gold thread and bells, combined with the letter "T" here, make for a thoughtfully wrapped gift.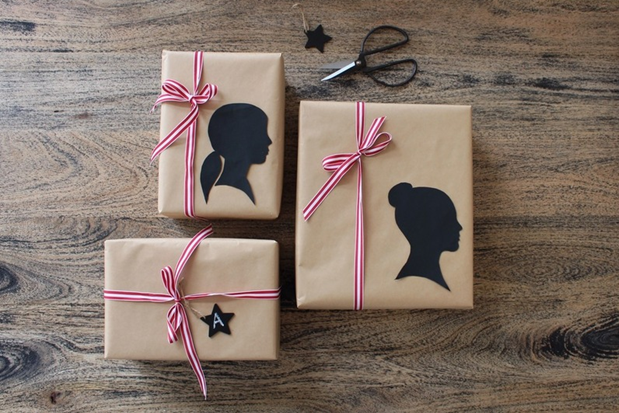 Paper Silhouettes
Silhouettes of family members are easy to create and make a striking addition to a present. It would make a great game at Christmas, as everyone tries to work out which present belongs to which person.
Don't restrict yourself to silhouettes of people — you could use silhouettes of objects, shapes or letters to represent the interests of different people.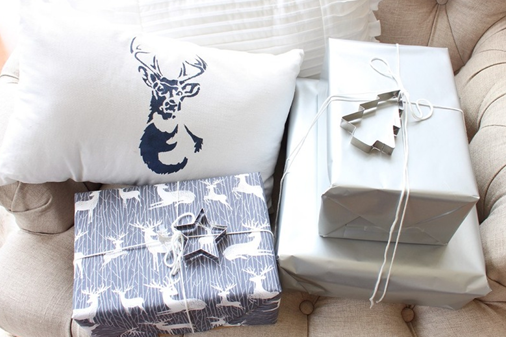 Bonus Gift
You can add a little something extra: a gift on top of your gift. Including trinkets as gift toppers will surprise and delight the recipients. Choose trinkets that suit the recipient, like cookie cutters for the baking enthusiast or jars of glitter for the craft junkie. The Christmas-themed cookie cutters adorning these silver presents are pretty as well as practical.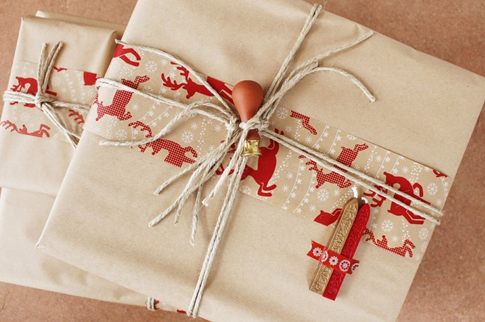 A monogrammed wax seal and wax sticks have been attached to this gift with string and tape. There is no need to wrap these separately when they look so stylish on top of this present.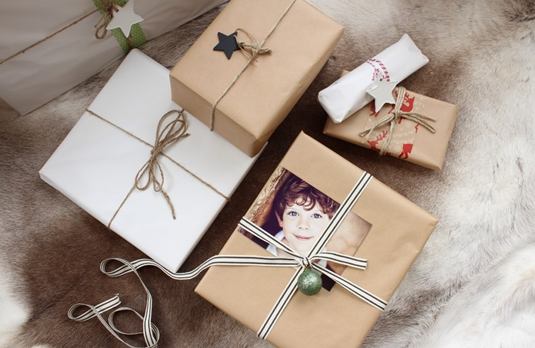 Photos as Gift Tags
I like to use photos as gift toppers or tags. This is a simple way to highly personalize your gift wrapping.
This photograph of a young boy, featuring creams and browns, is beautifully combined with brown kraft paper. It is used as a tag on top of this gift, helping to identify the owner, so there is no confusion about who this present belongs to.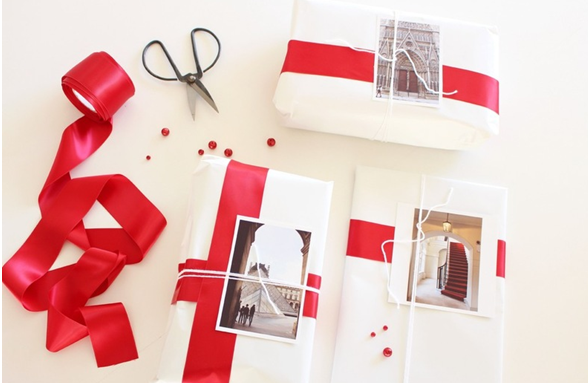 Don't restrict yourself to using photos of faces — images of places that are meaningful to the recipient can be equally as effective. Photos like these, from a treasured family holiday, are a meaningful way to add a touch of nostalgia to your gift giving.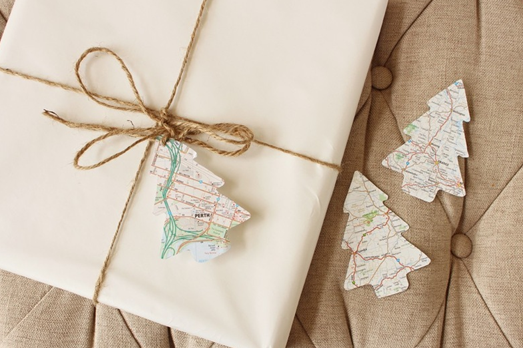 Personal Objects
Think outside the box and try to include objects with meaning or personal items that will charm your recipient. These Christmas tree–shaped tags are made from old road maps and show places that both the giver and receiver have visited together.
Use a Christmas tree template, a tag or a cookie cutter to outline the shape onto the paper and simply cut it out. It is an affordable and easy method for reusing old paper as personalized tags.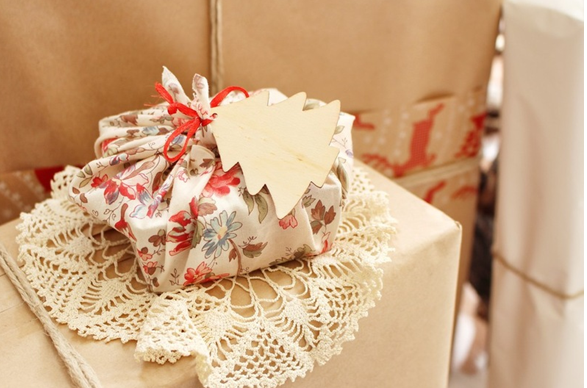 Clothes, hankies or scarves that can no longer be worn can be used to wrap gifts. This works particularly well with children's clothes, as they outgrow them so quickly.
It doesn't matter if the colors are not traditionally Christmas themed, because tags, ribbons and present toppers can be added for a festive feel.
Forage From the Garden
Collecting branches, leaves or feathers from the garden is an affordable option for adding embellishments to your presents. Gift wrapping can still be beautiful even with budget constraints; you just have to be a little creative with your ideas.
This present, featuring a simple twig with berries, still feels festive and pretty, despite the lack of Christmas paper. It is an ideal gift topper for gardeners or lovers of the great outdoors.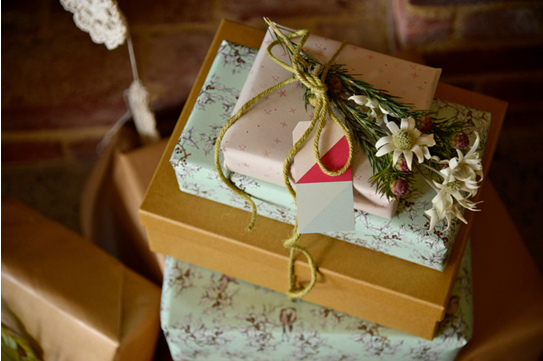 Even these wilted flowers look pretty combined with these soft pastel shades. There is beauty in imperfection, so don't feel pressured to achieve picture-perfect wrapping.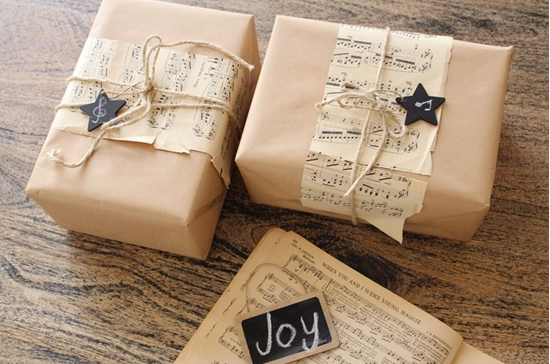 Focus on Interests and Hobbies
It is a nice feeling when others respect and value our interests and try to incorporate what we love into their gift giving. Choose wrapping, ribbons or toppers that recipients will instantly be drawn to.
These gifts, decorated with vintage sheet music, would be perfect for a musician or general music lover. Christmas carol music would be particularly suitable for the festive season.
This gift wrapped in crisp, white paper and topped with a red crochet heart tag would suit any yarn lover and maintains a festive feel — as does the polka dot bow tie.
Source: HOUZZ
The 47th Jinhan Fair
Jinhan Fair Online Exhibition