Bloggers talk trends: What's next and what's over
2014.12.16
---
This year's High Point Market starts October 18th, but StyleSpotters Nicole Gibbons (of So Haute) and Michelle Workman had a preview of what's coming up at the furniture industry's version of Fashion Week. Here they share the trends we'll see in stores next year:
Nicole Gibbons: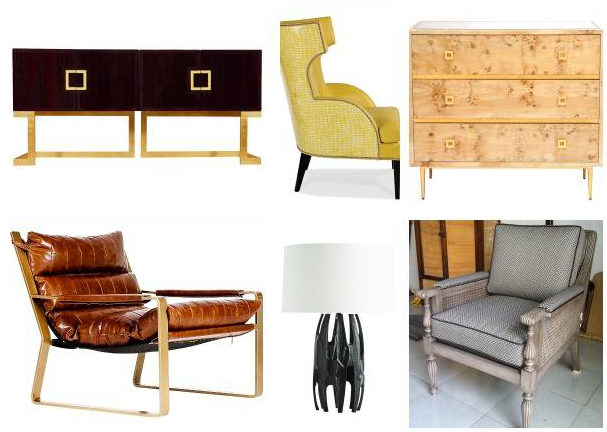 Clockwise from top left: World's Away, Hancock & Moore, Worlds Away, Moore Councill, Arteriors, Jaxon by Victoria Richter
• Which trends from years past are still going strong?
I'm still loving gold and brass accents for the home—they help bring a warmth to a space and also evoke a feeling of luxury.
• Which trends are you glad to see "retiring"?
I would be happy to never see another chevron pattern or faux taxidermied animal!
• Which brands are pushing the envelope?
I think Arteriors is very innovative. They always look to very unique sources of inspiration in their product development process which translates to exceptionally unique products. They also really get it when it comes to working with designers and have come up with great solutions to offer designers the level of customization that we crave, such as this Naomi Lamp, above.
Michelle Workman: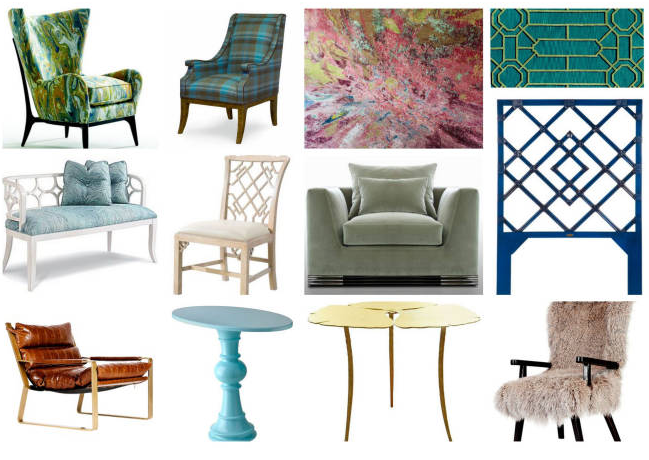 Top row, left-right: Caracole Couture, Wesley Hall, Julie Dasher Rugs, Capel Rugs;
middle row: Taylor King, Theodore Alexander, Nathan Anthony, David Francis;
bottom row: Jaxon by Victoria Richter, Dunes & Duchess, Van Collier, Jaxon by Victoria Richter
• What are the most unexpected trends coming out of High Point this year?
Marbleizing in many product categories, a fresh and modern twist on an old world art. I am also seeing a lot of beautiful Fretwork re-imagined and Art Deco forms which really excites me!
• Which trends are you glad to see "retiring"?
I'm hoping that the obsessive use of nail heads will start to scale back, and happily I didn't see any new Chevron patterns!
• Which brands are pushing the envelope?
This Marchesa Settee from Taylor King hits all the high notes with blue marbleized fabric and a fretwork back - completely on point with emerging trends.
Source: elle deco
The 49th Jinhan Fair
Jinhan Fair Online Exhibition