Surya cooking up Marsala products for winter markets
2014.12.15
---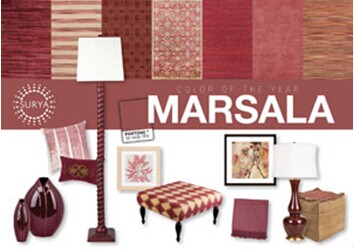 Rug and home décor brand Surya will showcase products incorporating Marsala during the winter market season.
Surya will showcase a number of rugs and accessories in Marsala, Pantone's 2015 Color of the Year, during the winter market season.
The shade was recently selected by color authority Pantone as its 205 Color of the Year, and the Calhoun, Ga.-based producer said that many of its offerings — both established and new — embody the rich color story that is described by Pantone as a "hearty yet stylish tone that is universally appealing."
Highly versatile and easily paired with both neutrals and more vibrant hues, Marsala evokes a sense of rootedness and understated elegance while encouraging creative experimentation, the company said.
Anticipating the trend towards richer, more saturated color, Surya's product development team has translated the hue and coordinating tonals into a diverse mix of solids, stripes, florals and geometric patterns.
"We are always seeking new ways to bring color into our products in an inspired and meaningful way," said Lynne Meredith, vice president of product development at Surya. "During the past year, we have seen a return to updated classics that have their roots in tradition yet feel very fresh and modern. We have incorporated lots of lush red tones from the trending jewel tone palette into our products to instill a feeling of luxury and glamour along with passion and sensuality. Marsala possesses these characteristics, while also imparting warmth and an 'of the earth' feeling that is accessible and highly relatable."
Source: Furniture Today
The 48th Jinhan Fair
Jinhan Fair Online Exhibition