Economy 'poised to face increased pressure in 2015'
2017.02.15
---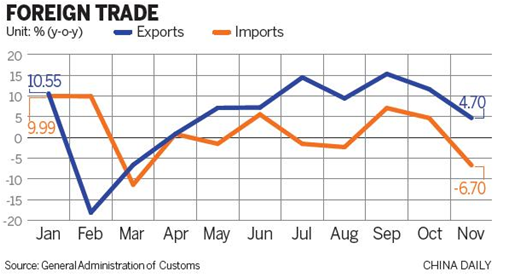 New doubts to hit exports and imports, says senior researcher
External uncertainties will increase next year, which may further drag down Chinese exports and imports and add pressure to the economy, according to a senior researcher at the government's top think tank.
Economic growth is likely to slow to about 7 percent, said Wei Jianguo, vice chairman and secretary-general of the China Center for International Economic Exchanges.
The world's major economies may witness a downturn and global demand will remain weak in 2015, Wei told China Daily in an exclusive interview.
He said China is unlikely to achieve its 2014 economic growth target of 7.5 percent and the global foreign trade situation will worsen in 2015.
Wei predicts that economic growth in the United States may slow next year as fiscal income growth is still at a relatively low level. The US shale
gas industry will also be affected by the falling price of oil.
"The crisis in Ukraine will bring an overall recession to Europe. Interminable debates over easing and tightening policies among European leaders will delay the economic recovery," he said.
"Japanmay see the sharpest slowdown in 2015, as 'Abenomics'was a mistake in theory and practice, Wei said, referring to the series of measures
introduced by Japanese Prime Minister Shinzo Abe since his reelection in December 2012.
The gloomy external environment will push China to focus more on stimulating domestic demand, which is a key composition of ongoing structural reform,Wei added.
The General Administration of Customs has reported an unexpected 6.7 percent year-on-year fall in imports in November, compared with 4.6 percent growth in October.Exports growth weakened to 4.7 percent from 11.6 percent.
In the first 11 months of the year, the export-import volume rose by 3.4 percent year-on-year, much lower than the 7.5 percent annual growth target set in the Government Work Report announced by Premier Li Keqiang in March.
Economists said the November trade figures reflect softer domestic demand and the sharp drop in prices of oil and other commodities. They also indicate that global trade momentum remains sluggish, with demand from developed countries particularly weak.
In November, the trade surplus rose toa record high $54.5 billion, up from $45.4 billionin October. It is 60 percent higher than in November 2013.
"With such a current account surplus, fundamental pressures on the yuan remain toward appreciation against the US dollar," said LouisKuijs, chief economist in China at the Royal Bank of Scotland.
"We expect some mild appreciation of the yuan against the dollar in 2015 to just below 6. The strength of the dollar could be awild card, though. More pronounced global strengthening of the dollar may shift the balance and may lead to some yuan depreciation against the US currency," he said.
Liu Ligang, chief economist in China at ANZ Bank, said that weak domestic and external demand may suggest slow economic growth in the fourth quarter. "It will also be difficult to reach the 7.5 percent GDP growth target this year," Liu said.
The National Bureau of Statistics is due to release November consumer and industrial inflation figures on Tuesday, and more economic indicators, including industrial output and fixed asset investment, will be reported on Friday.
A report by Nomura Securities Co predicts that figures for November will continue to fall, with industrial production growth dropping to 7.3 percent from 7.7 percent in October, fixed asset investment declining to 15.6 percent from 15.9 percent and retail sales falling to 11.3 percent from11.5 percent.
Source: People.cn
The 48th Jinhan Fair
Jinhan Fair Online Exhibition