Robert Allen Group thinks 2015 will be kind of blue
2014.11.24
---
The Robert Allen Group, a designer and supplier of fabrics for the interior design trade, has designated Calypso Blue as the 2015 Interior Designer Color of the Year.
Robert Allen officials said they went straight to the source for the company's inaugural color of the year program, inviting designers to vote for the "it" color of 2015 based on five options predicted by color experts at Robert Allen. Calypso Blue has more than 30% of the votes from almost 1,500 designers and interior experts.
Calypso Blue has been named as the 2015 Interior Designer Color of the Year by The Robert Allen Group.
"Color is what we stand for at Robert Allen," said Robert Nachman, vice president of marketing. "We have a 75-year history of color expertise, and our design team constantly reinvents color in fresh, creative ways geared specifically towards the interior design community. By incorporating interior designers into the Color of the Year selection process, we know that Calypso Blue will be a color with great versatility and applicability across a wide variety of projects."
Hannah Alderson, the company's director of fabric design, added, "Calypso Blue is a vibrant color with bold, inky undertones. It represents where design is headed in the coming year, a reinterpreted twist on a classic shade, and we're excited to see how designers use it in their interiors throughout 2015."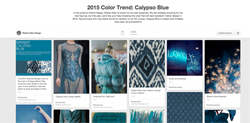 The design team from The Robert Allen Group studied fashion and interior trends during the inaugural Color of the Year program, creating a Pinterest inspiration board.
Source: Home Accents Today
The 48th Jinhan Fair
Jinhan Fair Online Exhibition