Future Trend of Home Decoration Design & Shift of Global Supply Chain - Brilliant speeches at the 30th Jinhan Fair
2014.10.25
---
In October 23-24, two seminars were held during the 30th Jinhan Fair for Home & Gifts, providing a high-value platform of benefit and exchange for the exhibitors and buyers. Home decoration designer from Holland and transnational sourcing expert from Taiwan respectively delivered thematic speeches on the world's latest trend of home decoration design and changes in international sourcing, attracting over 200 buyers.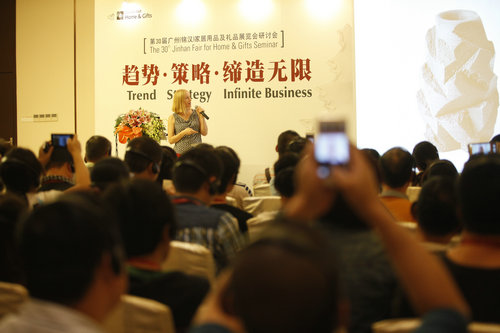 Ms.Boukje Kochfrom Holland has rich experience in home decoration design and R&D. She delivered a speech titled International Trend in Home Decorations and Accessories 2015-2016 & Smart Home Decoration Design Application to introduce the latest trend in the international market in terms of style, color, pattern and material. According to her, low-profile color, animal elements, abstract geometry and natural scenes will be extensively applied in the next two years. By sharing a large number of cases of applying 3D printing and LED technology in home decoration design,Ms. Boukje Koch demonstrated a variety of original designs and guided the exhibitors to keep abreast with international trend in their future product design.
With over 30 years' experience in transnational sourcing and supply chain management, Mr. Ding Liren has been China sourcing director for prominent retail giants Target and Williams-Sonoma respectively. In his speech titled Analysis of the Latest Sourcing Trend in European and American Markets, Mr. Ding made suggestions from a buyer's perspective on how to optimize the supplier's demand chain management. The international market has shifted from buyers deciding the price to market deciding the price. Therefore, suppliers not only need to improve product quality, but also make all-round enhancement of every link in the supply chain, including consumer need analysis, product planning, design and development, pricing technique, storage, logistics and social responsibility, so as to achieve long-term development.
Leveraged on its long-year success, the JINHAN FAIR is committed to creating a genuine one-stop international sourcing platform. In the future, it will continue to invite renowned industrial experts from home and abroad to provide more cutting-edge information and practical solutions for exhibitors and buyers to keep in step with the market and the trend, bringing its role as an industrial platform into better play.
The 47th Jinhan Fair
Jinhan Fair Online Exhibition