【"Our Story" – Buyer Story】 River of Goods: Lifetime Partners
2014.09.23
---
【Greetings to Jinhan Fair's 30th anniversary】
"As time goes by, I'm surprised to see the tremendous changes taking place at Jinhan Fair, the increasing variety of products here, and the extensive market support it receives. Jinhan Fair has been growing and evolving all these years. I hope it can maintain the current momentum and achieve greater success!"
--Terry Commerford, head of purchase at River of Goods

In 1987, Terry and his wife Margie began selling a wide variety of delicate decorations they brought back from their world travels in downtown Minneapolis in the U.S. with a van. This is how River of Goods, the well-known U.S. home décor importer, was started. It was a small business at first, but every product sold by Terry and Margie has been filled with love and inspiration from the very beginning. After 30 years, River of Goods has become a popular brand in the entire North America and the largest importer and wholesaler of Tiffany Style lighting products.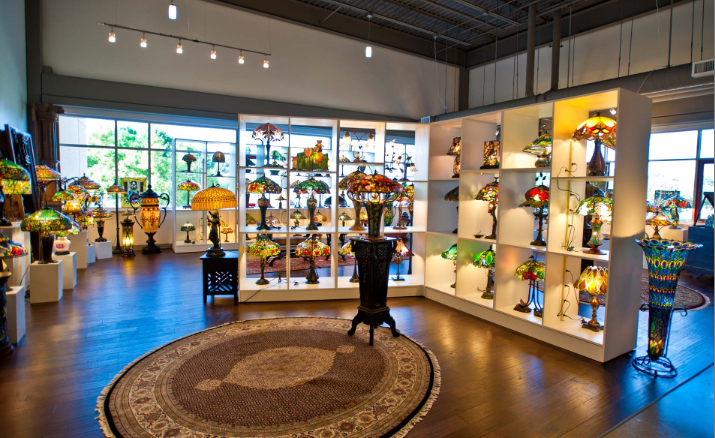 The year 2000 was significant for both River of Goods and Jinhan Fair. That year, River of Goods got into the TV-shopping business, opened sales channels through e-commerce and specialty stores, and was eventually able to sell their most characteristic Tiffany style lighting products directly to the American public. As a result, River of Goods saw skyrocketing sales and became a household home décor brand across the nation.

In 2000, Jinhan Fair was founded in Guangzhou, which provided a perfect supply platform for River of Goods' purchasing demand, laying the foundation for their 15-year partnership ever since. Till today, River of Goods still keeps participating in Jinhan Fair every year, 17 times in total.

From 2000 to 2014, River of Goods has been with Jinhan Fair through its birth, childhood and youth, witnessing every bit of its development and progress.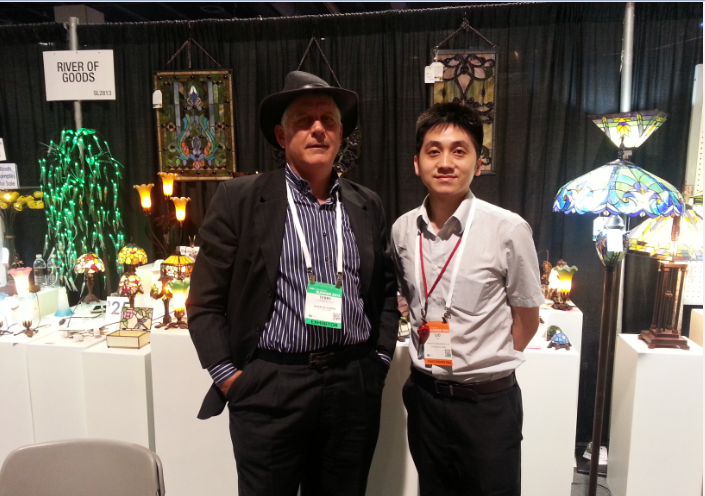 In 2013, River of Goods' annual saleroom reached USD20 million, and its sourcing at Jinhan Fair accounted for 1/3 of its total annual procurement, focusing on lighting products, casual furniture and home decorations, the majority of which comes from Fujian province. According to Terry Commerford, head of purchase at River of Goods, they once selected a product from Minhou Minxing and bought 17,000 pieces of it at one time, which filled 35 containers and amounted to USD 600,000 in total.
Despite the large scale of purchase, River of Goods has remained rigorous about the products and suppliers. In the past 15 years, they have been seeking suppliers in China through Jinhan Fair, but only selected 15 long-term partners. Compared with quantity and scale, River of Goods is more interested in unique products with compelling story, profound history and teeming inspirations.
Noting the changes taking place at Jinhan Fair in the past 15 years, Terry looks forward to its future innovations. "We've been partners ever since we were founded. As time goes by, I'm surprised to see the tremendous changes taking place at Jinhan Fair, the increasing variety of products here, and the extensive market support it receives, which has kept it growing and evolving all these years."
"Your Global Source for Unique Products". Since 1989 when it began to import goods from Asia, River of Goods' sourcing from China has kept growing. With an annual import of 2,000 40-inch containers now, River of Goods has set up a purchasing office in Huizhou, Guangdong province.
In the future, buyers from River of Goods will continue to pay attention to Jinhan Fair, travel around the world, and draw inspirations from and tell stories about all the beautiful things they see on the road, so as to bring unique and perfect products for customers.
The 48th Jinhan Fair
Jinhan Fair Online Exhibition