Key Measurements to Help You Design the Perfect Front Porch
2014.09.02
---
Front porches nearly disappeared from new homes in the late 20th century, but our fondness for them remains. The porch allows a gracious and practical transition from public to private — a place where one can soak up the late-summer sun, visit with neighbors, watch a thunderstorm pass, greet arriving guests or just shake off the umbrella and remove dirty shoes. For a porch to function for all these purposes, a few key dimensions and configurations should be taken into consideration.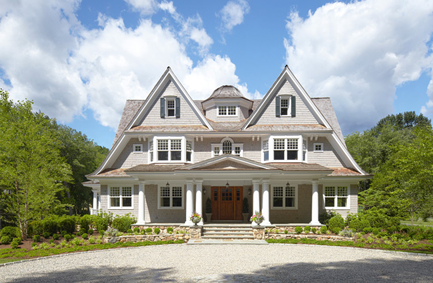 Country Club Homes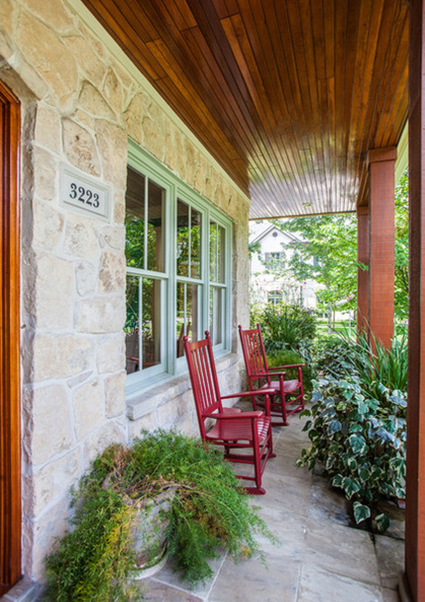 Creative Touch Interiors
How wide should your porch be? The overall width of a porch varies depending on the scale of the house, the budget and the porch's intended use. One goal should always be to maintain a clear and open area that helps to frame and highlight the entrance to the home. This neo-shingle-style house has an entrance door 36 inches (91 centimeters) wide with 12- to 18-in. (30- to 46-cm) sidelights. Double columns spaced 7 to 8 feet (2.1 to 2.4 meters) apart frame the entrance, which is 5 to 6 ft. (1.5 to 1.8 m) wide. Two more outset columns spaced slightly less far apart than the center width complete the porch's breadth.
Differences in porch depth. Though 6 ft. (1.8 m) is a desirable depth for porches, 8 ft. (2.4 m) is ideal. Many homes are built with shallower depths. A 4-ft. (1.2-m) depth behind the column, as in this example, allows simple wooden rocking chairs and potted plants to face the street with just enough room to pass. To make shallower depths work, use smaller-scale furniture and fixtures that allow circulation and work with the architecture.
11 Inspirational Small Porches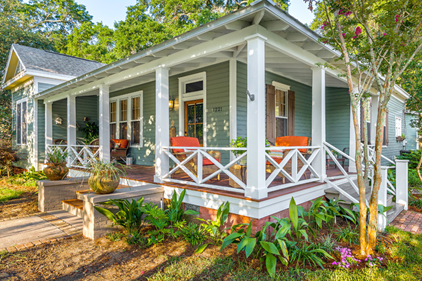 Dalrymple | Sallis Architecture
Traditional designs. Traditional-style houses, such as farmhouses, classical-style housesand Craftsman houses, have porches as identifying characteristics of their designs. Imagine this house without the porch and you can see how important it is to the architecture.
This porch measures about 7 ft. (2.1 m) from the face of the columns to the walls of the house and wraps around two sides. The columns measure about 8 inches (20 cm) square and are 8 ft. (2.4 m) high with a classically referenced base and cap detail. Notice how the header or lintel, the beam that spans the columns and holds the roof rafters, is set to be centered on the top of the columns. Though you might believe these specifications to be trivial, they respectfully and correctly reference classical roots. Notice also that the porch roof is a separate entity from the primary house form and sits below the top of the main walls.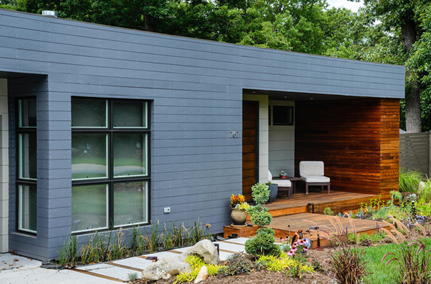 Roost USA Inc.
Contemporary styling. Contemporary houses need not do without porches. Their execution is just different. Clean lines are maintained in this scheme by the broken sidewalk, decked platform landing and wooden platform porch. The entrance door is set back about 4 ft. (1.2 m), and a deeper space of about another 4 ft. (1.2 m) allows for the placement of two comfortable outdoor chairs and a table. The wall that holds the entrance door measures about 6 ft. (1.8 m) wide, and the deeper niche is about 9 ft. (2.7 m) wide. The scale suits the house and effortlessly provides the public-to-private transition.
Porch Life: Modern Porches Step It Up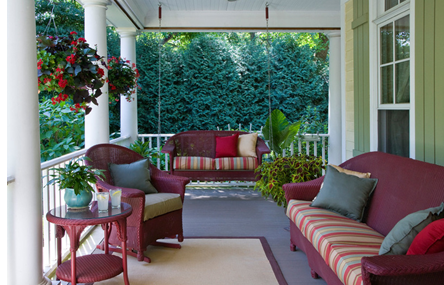 Bertrand Landscape Design
Classical references. As mentioned, porches often recall ancient classical architecture, and their details have roots in the monumental temples that Greek and Roman civilizations built 2,000 years ago.
Though proper detailing of classical architecture deserves volumes explaining it, the topic cannot be overlooked when considering porches on traditional-style houses. Proportion is key, and classical orders are entirely based on the relative scale of their parts. Spacing between columns as well as the detail of the column support and the area where the column transitions into the roof, known as the entablature, need careful and knowledgeable consideration.
This house exhibits several classical-style details, though many of them are simplified for economic expediency. Should you have or wish to build a porch with these details, study the subject first. The Four Books of Architecture, by Palladio, and The Ten Books on Architecture, by Vitruvius, an ancient text, are available on Kindle for 99 cents each. A recent publication, Get Your House Right, provides more accessible and modern information on the topic. It's quite fascinating.
Roots of Style: Meet Your Traditional Home's Classical Ancestors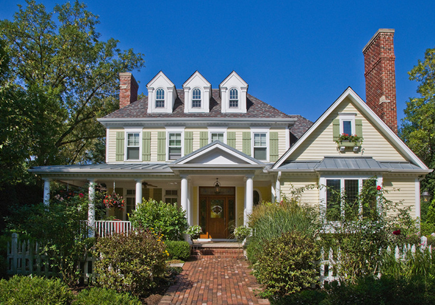 Bertrand Landscape Design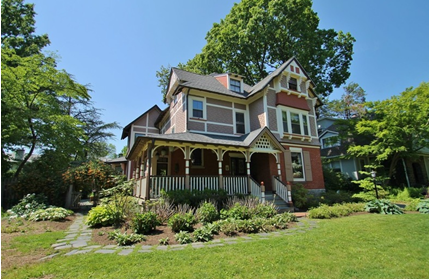 CWI Builders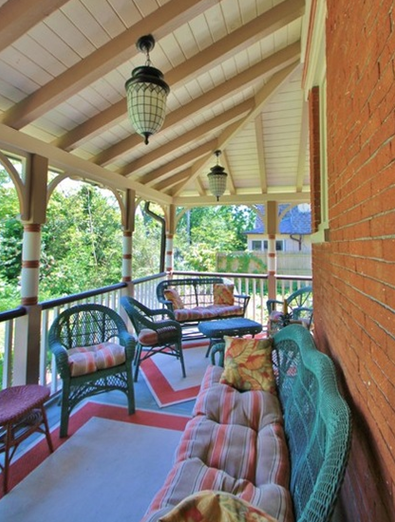 CWI Builders
Wraparound porches. Victorian-era houses are well known for their elaborately detailed porches, especially the wraparound, as seen in this example. These need to be a minimum of 6 ft. (2.1 m) deep, but 8 ft. (2.4 m) is more typical and functions better. You will also need plenty of breadth to have them appear correct.
Notice how the entrance steps ascend between two columns spaced slightly wider than the other column bays. If each bay is a minimum of 5 ft. (1.5 m) wide and there are four, as seen here, that is 20 ft. (6 m) of length in just one direction.
Take note also that the porch roof's eave line falls lower than the top of the windows of the main level of the house. Porch roofs placed too high can let in rain and lack the coverage that gives the area the protection that it needs.
Wraparound Porches Have Curb Appeal Covered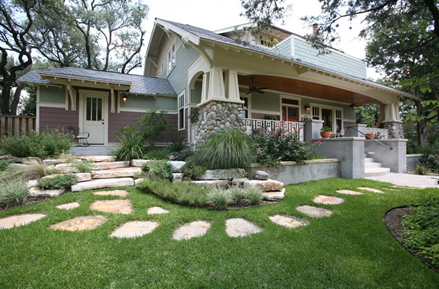 Barley & Pfeiffer Architects
Depth and height of steps. In most cases porches need steps to rise up from the ground level to the porch floor. While you can make them steeper, a rise (riser) of 6 in. (15 cm) and a run (tread) of 12 in. (30 cm) are well suited for most circumstances.
Steeper risers can have shorter treads, but shorter risers need longer treads. For example, make the risers 4 in. (10 cm) at minimum and couple them with an 18-in. (46 cm) tread. Local codes may determine what is allowed in your area, so be sure to follow their rules.
Notice the two ascensions in this Craftsman house. The steps to the right create a common gentle slope to the main porch, while the stone steps within the landscape at left maintain the rise and run less formally. For a rise of 36 in. (91 cm), consider that you will need a run of 5 ft. (1.5 m) to ascend six 6-inch steps with five 12-in. treads.
Ideas for Lighting Your Outdoor Steps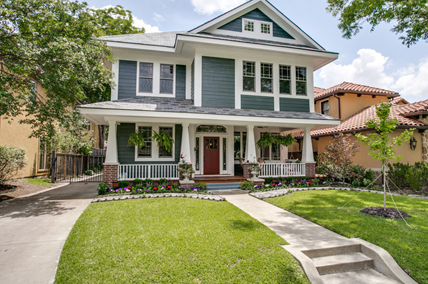 Bella Vista Company
When do you need a railing? By most building codes, porches that are 30 in. (76 cm) or more above the ground require a guardrail, also called a railing. Even if the drop is less than 30 in. (76 cm), it may be desirable to have a railing depending on the design and how you use the space.
The height of the guardrail is now required to be 42 in. (107 cm) in many areas. It was 36 in.(91 cm) on single-family houses for many years, so your existing railing may be 36 in. (91 cm). You will need to meet the higher dimensions only if you are building new or replacing the one you have, with a permit.
Since the floor of this porch is less than 30 in. (76 cm) above the ground, the shorter railing is allowed. Another regulation for required guardrails is that a 4-in. (10-cm) sphere must not be able to pass through any opening in the railing, for safety reasons.
Renovation Detail: The Knee Wall Railing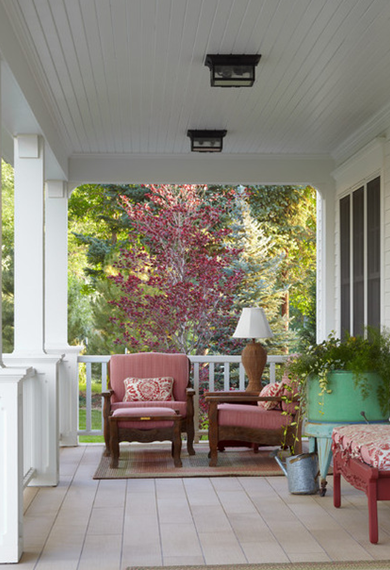 Todd Remington Architect
Details add up. Small details can be important to the final appearance of a porch.
The floor of a porch looks different with wide-plank wood decking than with concrete or tile. Ceilings, as in this example, can be finished in beadboard, and beadboard comes in numerous sizes. The board can be as narrow as 2 in. and as wide as 8 in., with the bead detail also varying. The architecture of the main structure should dictate the type and detail of the columns. The railing can also vary greatly and be of several different types of material. Wood is just one, but you will find wrought iron, cable and steel, depending on the architecture.
As seen in this example, the detail should be in scale to the house and the porch itself.
6 Ways to Create an Inviting Home Entrance
Everything Home
Importance of proportion. This modest-size and detailed porch suits this new house very well. You want to keep in mind how you will use the space and plan for furnishings that will provide for your porch activities, whether they are mostly for aesthetic or functional proposes.
This porch is approximately 8 ft. (2.1 m) deep and 12 ft. (3.7 m) wide. It is low enough to the ground to do without a railing. You will notice that the scale of the brick piers and the columns that rest upon them is diminutive, while the stone piers and tapered columns in the Craftsman house example are far more massive and heavy in appearance and require a much larger-scale porch.
Renovation Detail: The Tapered Craftsman Column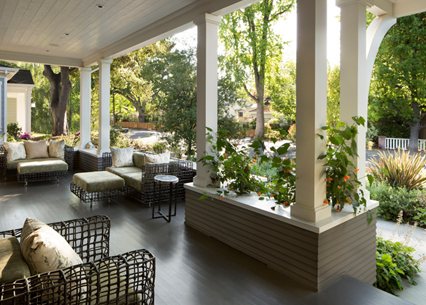 ScavulloDesign Interiors
Relationship to the road. One last consideration for a porch is its relationship to the street. The closer you are to the street, the more private a higher porch will feel. Conversely, if you are set far back from the street, having your porch spill directly onto a big lawn may be very comfortable. This generous-scale design is somewhat close to the road but sits up high enough to have a sense of enclosure and protection from passing vehicles.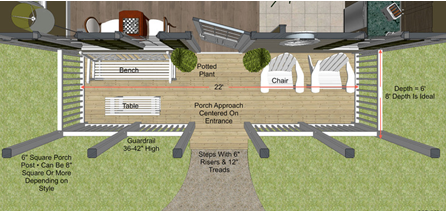 Steven Corley Randel, Architect
Deep porches are wonderful, but you can create a welcoming porch with just 6 ft. too. This illustration shows what you can do with a 22-ft. (6.7-m) long porch that is 6 ft. (1.8 m) deep. Steps up to the porch are centered to the entrance door, and six posts creates five bays. In a symmetrical design like this, you'll want odd numbers of spaces between posts, because the center acts as the entry point.
Source: Houzz
The 47th Jinhan Fair
Jinhan Fair Online Exhibition