9 Clever Uses for Old Furniture
2014.08.28
---
Oversized, Vintage Message Board
Don't turn your back on an old mattress. Hang a mattress spring on the wall for a one-of-a-kind, oversized message board. Donna of Funky Junk Interiors cleaned the rust from the spring with a wire brush and treated it with a clear overcoat for a vintage look. Simple clothes pins hold up messages, and hangers keep other everyday items at hand.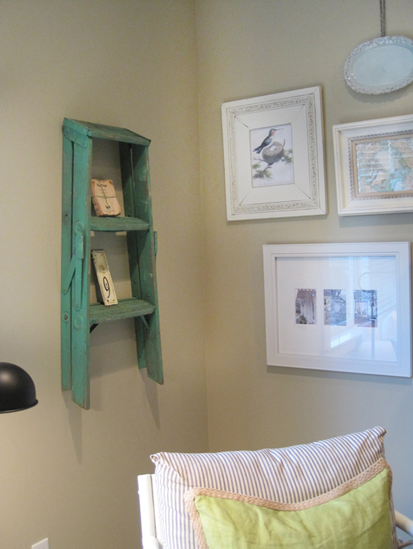 Cottage-Style Display Shelf
When you think an item has no functionality, think again. Melissa Michaels of The Inspired Room placed a small, brightly colored stepladder on the wall to function as a display shelf and eye-pleaser. The weathered finish on the ladder paired with crisp white frames on the adjacent wall gives the room a classic cottage look.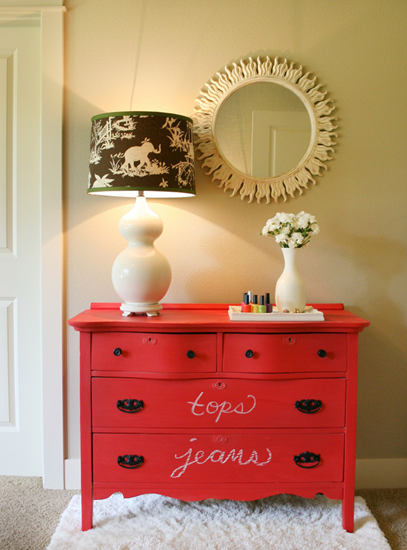 Playful Kid's Dresser
If you don't like the look of an old dresser, update it with a bright color. Janell Beals of Isabella & Max Rooms painted a forgotten dresser with bright pinkish-red chalkboard paint for a playful look that works perfectly in a kid's room. The dresser allows kids to use their imaginations by drawing or writing anything they want on it, keeping the walls safe from any unexpected drawings.
Salvaged Home Office
This home office is filled with items from the junkyard. Sawhorses make up the legs of the desk, a wood pallet works as the desktop and an old ladder provides the framework. Donna used a garage storage unit and wood pallets as back support to create an industrial-style shelving unit to maximize storage space. Fill the shelves with vintage-inspired objects to finish the rustic look.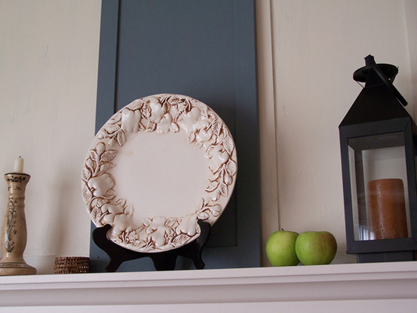 Cabinet Door Mantel Decor
When you remodel a room, you oftentimes are left with extra material. After remodeling her kitchen, Melissa Michaels placed her leftover cabinet doors on the fireplace mantel as decor. "I was able to reuse the cabinet door to cover up a hole from the TV," she says. Painting the door to match the room's color scheme and leaning it against the mantel gave it an entirely new purpose and look. Top off the look with a decorative plate and candles.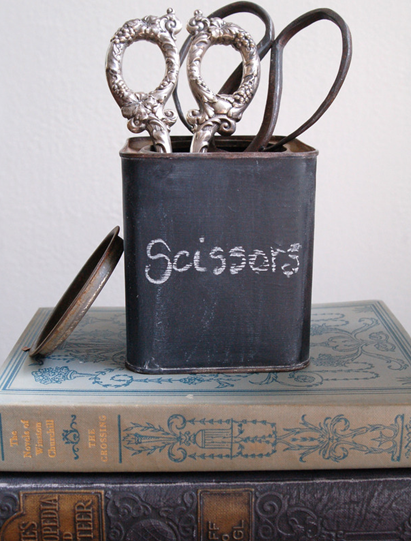 Chalkboard Storage Container
Take an ordinary tea tin and transform it into a stylish storage container using chalkboard paint. Marian Parsons of Mustard Seed Interiors created this look by applying one coat of primer and two coats of chalkboard paint to the surface. "Fill the tin with office supplies, kitchen dry goods or bathroom toiletries," she says. Write on it with chalk for an easy, creative way to label the contents inside.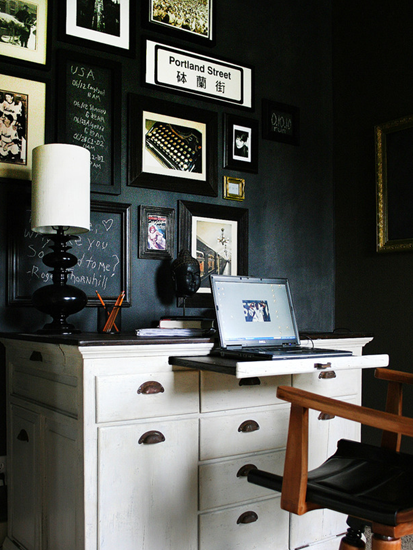 Practical Antique
A piece of old, unused furniture can become functional again with a little creativity. This Hoosier cupboard, popular in the early 20th century, was sitting in a woodshop for years. With some refinishing and paint, Janell Beals turned it into a practical home office desk. The crisp white cupboard against the black walls makes it the focal point of the room. The cupboard drawers allow for an abundance of storage space, and the size of the cupboard provides plenty of room for office equipment. "The piece not only adds to the design of the room but holds great memories as well," she says. Hang framed memorabilia to add to the timeworn look.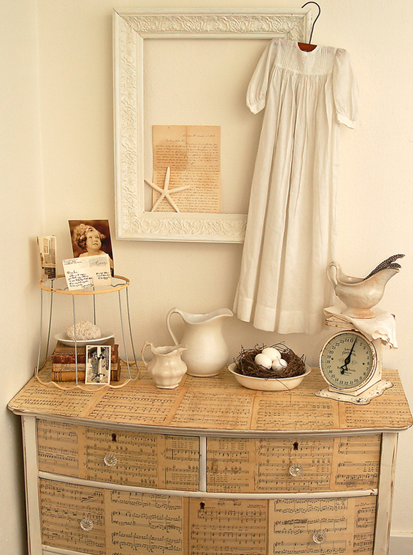 No Damage Here
Damaged furniture doesn't have to be thrown away. Marian Parsons suggests hiding imperfections on furniture with decoupage. She used aged sheets of music to hide imperfections on this neglected dresser, while also giving the all-white bedroom a shabby chic look. Other items great for decoupaging furniture are maps, book pages, letters and postcards. "The treatment will hide gouges, water marks, missing veneer and other signs of abuse on furniture," she says. Decoupaging furniture will also add dimension and distinct style to a room.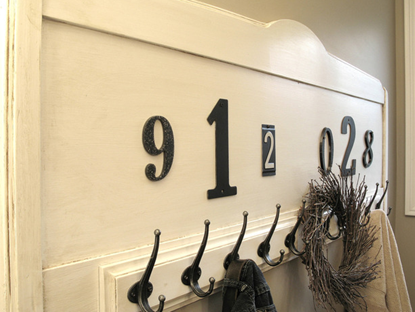 Headboard Rack
A vintage headboard is given new life as a hanging rack. Donna painted the headboard white and attached a rack with hooks, transforming the headboard into a towel or coat rack for guests. "Random house numbers are fun additions that add some graphic interest," she says. The rack is also a great place to hang keys and other everyday items.
Source: HGTV
The 48th Jinhan Fair
Jinhan Fair Online Exhibition