A House That Makes You Smile
2014.08.26
---
HGTV Magazine visited this Santa Monica, CA, cottage that brims with candy colors, poppy fabrics, and storybook-sweet furnishings.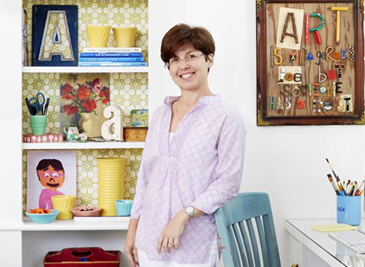 Smile-Inducing Style
Step into Alison and Brian Kandler's Santa Monica, CA, home and it's hard not to break into a big grin. With its mash-up of cheery colors, charmingly shabby furniture, and mismatched patterns, the house—which was originally built in 1927 but gut-renovated three years ago—has an upbeat, come-as-you-are feel to it. "There's a way to have lots of color, vibrant prints, and interesting shapes without going over the top," says Alison, an interior designer.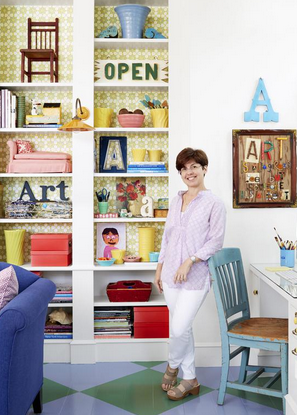 Mini Chairs and Painted Floors
Tiny furniture showroom samples fill the wallpaper-backed shelves. Periwinkle and green diamonds repeat on the floor of three rooms in the house.
From House to Home
To give the yard an English garden vibe, Alison had vines, roses, and dense shrubs planted. One of Alison's favorite tricks inside: Repeat your most-loved colors—periwinkle, coral, and purple, in her case—throughout the house so the rooms share a similar thread. "I'm also good about only bringing in things that I know I have a place for," she says. "That's how you get a collected, not cluttered, look."s. "That's how you get a collected, not cluttered, look."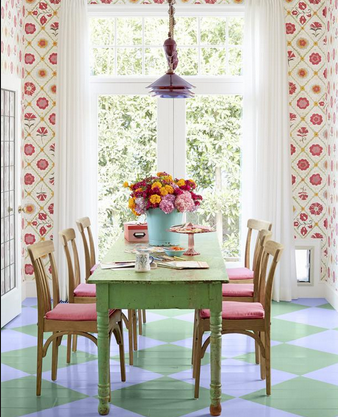 Dining Room
Floral wallpaper gives the impression that you're eating in a garden. The color scheme sets the tone for the rest of the room, like the old farmhouse table and chairs with rosy Pierre Frey cotton seat cushions. The table's unusual proportions (8 feet long and 30 inches wide) make the dining space feel more fun, less formal. The ceramic light, made by a French company, is one of Alison's most prized finds. And, see if you can spot the doggy door.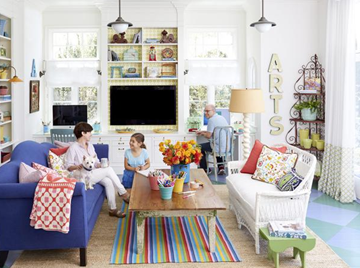 Family Room
Officially Alison's home office, this space also serves as an arts and crafts center for daughter Paisley, 10. "Our family spends about 90% of our time in here," says Alison, who stocked the room with plush pillows and low-key vintage furniture, including a wicker love seat, distressed wood coffee table, and iron floor lamp (all flea market buys). A rainbow-stripe rug from Dash & Albert ties the room's hues together.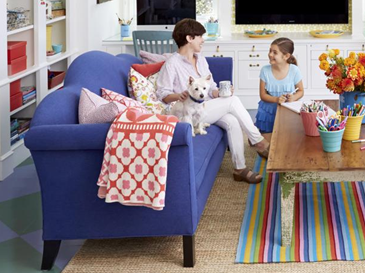 Blue Sofa
Stain-resistant fabric from Pindler&Pindler keeps this custom piece—which Alison has had reupholstered a dozen times!—looking fresh.
Jumbo Letters and Custom Pillow
These vintage wood pieces originally spelled star, but Alison rearranged them. Sewn from Raoul Textiles fabric, this floral-patterned pillow kick-started the room's happy palette.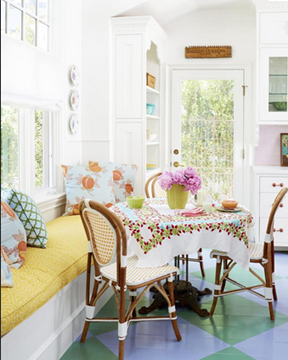 Dining Nook
This spot—which Alison deemed "everyone's favorite"—includes lots of charming features: comfy seating, a large, arched window, and a custom table with an antique iron base. The banquette cushion is upholstered in sunny Madeline Weinrib cotton, and the pillows are made from punchy Raoul Textiles and Roberta Roller Rabbit fabrics. The bistro chairs look vintage but are new, with easy-to-clean resin seats.
Lavender Backsplash and Vintage Tabelcloth
Because they were pricey, Alison installed iridescent English tiles in just a small area. This tablecloth is in mint condition, but if it—or another one in her collection—gets stained, no worries. Alison often repurposes old cloths into small curtains or pillowcases.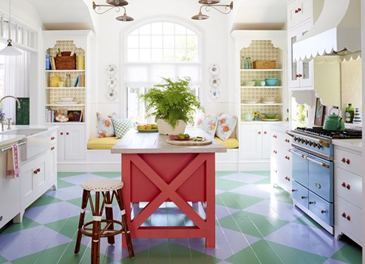 Kitchen
The custom island is painted rich coral (Claret Rose by Benjamin Moore) to match the Anthropologie ceramic knobs and pulls. Its top is made from fir boards were put together to look like an old door. The built-in bookshelves are lined with splurge-worthy Galbraith & Paul wallpaper. Two rows of Italian sconces jut out from the ceiling, streetlight-style, for an old-world look.
Source: HGTV
The 49th Jinhan Fair
Jinhan Fair Online Exhibition