Home Tour: The Ultimate Natural Beauty
2014.08.04
---
In Westchester County, New York, the B Five Studio team conjures a refined vision of country life, where understated luxury pays homage to a setting of unparalleled verdant beauty.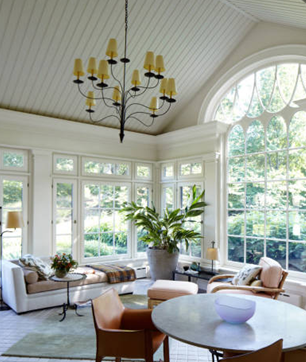 CONSERVATORY
Call them "the collector" and "the builder" they have spent two decades molding the northern Westchester County property they call "the farm" into an estate that's as idiosyncratic and over-the-top as they are.
"We started this in our late 20s, early 30s. Under taking it just a few years into our relationship was really an act of faith," says the Builder, surveying the dozen buildings on the meticulously landscaped 56-acre spread about 50 miles north of Manhattan. "It's an amazing evolution—a combination of who we are, and who we've become."
The conservatory of a Westchester County, New York, house designed by B Five Studio. The custom daybed is upholstered in Rogers & Goffigon linens, the leather chairs by Mario Bellini are from Cassina, and the rattan armchair and ottoman are by Bielecky Brothers; the rug is by ABC Carpet & Home, and the flooring is Botticino marble tiles by Country Floors.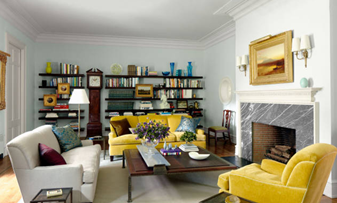 LIVING ROOM
As the years went by, B Five Studio, which has also designed residences for the couple in Florida and Manhattan, helped them create a series of sleek outbuildings with a minimalist aesthetic and, most important, a variety of views of the rolling lawns and formal gardens, which were designed by Boston landscape architectural group Reed Hilderbrand. "From each location they wanted to get a wholly different vantage point," says Bentley, "to have a series of experiences and vistas that would always be interesting."
In the living room, the sofa and armchair, which are covered in a Brunschwig & Fils linen velvet, and the cocktail table are custom designs; the circa-1950 side tables are by Philip and Kelvin LaVerne, the painting is by George Herbert McCord, and the walls are painted in Benjamin Moore Regal Select in Green Tint.
DINING ROOM
With the outside painted a soulful brown, the two-story, center-hall main house has traditional Palladian elements. A brick-clad "core" comprises the living room, dining room, library, and a laboratory-white kitchen. The core is surrounded by a sweeping marble-floor corridor punctuated by hanging lanterns; it leaves the impression of a historic house that might have been lovingly expanded in recent times.
The dining room chairs and mahogany-top table are custom designs, the 1958 pendant light is by Poul Henningsen, and the custom-made rug is by Hokanson Carpet; the walls are painted in Farrow & Ball Estate Emulsion in Picture Gallery Red.
Source: ELLE DECO
The 49th Jinhan Fair
Jinhan Fair Online Exhibition