Home Depot's New Strategy Tied toE-Commerce Growth
2014.07.24
---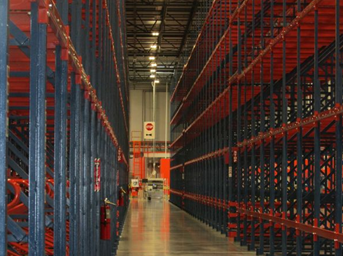 A Home Depot fulfillment center.
It begins with a leaky faucet, or perhaps a broken piece of crown molding, or a washing machine, or ceiling fan. Something needs to be fixed, replaced, improved or installed — and the right tools are required to do it. That specific need generates the demand that sets the supply chain in motion at The Home Depot, and increasingly that demand first appears as an online order placed through the retailer's website.
Five years after the world's largest home improvement retailer redesigned its supply chain to speed goods to its stores, the company has launched a major upgrade of its fulfillment processes to support burgeoning e-commerce sales. Online sales increased 50 percent year-over-year in the third and fourth quarters of 2013. In the third quarter, online sales represented 3 percent of Home Depot's $19.5 billion in sales — about $585 million. If that trend were to hold for a full year, the retailer would have more than $2 billion in online revenue. Home Depot expects double-digit growth online.
The fulfillment project isn't just about e-commerce, however. The $78.8 billion company is hammering together an interconnected retail model that uses the Web and mobile apps to extend the store aisle to consumers wherever they happen to be — even if they're already in one of 2,263 Home Depot stores in North America. The company will spend $300 million this year on the fulfillment centers, mobile technology, facility enhancements and a warehouse management system.
"We want to be able to serve our customers wherever they shop," Mark Holifield, senior vice president of supply chain, said at the Feb. 10 opening of the first of three new direct fulfillment centers Home Depot will use to speed goods ordered online to consumers, blending its digital and brick-and-motor operations.
With mobile technology, orange apron-clad associates at Home Depot stores will be able to help customers find and buy items by offering them a broader array of merchandise through access to the retailer's extensive online inventory. "The way we think about it, the online business really exists to help us close sales in the store, and the store exists to help us close sales online," Holifield told the JOC. "It's a symbiotic relationship. The stores and online live together."
To consumers, online and in-store experiences are increasingly inseparable. Today, half the retailer's customers go to HomeDepot.com to research products before making an in-store purchase, and one-third of online orders are picked up by customers at a physical store, Holifield said. About 35 percent of online sales traffic this year will come through mobile phones and tablets.
"Customers aren't concerned about whether a product came from a direct fulfillment center or a store. They just want the product when you promised you could get them the product," he said. "Our job is to be able to take that order from a customer, understand where our inventory is, understand the optimal way to fulfill that customer's needs and execute against that. That entails leveraging all of our inventory, leveraging all our transportation and distribution assets."
The new strategy will speed the flow of online orders significantly, cutting shipping time from three to five days — Home Depot's current online standard shipping time — to two days. The centralized e-commerce fulfillment plan also will help Home Depot improve supply chain utilization, lowering overall transportation costs.
Retailers of all types face the same challenge: how to balance expanding online business with their traditional storefronts and configure supply chains to support both. They don't have much time. Online retail sales in the U.S. alone are expected to grow to $370 billion in 2017 from $262 billion last year, increasing at a 10 percent compound annual growth rate over the next five years, according to Forrester Research. Online sales in Europe are forecast to increase slightly faster, at a 10.5 percent compound annual rate to approximately $262 billion by 2017.
In China, e-commerce sales are off the map, driven by Hangzhou-based Alibaba Group Holdings. Sales just on "Single's Day," China's equivalent of "Cyber Monday," exceeded $5.7 billion last Nov. 11, up from $3.1 billion the previous year. McKinsey estimates Chinese retailers will sell $650 billion in goods online annually by 2020.
Cumulatively, the amounts are staggering. In 2014, global e-commerce sales will top $1.5 trillion, 20 percent more than 2013, according to eMarketer. By 2017, global e-commerce transactions will approach $2.4 trillion.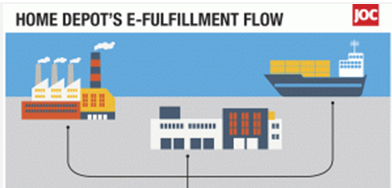 Home Depot's E-Fulfillment Flow
Those numbers represent not just a massive shift in how and where dollars, euros and Chinese renminbi are spent, but also in supply chain freight flows, as growth in online shopping drives changes in shipping patterns and transportation choices. Those changes affect transportation operators ranging from ocean shipping lines and air cargo specialists to trucking operators, package express carriers and the specialized services that make last-mile home deliveries. The package carriers certainly will gain more business — especially their ground-based divisions. But e-commerce demands will reverberate through supply chains in all directions.
The need to track online sales from order to delivery, for example, will pressure carriers of all types to provide a more detailed and transparent view of inventory in motion — both shipments inbound from suppliers and outbound to customers. "We want to be able to combine (inbound and outbound shipment) information to get a more holistic view" of the supply chain, said Michelle Livingstone, vice president of supply chain-transportation for Home Depot — which is No. 3 on the JOC ranking of the Top 100 U.S. Importers, after Wal-Mart Stores and Target. "Visibility throughout the supply chain is critical to our success."
Home Depot, for example, wants to know when containers coming off a mega-ship will be unloaded and available for drayage at a port terminal as much as where a package is in the outbound delivery process. The shipper calls that Estimated Time to Available, or ETAVA. "Right now, we don't know where our containers are on a vessel and whether they'll be unloaded on day one, or day three," Livingstone said. "As ships get larger, the need for visibility is going to be even greater."
Better visibility, in this case, would help Home Depot more accurately forecast drayage and labor requirements at receiving distribution centers.
As more people shop online, retail distribution centers are getting bigger. New supply chain configurations driven by e-commerce are "changing the industrial landscape," commercial real estate firm Cushman & Wakefield said in its Industrial Real Estate Forecast for 2014-17. "Technological advances in fulfillment are affecting the demand for warehouse space, influencing not only building size requirements, but also the location and build-out of the facilities."
Amazon's rollout of 37 fulfillment centers in 15 states — with more to come, including a 1 million-square-foot fulfillment center in Baltimore — often grabs the spotlight, but other companies also are expanding their distribution footprint.
Cushman & Wakefield cited Home Depot's 1.6 million-square-foot facility at the CenterPoint Intermodal Center in Joliet, Ill., as well as a 1.7 million-square-foot DC being built by Procter & Gamble near Shippensburg, Pa.
In Lancaster County, Pa., clothing retailer Urban Outfitters is building a 1.2 million-square-foot direct-to-consumer order fulfillment center next to an existing facility that ships to Urban Outfitters stores. Department store chain Nordstrom also is building an e-commerce fulfillment center in Lancaster County.
Fulfillment center expansion circles the globe. Global Logistics Properties is investing billions of dollars in China to build a network of modern logistics centers capable of handling fast-growing e-commerce freight volumes.
Home Depot's Locust Grove direct fulfillment center is a short drive south of Atlanta, the company's hometown. The town of Locust Grove got its start as a rail distribution point for Georgia peaches and other farm products, and distribution is still a major business in Henry County. Nearby are DCs for Whirlpool, John Deere, Pep Boys and other large retailers and manufacturers, with quick access to Interstate 75. In addition to the Locust Grove DFC, Home Depot has a stocking distribution center just up the road in McDonough, Ga., and a bulk freight distribution center nearby. The high level of distribution activity "gives us some critical mass in terms of trucking capabilities in the area," Holifield said.
Home Depot's 1.1 million-square-foot DFC is impressive from the outside, but even more so within. The highly automated DFC will stock more than 100,000 stock keeping units or SKUs — distinct items — compared with about 35,000 SKUs at most Home Depot stores. (In total, Home Depot offers 600,000 SKUs online).
The DFC will stock products ranging from heavy appliances to individual packages, with different areas of the facility dedicated to different types of product. Two mezzanine levels will help flow online-ordered products picked from racks through packing and shipping and out into the distribution pipeline to customers.
The goal is to ship products the same day an order is received. That's same-day shipping, not same-day delivery, Holifield emphasized. "We plan to get orders in here today, ship them out tonight and get them to customers in just a couple of days," he said.
Same-day deli-very isn't the right fit, Holifield said. "We find when customers are given a choice between speed and cost, they generally prefer low cost to speed for our kinds of products," he said. "Air freight is expensive, so ground is a good way to ship."
Home Depot will open its second new DFC, in Paris, Calif., in Southern California's Inland Empire later this year. Next year, a third e-commerce DFC will open in Troy, Ohio, a nearly 1.6 million-square-foot facility. Home Depot also has smaller direct fulfillment centers in Hagerstown, Md., and Mexico, Mo. A facility in Baton Rouge, La., will be closed and its operations merged into the Locust Grove DFC.
"We've been in the direct fulfillment business for quite some time," Holifield said, but in recent years, "we focused an awful lot on our store-based distribution network. "As the trends of online shopping have become apparent, we realized we need to understand where our customers are going and design a network that's going to meet our customers' needs in the future."
When the three new DFCs are up and running, Home Depot will be able to deliver 90 percent of online parcel orders within two days throughout the U.S. via parcel van or truck, Holifield said. "If we get the order by 5 p.m., we'll be able to ship it out that night, and it would be at the customer the day after tomorrow. That would be a great service proposition. When we have all three of these facilities up and the SKUs stocked, we're looking forward to providing very fast service."
That service could be direct from a DFC to a customer by package carrier or routed to a Home Depot store for customer pickup (what the retailer calls "Buy Online Ship to Store" or "BOSS") or home delivery from the store itself. Starting this spring, Home Depot will run a pilot project testing online order fulfillment from its stores to customers' homes. The retailer already delivers product from its stores, though not online orders. "Every Home Depot store today is in the delivery business," Holifield said. "We look to leverage that and be able to take orders online, drop those orders to stores, and have customer orders fulfilled from stores."
"We anticipate a robust store delivery network, and we can do that on flatbed or box truck," Livingstone said. "We hope to start the rollout late in the second quarter."
The majority of outbound freight from the DFCs will be parcel shipments, Holifield said, but there also will be less-than-truckload traffic outbound. "We've got a lot of bigger products that don't ship by parcel, and maybe even have to be assembled at a customer site, so we've got considerable less-than-truckload and home-delivery traffic that will come out of (Locust Grove) as well."
That's good news for the LTL carriers that saw store deliveries slashed when Home Depot rerouted store-bound freight through its rapid deployment distribution network, largely using dedicated truckload carriage. "We've moved from 80 percent direct-to-store distribution to 80 percent centralized distribution" over the past five years, Holifield said. E-commerce, he said, is changing the trend. "We now have growth in our parcel business and to some degree our LTL business."
The Locust Grove DFC began receiving stock in February, and Holifield expects the facility to fulfill its first online orders this month. "We're getting down to the business of distribution, he said. "It might take us a while to get there, but we think we're positioning ourselves well to take care of our customers well into the future."
Source: Joc.com
The 48th Jinhan Fair
Jinhan Fair Online Exhibition