Export growth picks up in June
2014.07.16
---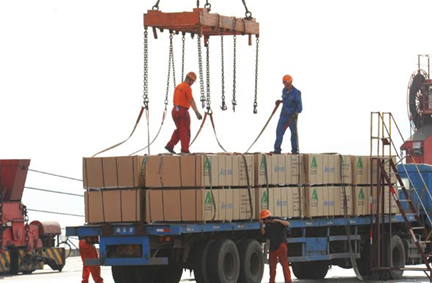 Workers handle goods for export at a port in Lianyungang, Jiangsu province, on Thursday. China's exports stood at $186.8 billion in June, a rise of 7.2 percent year-on-year, the General Administration of Customs said.
Government support measures give lift to overseas shipments, data show
China's export engine picked up steam in June, and import growth resumed, responding to a rebound in external demand and government support measures.
Exports expanded 7.2 percent year-on-year compared with a 7 percent gain in May and the strongest pace in five months, the General Administration of Customs said on Thursday.
Imports increased 5.5 percent year-on-year after a 1.6 percent contraction in May.
Although the export figure fell short of analysts' consensus of 10 percent-plus growth, the stock market took the news in stride, with the benchmark Shanghai Composite Index closing almost flat.
"Total export and import value growth rates in the second quarter were both in positive territory after a drop in the first quarter. Especially in May and June, growth kept accelerating," Zheng Yuesheng, a customs spokesman, told a news conference in Beijing.
He attributed the second-quarter improvement to support measures the government launched starting in May and steady improvement in global demand.
Following a cabinet call in early May to prop up exports, the customs administration and the central bank gave exporters more tax breaks, credit insurance and currency hedging options.
Liu Xuezhi, a researcher with Bank of Communications Ltd, said the rebound in May and June was also due to an improvement in exports to Europe and a weaker yuan.
Shipments to the European Union, the nation's most important market, were up 13.1 percent in June, while exports to the United States, the second-largest destination, rose 7.5 percent.
The yuan has weakened about 2.3 percent this year against the dollar.
Export momentum will continue and export growth will accelerate during the current quarter, even more than the second quarter, Zheng said.
He said he based his optimistic outlook on the leading indicator for exports, which stood at 42.2 in June, the second-highest level in about two years.
Liao Qun, chief economist at China CITIC Bank International Ltd in Hong Kong, agreed that the export picture will improve further in the second half.
"Global economic recovery is accelerating. Given that market sentiment in the US, Japan and Europe is rebounding, Chinese exporters will get stronger support," Liao said, adding that exports will likely post 10 percent year-on-year growth in the second half.
Source: China daily
The 49th Jinhan Fair
Jinhan Fair Online Exhibition