The household item that will make you prettier
2014.07.10
---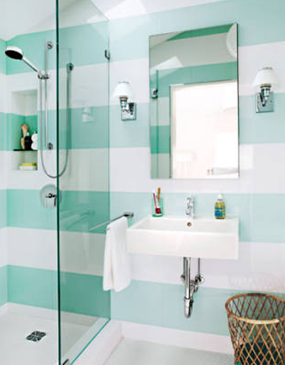 This simple upgrade will help perfect your beauty routine with just the flip of a switch
In the case of your morning makeup routine, the most important beauty booster isn't actually your makeup—it's your light bulb. Every cosmetic product advertises benefits that range from a sun-kissed bronze glow to sultry eyes, but without the proper lighting when applying makeup, that "glow" can look like a fake-bake nightmare.
The best lighting for makeup application is natural sunlight, but on gloomy days or in dark rooms, the right light bulb is the next best thing. Selecting light bulbs may seem straightforward in theory, but finding exactly what you need can be overwhelming—especially for bathroom or vanity lighting. When choosing light bulbs for the best makeup application, be sure look for the CRI (Color Rendering Index) number on the packaging. The higher the CRI number, the closer the bulb is to providing true and natural light. For the perfect morning makeover, purchase a bulb with a CRI of 90 or higher.
Light bulbs with dimming capabilities, such as these TW Series LED light bulbs by Cree, are ideal for makeup application. The dimming switch will allow you to see what your makeup will look like in various settings, from your meeting in a brightly lit conference room to the dinner party on a lantern-lit rooftop.
Of course, getting the bulbs is only half the battle: Position the light source to shine on you directly from the front for ideal results; lighting from above or below will cast shadows that won't let you accurately see what you are doing. So consider sconces on either side of a bathroom mirror or vanity to create even light and help you avoid major makeup mess-ups.
With the flip of a switch on your new lighting, you will be able to perfect your daily beauty routine—leaving you looking flawless every day, and in every setting.
Source: ELLE DECO
The 49th Jinhan Fair
Jinhan Fair Online Exhibition