Trend Ahead: Into the Blue
2014.07.01
---
John Ruskin, who wrote of art and architecture, said, "Blue color is everlastingly appointed by the Deity to be a source of delight." A critic of art and society, Ruskin recognized our innate attraction to the hue of the sky and sea. Little wonder that we bring it into our home and are so comfortable appointing it the color of the season.
At the long-awaited spring previews in Palm Beach, Fla., the combination of blue and white has burst forth in storefront windows and retail displays, its presence marking the end of an unusually long winter. This combination seems powerful and determined, as if once on display, it is daring the cold to return. Blue and white, especially in nautical patterns, are popping up everywhere, as if to give a cheerful assist to those who live where the snow, cold and ice have long since worn out their welcome.
Recently, Lilly Pulitzer declared the blue and white sailor stripe a must-have wardrobe essential this spring. The company's annual theme of "A Story Written in the Sun" previewed at the Palm Beach Gardens earlier this year. There, even fashion accessories were blue, and trend bloggers declared that the sapphire-hued pendants on display would reflect beautifully beach-side at The Breakers, where the storied brand had its early beginnings.
Looking indoors, blue and white seems just as appropriate. Florida designer Dianne Davant was recently quoted as saying that "various shades of blue have come to the forefront." Nowhere is this more on display than at Island Home in Palm Beach. Here, coastal home décor in blue and white is showcased in innovative coral wall hangings and Ankasa's Outdoor Starfish pillows. The Jacqui desk in navy is a new classic, giving a nod to the Orient, while the navy Parsons coffee table is described as "simple, yet chic … fits every décor."
While one might expect to find ocean-inspired treasures among the fine home stores in Palm Beach, the trend can also be found elsewhere, bringing with it warmth and eagerness. City art houses feature the likes of Logan Hicks' nautical-based stencil paintings, while New York City store windows announce the coming of spring with Prabal Gurung's exciting blue and white resort styles.
In the home, the serenity that blue invites is always welcome. At this year's International Home and Housewares Show in Chicago, colorful blue plates, pots, pans and espresso makers previewed to the joy of attendees. To a city still draped in snow, the hue was as welcome as summer sprigs in a hard and frozen garden.
Come blue and all that you bring with you! Designers and consumers alike are ready for your arrival.
Tracy Stern is the author of two books on the art of entertaining and the founder of the international tea company Salontea. She is a society hostess and philanthropist in New York City. Setting the scene as a luxury trend-setter and interior designer, Stern's first furniture collection will debut this year.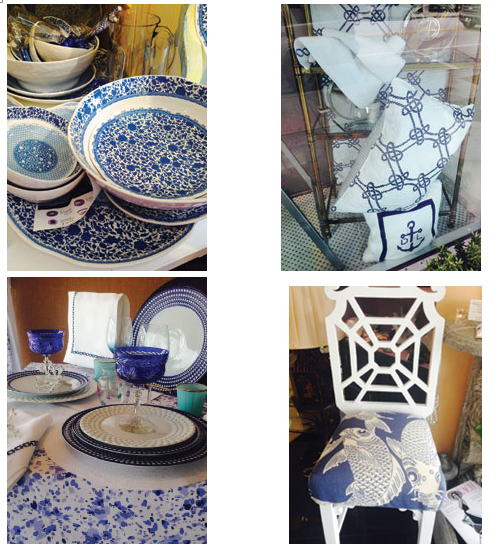 Source:Home Accents Today
The 49th Jinhan Fair
Jinhan Fair Online Exhibition