10 Commandments for Outdoor Decorating
2014.06.23
---
1. Create a Little Romance
"Layer different types of lighting such as lanterns, pendant lights, candles and fairy lights — and plants for an enchanted garden feel," says designer Sandy Koepke. "A pergola, salvaged windows, or an iron grate (or gate) can create the illusion of enclosure and a sense of intimacy, and you can still see the stars!"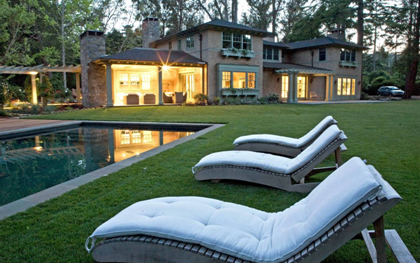 2. Incorporate Water
"Wherever possible!" says designer Lee Ledbetter. "The calming sound of splashing water makes your space feel more intimate." Adds designer Will Wick: "Whether it's a pool, hot tub, or simple fountain, it can add a serene and calming feel to any outdoor space."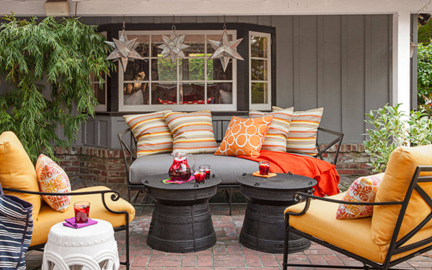 3. Bring In Garden Stools
"They are very easy to move around, and they create extra seating while also being great place for people to be able to put down a drink," says designer Grant Gibson.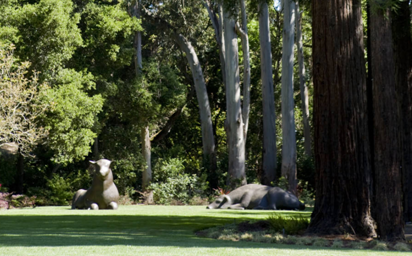 4. Incorporate Sculpture
"Often, it's difficult to find locations in the interior of homes for sculpture, especially large pieces," says designer Will Wick. "There's no excuse outdoors, and really nothing adds to an outdoor space like a beautiful, large sculpture."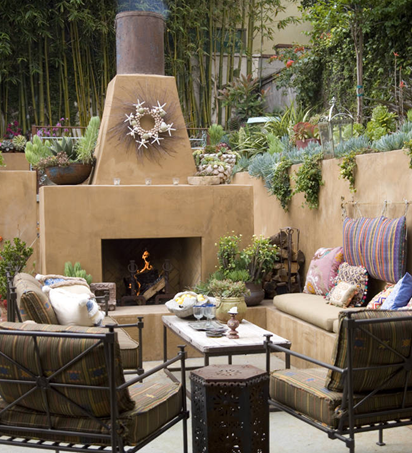 5. Make the Fireplace the Heart of Your Space
"It's gorgeous from inside the house and extends the indoor rooms right to the outdoors," says Koepke. "As an anchor for a seating area, it's a magnet. Everyone wants to cuddle up there, and it's guaranteed to extend the party. Guests want to hang out there and stay a little longer. Some of the best conversations are around the fire."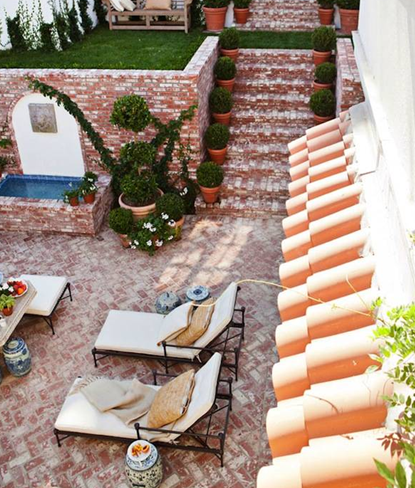 6. Bring in Potted Plants
"While I dislike using potted plants indoors, they're a great accessory for outdoor seating areas," says Ledbetter. "Potted plants provide different scale, color, and texture than what you get from a broader landscape."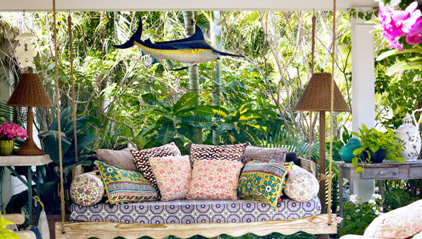 7. Think Globally for Inspiration
"Don't be afraid to let global designs inspire you," says Wick. "I appreciate Moroccan fashions, African tribal designs…even teepees!"
8. Create an outdoor kitchen that you love to use
"...and is easy to maintain. And choose work surfaces that can handle the elements," explains Koepke. "Think about a sink and running water, both ambient and task lighting, outlets for the blender for house margaritas and the grill! Side burners are great for sauces. A small refrigerator or wine cooler or a kegerator are not essential but definitely fun, and the real party magnet is a pizza oven! Make the space work for small groups or entertaining, and think about the layout and configuration for cooking and serving. Last, consider the orientation of the kitchen so the sight lines are beautiful from inside the house. The great thing about an outdoor kitchen is that the cook is truly the star of the party!"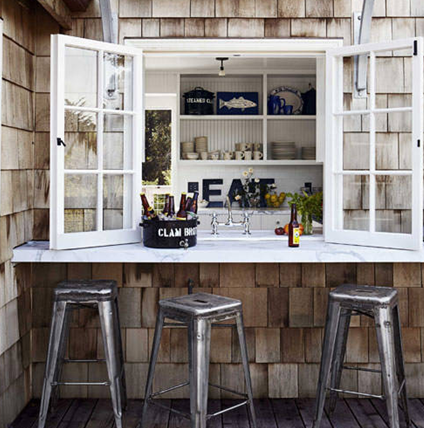 9. Create A Drinks Station
Not able to build an entire kitchen? A drinks station will do. "That way people can serve themselves and not have to keep going inside," says Gibson. "They can help themselves, and it is less stressful on the host!"
10. Match outdoor architecture to what's happening indoors
"Design an outdoor room with an iron or wood pergola and marry it to your home's architecture for the illusion that it has always been there," says Koepke. "The open rafters provide some structure for vines and climbing roses, and they also give the opportunity for various types of lighting, lanterns and hanging plants. Architectural salvage creates instant character and sense of place; vintage lighting, old windows and doors, columns, door surrounds and shutters add so much personality and character. Sometimes finding that one special piece of architectural salvage is the inspiration for the whole project."
Source: House Beautiful
The 48th Jinhan Fair
Jinhan Fair Online Exhibition