Votivo Releases Limited Edition Binary Candle
2014.06.17
---
Designer Benjamin Rollins Caldwell has worked with Votivo to release a limited edition candle, inspired by Caldwell's Binary furniture collection (BRC Designs) and a recent design used by Lady Gaga.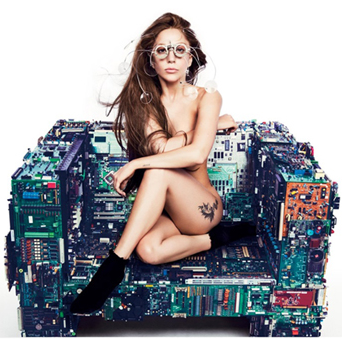 Caldwell's futuristic designs feature chair and table surfaces with motherboards, computer chips, LCD screens and hard drive disks held in place by sheet metal screws. The furniture has interactive elements like hard drive disks that can be spun, telephone keys and other buttons that can be pressed and an adjustable antennae.
Binary furniture is currently on loan to the New York Facebook office. One of the pieces, the Binary chair was the centerpiece of Lady Gaga's ARTPOP album campaign, including the singer's tour stops. The chair was conceived by Caldwell in April 2011 and was originally shown at the Industry Gallery in Washington and reportedly traveled with with Lady Gaga to Germany and was featured on set at Good Morning America.
To mirror Caldwell's design, the Binary candle's packaging is covered in a handcrafted photo collage and incorporates colorful electrical wires instead of the hemp string used in Votivo's traditional packaging. The candle's scent has top notes of metallic accords, bergamot, middle notes of jasmine, lavender, basil, clove, eucalyptus with sandalwood, patchouli base notes.
"Sometimes the objects I discover simply inspire an overall design idea," says Caldwell, "and other times the objects actually become the raw material for the price."
Source: Gifts & Dec
The 48th Jinhan Fair
Jinhan Fair Online Exhibition