Pretty Porches We Love
2014.06.17
---
Enjoy the great outdoors from the comfort of your porch. Explore the various porch styles to find the perfect setup for your home.
Outdoor Living
Porches -- whether front porches, back porches, or of the wrap-around variety -- add plenty of charm and function to a home's facade. Treat this outdoor room like you would an indoor living room: outfit it with comfy, yet weather-proof furniture and fun accessories.
Cushion Swap
Delicate wicker furniture makes this porch feel cheery and light. Pick outdoor furniture that will last for years, and then find cushions and pillows that can be changed out every couple years to add a fresh take.
Daybed Dreams
Organic textures -- whether the couch and chair fabric or the woven candle lanterns -- lend a beachy feel to this screen porch. Columns and windows with obvious woodwork make this porch feel more like an extension of the home than a separate outdoor space. Incorporate a daybed on a porch, like the teak one on this porch, which works as a sofa for group gatherings or a sleeping perch for solitary afternoons.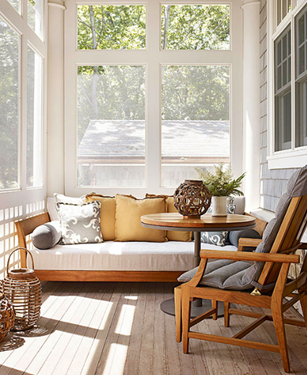 Hit the Floor
Use a stencil design to pump up porch floors and create a look that is all your own. On this porch, the stencil pattern mimics Spanish tile, which is in step with the home's stucco facade.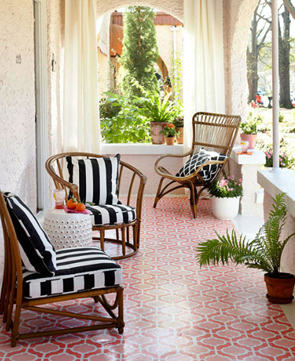 Color Contrast
A porch is the perfect opportunity to play with color. Complementary colors are opposites on the color wheel but, like the tangerine and baby blue used here, will always pop and pair well together. To balance out the vibrant colors, the walls, ceiling, and two garden stools are all white. Texture in the wicker furniture, a woven basket, and a ceiling fixture also keep the space interesting.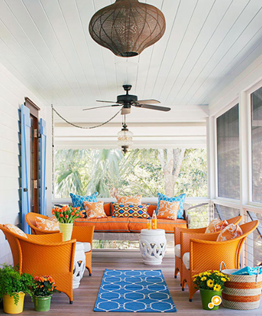 Screen Time
Screen a porch so pesky bugs stay out, and the cool summer breeze can still come in. A screened porch makes a great place to have dinner when the weather allows. The screens still let the sunshine pour in and don't distract from great views. Add indoor touches, like a pendant, to an outdoor space to make it feel more homey and decorated.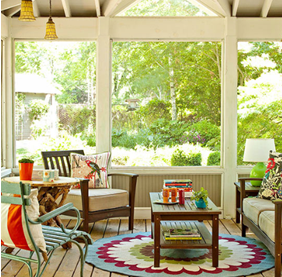 Mixing Elements
This wrap-around, screen porch uses several different types of materials to create visual interest. A metal table pairs well with the dark wicker furniture, porcelain garden stool, and worn wooden oars propped up in the corner. A mix of gray and white pillows keeps the color palette laid-back and subdued.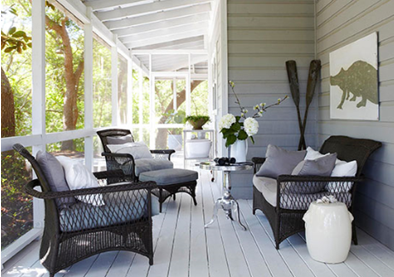 Seamless Transition
Enclosed on three sides, this porch has multiple entry points into the house. Glass doors bridge the gap between inside and out. Buying outdoor furniture that coordinates with furniture indoors is another way to create cohesion between both spaces. Create your own breeze with a ceiling fan designed for outdoor spaces.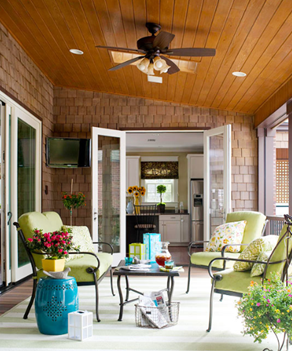 Small Porch with Panache
To spruce up any porch, consider repainting the trim or even the front door. Don't be afraid to transform your door with a fun, bright paint color. To make a seating area on a porch that lacks space, choose furniture that is slim rather than bulky. Here, a seating area was created with two rockers and a small side table.
Source: Better Home & Gifts
The 49th Jinhan Fair
Jinhan Fair Online Exhibition