Meijer Opens New Supercenters in Suburban Indianapolis
2014.05.29
---
190,000-square-foot stores in Plainfield and Whitestown bring fresh value to local communities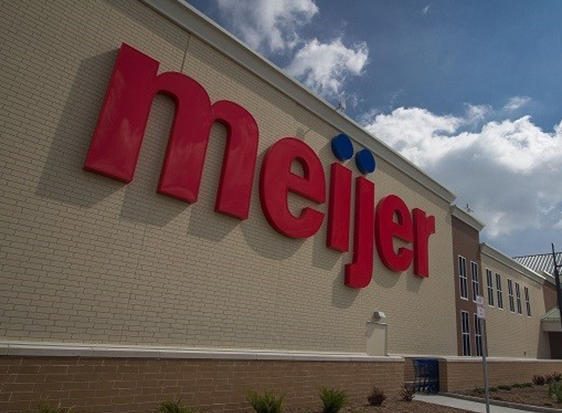 GRAND RAPIDS, Mich. – Meijer opened two new 190,000-square-foot supercenters outside of Indianapolis today, Meijer Co-Chairman Doug Meijer announced. The Plainfield and Whitestown stores are creating more than 540 new jobs and provide local residents with a great option for one-stop shopping, fresh produce and a full-service pharmacy that puts family health care first.
Indianapolis is a very important growth area for us, and our new stores reinforce our commitment to serving the needs of families with great solutions to everyday needs," Meijer said. "We're excited to bring the Meijer difference to our new neighbors in Plainfield, Whitestown and their surrounding communities."
Each store kicked off its opening celebration with a ribbon-cutting event, followed by remarks by Meijer officials and local dignitaries, and a donation to local charities. Plainfield Store Director Chad Clark presented a check for $25,000 to St. Mark's Episcopal Church for its food pantry program and $5,000 to St. Susanna School for technology. Whitestown Store Director Shaun Kriskovich presented a check for $25,000 to the Boys and Girls Club of Zionsville, $2,500 to Zionsville Community Schools and $2,500 to The Caring Center, a Food Pantry in Lebanon, Ind.
These new supercenters feature more than 600 high quality varieties of fresh produce, a meat department offering custom cuts and bakery providing fresh bread baked four times daily.
In addition to the retailer's traditional grocery and merchandise offerings, garden center and 24-hour gas station, the new Plainfield and Whitestown Meijer stores also feature full-service pharmacies. These pharmacies will provide free select prescriptions as well as clinical services and immunizations designed to promote family health. The Meijer free prescription program includes leading oral generic antibiotics with a special focus on prescriptions most often filled for children, as well as prenatal vitamins and medications for those with diabetes and high cholesterol. Since its inception in 2006, the Meijer free prescription program has filled more than 19 million free prescriptions, saving Meijer customers more than $276 million.
"As a pioneer of one-stop shopping, we've always strived to offer variety to our customers and look forward to bringing our fresh offerings to the Indianapolis area," Kriskovich said. "Whether you're looking for fruits and vegetables delivered daily, getting your yard ready for summer or seeking answers about a nagging health concern, we look forward to providing value to anyone who steps through our door."
About Meijer: Meijer is a Grand Rapids, Mich.-based retailer that operates 207 supercenters and grocery stores throughout Michigan, Ohio, Indiana, Illinois and Kentucky. As a pioneer of the "one-stop shopping" concept, Meijer stores have evolved through the years to include expanded fresh produce and meat departments, as well as pharmacies, comprehensive electronics departments, garden centers and apparel offerings.
Source: meijer.com
The 49th Jinhan Fair
Jinhan Fair Online Exhibition