Home prices remain on the rise
2017.02.15
---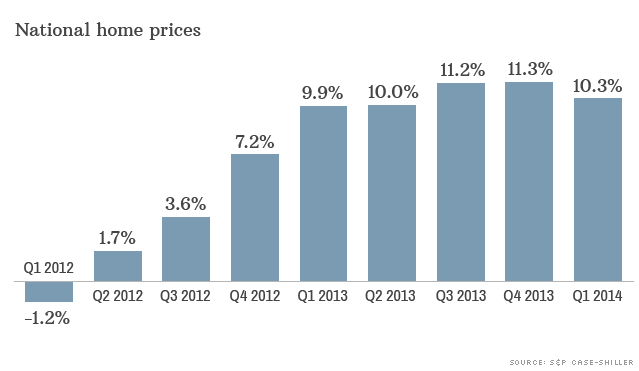 U.S. home prices remain on the upswing at the start of 2014, as a slow recovery from the bust that led to the financial crisis continues.
In the first three months, prices rose 10.3% on an annual basis, according to the S&P/Case-Shiller report. In March, an index of 20 large housing markets gained 12.4% year-over-year.
The year-over-year gains are likely to moderate, according to Stan Humphries, chief economist for Zillow, because current prices are being compared with months when many markets were at or near their post-bust bottoms. Coming comparisons will be against less depressed prices.
There are several other factors that continue to boost prices, however, including unusually low mortgage rates and the diminishing number of foreclosures and short sales on the market, which tend to sell for less. Those factors will take time to disappear.
"We're still several years away from a housing market driven purely by fundamentals like income growth and rising household formations," said Humphries.
Prices remain about 18% below their peak, which was reached in the summer of 2006.
Trends in the housing market have been mixed, with a bounce back for housing starts in April and better new home sales. Buyers have been able to take advantage of very low mortgage interest rates, but tight loan underwriting still keeps many potential homebuyers out of the market.
Even though price gains have moderated, all the cities in the 20-city index recorded gains year over year, led by Las Vegas at 21.2%. Prices in San Francisco, San Diego and Los Angeles also rose faster than average.
On a monthly basis, New York was the only city with a decline in March.
The price increases will have a positive impact on mortgage borrowers, according to Bill Banfield, Quicken Loans vice president.
"While the increase in home prices is slowing, homeowners have still gained a significant amount of equity in the last year, " he said.
That will push some of the 9 million borrowers who are still underwater on their loans, owing more than their homes are worth, above water for the first time in years. That will make them less likely to lose their homes to foreclosure and help stabilize prices.
Source: CNNMoney
The 49th Jinhan Fair
Jinhan Fair Online Exhibition