Top Furniture Upholstery Trends
2014.05.26
---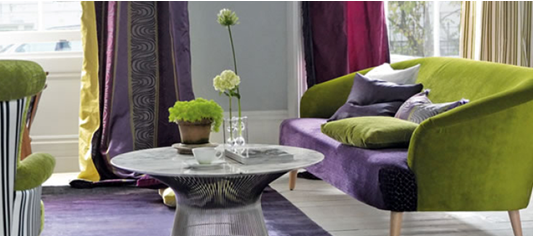 Are you redecorating? Get inspiration for your home and outfit your furniture with the latest in fabric and upholstery trends. Here are three looks that we love.
TREND #1: Masterful mixing
When it comes to contemporary spaces, the biggest trend is mixing not matching. You want a personalized look that avoids the whole-room version of a "bed-in-a-bag," or matchy-match vibe.
Pull the room together by ensuring your furniture, wall, window, and floor coverings work together, with hues, textures, patterns or finishes that provide an attractive mix of complement and contrast.
Don't be afraid to mix patterns: stripes look great with florals and damasks; bold graphics pop against subtle prints or textured weaves, both of which provide a neutral canvas. Try experimenting with scale too: large and small iterations of a similar print have their own charm.
TREND #2: Fashion-inspired
Dressmaker and tailor-inspired details are extremely popular for furniture upholstery, as well as window treatments. Look for suiting-inspired fabrics, elegant linens and details like tufting, buttons and sleek, modern clean lines.
Although this look is often characterized with a neutral, monochromatic palette – chic greys are perfect! – it's easy to introduce colour and pattern (think: eye-catching cushions or tonal print upholstery), or contrast (black + white = classic), so long as you keep the overarching theme of the room clean and elegant.
TREND #3: Arty prints
Bold, exuberant prints are back in vogue. Think contrast and large-scale drama. In the past, bold prints were often limited to accessories: cushions, artwork, bed linens, but what's hot now is a commitment to the more-is-more aesthetic.
Whether your passion is mid-century modern graphics; romantic, travel-inspired batiks and ikats; or geometric chevrons, spheres or bold stripes; don't be afraid to go big with them, using them on sofa or armchair upholstery dining room chairs, floor coverings or wallpaper.
Today's upholstery trends are about confident style, so use the trends as inspiration, then go on and design what you love!
Source: National Drapery
The 49th Jinhan Fair
Jinhan Fair Online Exhibition