Midwest‐CBK Debuts Two Separate Brands
2014.05.26
---
Midwest-CBK, LLC, widely known for its on-trend holiday, seasonal and home décor designs, will now serve customers under twoseparate and distinct brands – CBK home and outdoor décor and Midwest Seasonsholiday and seasonal. These unique brands, highly regarded as industry leaders, willcelebrate their design heritage while debuting their respective break out collections atthe AmericasMart Atlanta market in January 2014.
"Two great, heritage brands are now two great, new brands," says Dick Duff, Midwest-CBK general manager. "TheMidwest Seasons and CBK teamshave worked hard to develop twodistinct entities that better serveour customers' needs, and thedesigns they have created for thesecollections are more inspired thanever before." Duff assures that theseparate distinction of the twobrands will only strengthen eachdivision's long-standing andtrusted reputations.
CBK - Inspired HomeThe new 35-year young CBK brandoffers uniquely designed, craftedand curated products that celebrateartistry and encourage source-country handicraft. The 2014 collection showcases bold, bright colors, richtextures, natural and recycled materials, and a host of prints and patternsdesigned by three acclaimed licensed artists including Amy Rice, Casey Stippickand Anna Griffin. There are 1,000 items allocated to seven distinct lifestylecollections and four home accent categories.
With a focus on living creatively and comfortably, the urban modernist, weekendescape artist, and eclectic collector will each find plenty of goods to suit his or her taste.The scope of CBK product includes indoor and outdoor occasional furniture, homeaccessories such as lamps and chandeliers, clocks and mirrors, and decorative on-trendaccents such as hand-painted dinnerware, vases, and trays for entertaining and giftgiving. Soft goods such as pillows andthrows, a new category for CBK, adds awarm dimension to the brand.
Midwest Seasons – Tradition ReimaginedThe Midwest Seasons brand continues tooffer innovative holiday and seasonaldecorations that enhance time-honoredtraditions as well as inspire new andmeaningful ones. From the drawing board tofinished product, designers at MidwestSeasons strike a meaningful balance betweenfresh fashion-forward creativity and thewarmth of nostalgia. The January launchfeatures more than 2,000 imaginative designsfor home decorating, entertaining and giftgiving.
As always, the emphasis at Midwest Seasonsis on a comprehensive selection of year-round holiday ornaments and decorations. In addition to featuring the creations of in-house artisans, nationally recognized surface and pattern designer Jessica Swift has alsoapplied her spirited signature style to the line. Holiday lighting makes an impressive re-introduction throughout many of the collections.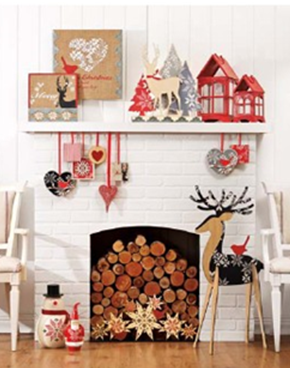 Source: Midwest-CBK
The 47th Jinhan Fair
Jinhan Fair Online Exhibition