Interior Design Trend Alert
2014.05.26
---
When you think of heavy metal, what comes to mind? If you just put both hands over your head, made dual peace signs, and started banging your head like some '80s hair band singer... well, we'd be lying if we said we didn't do the same.
But when it comes to interior design, metal has a whole different meaning. And it's right on trend now, meaning it's everywhere, from high-end shops to the Target on the corner, so you can easily incorporate it into your décor, no matter what your style.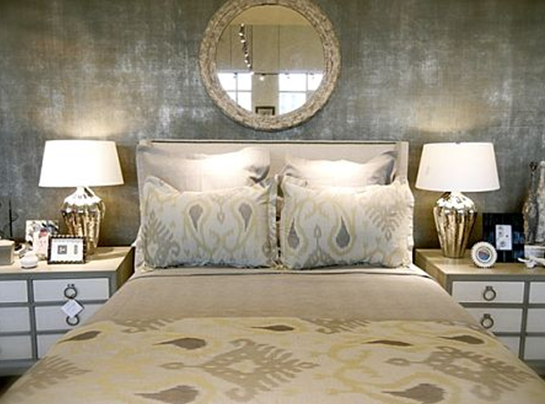 Industrial chic
Whether you're just looking to add a piece or two to your existing décor or establish a new style, the industrial chic look is a great way to go. Old pieces with history can give your space some solid foundation with a side benefit of a great story to tell. But if you don't have one of those or don't feel like looking, head over to World Market for the Jackson Metal Tub Chair.
These new-old industrial-looking but still comfortable (we tried them!) dining chairs can bring a fresh look into your space. Target has a similarly styled metal chair that also comes in red, black, or copper for those who want the metal look with a punch of color.
Copper, copper everywhere
Renowned for its warmth look, copper has been surging for the past few years and is still going strong. You can find it in everything including the kitchen sink - lighting, wall tiles, accessories, fixtures - although we wouldn't recommend doing it all at the same time in the same space. If you're looking for a more rustic look, hammered copper might appeal to you. Looking for something a little more sleek? You've got great choices here too.
Make everything old new again
One of the easiest ways to bring the metal look into your world on the cheap is with paint. Metallic spray paint can transform a tired piece of furniture into a showpiece.
Or, go all in and paint your bedroom walls with Modern Masters metallic paint in finishes including silver, pewter, and antique nickel for a glamorous look.
Bring in the accessories
Metal accessories are available in every shape, size, style and price point.
They're easy to find, easy to introduce into almost any décor, and easy to swap out if you decide next week you need to go with wicker next week instead.
Source: Realty Times
The 49th Jinhan Fair
Jinhan Fair Online Exhibition