29th Jinhan Fair for Home & Gifts Closes, Attracted More Than 50,000 Oversea Buyers
2014.04.29
---
April 27, 2014 – The 7-day 29th Jinhan Fair for Home & Gifts closes today. The fair covers an area of 82,000 m2, gathers 740 quality industry exhibitors, reveals tens of thousands of latest products, and attracts more than 50,000 visits from 151 countries and regions, which makes the Fair a veritable international home & gifts trading center with the latest fashion.
Exhibitors present new products and harvest deals
The global trade environment is steadier, but buyers are still cautious. To seek more opportunities, large number of quality manufacturers bring their latest products, and actively join the competition to expend their business in the global market. They speak highly of the Fair.
Qingdao Flowersea Home Interior & Gift Co., Ltd., a professional glassware manufacturer with an annual export of 9,000,000 USD, has attended the Fair for 13 consecutive sessions. The correspondent Ms. Li thinks that Jinhan Fair is an effective channel to promote new products, as well as a platform to present the company and its strengths. She said," Many buyers are interested in our products; Emerging market buyers are increasing. Although clients have higher requirements for customized products and their quality, the company keeps up with the market. Orders received at the Fair are likely to increase by 5% this year."
Shenzhen Dashan Artworks is a newcomer of the Fair. Its general manager Mr. Zheng said, in order to find new clients, the company puts a lot of resources on creative product design and development in recent years. He also said that the buyers from Jinhan Fair are professional. At the Fair, the company met buyers from Brazil and Russia etc., and received hundreds of inquiries. Orders are estimated to worth millions of USD, and they are very happy with the result.
Buyers come from all over the world to enjoy this sourcing feast
This year, 47% of the buyers are from Europe and the Americas, including the global industry leaders. Leading enterprises like Kingfisher, TJX, and Hobby Lobby, as well as hundreds of giants like Best Buy, Wayfair, Bed Bath and Beyond, Family Dollar, Creative CO-OP, and Dollar Tree from North America, Tesco, Markant, and Coop from Europe, Li&Fung and Aeon from Asia, and Falabella from South America visit the Fair. Buyers are happy with the quality supplier resource, comfortable sourcing environment, and thoughtful service of the Fair.
Mr. Shant Anan, the president of the well known US home & gifts leader Three Hands, arrived at the Fair with his large sourcing team on the first day and stayed here for 5 consecutive days. Their targets include furniture, decoration, gardening supplies and daily necessities, which covers all the general categories of the Fair. He thinks that Jinhan Fair gathers large numbers of quality suppliers, and is the perfect place to communicate with cooperating suppliers and look for new products and new suppliers. He also expresses the willingness to attend the next Fair.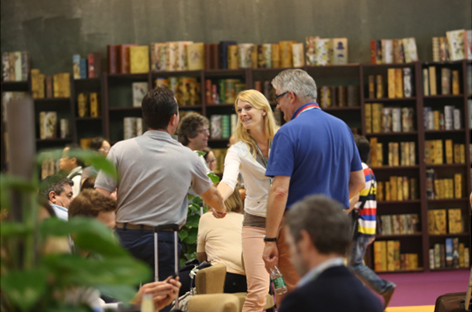 Vietnamese and Taiwanese buyers from Testrite Group search for decorating furniture, gardening supplies and bamboo products at the Fair. Their sourcing manager Mr. Rimond Lee is optimistic about the market. He says:" This Fair is very successful. Exhibitors present various quality products. We have reached sourcing intent with 3 key suppliers." "Testrite has 22 branches in 16 countries, and comes to Jinhan Fair for all categories of products every year."
Nitori from Japan (Nitori Co., Ltd.) sends a team of more than 100 buyers to the Fair. Their demands include daily necessities, home textiles, furniture and decorations. Their sourcing director Motohiro Hida said:" Jinhan Fair is thoughtful in its booth layout, product display, product design, and service. We see it as our key sourcing destination and sent large sourcing teams in every session. Speaking of the market, Japan has a promising daily necessity and home textile market, and a high standard for products. Jinhan Fair meet the requirements, and that's why we come here every year."
Jinhan Fair for Home & Gifts is organized by Guangzhou Poly Jinhan Exhibition Co., Ltd., and has a history of 15 years since its first session in 2000. October 21 to 27, 2014, the 30th Jinhan Fair for Home & Gifts will be held in Guangzhou Poly World Trade Center Expo. It will gather industry elites, unfold global markets, and release limitless business opportunities.
The 48th Jinhan Fair
Jinhan Fair Online Exhibition