Homewares giant Williams-Sonoma joins rush to Australian retail
2014.04.04
---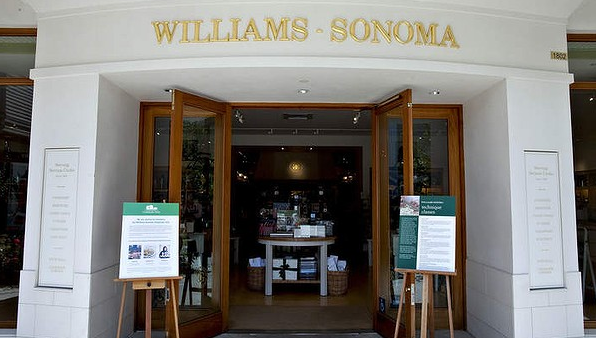 A Williams-Sonoma store in California. Photo: David Paul Morris
US homewares giant Williams-Sonoma, owner of Pottery Barn, Pottery Barn Kids and West Elm, has unveiled ambitious growth plans in Australia where it will open eight stores this year, staking its claim to an estimated $735 million sales pool being carved up by foreign fashion retailers.
It joins overseas department stores H&M, Marks & Spencer and Uniqlo and fashion chains such as Zara, Topshop and Hollister which combined are slated to open more than 100 stores across Australia in the next two years.
Already its largest market outside of North America thanks to its e-commerce platform and high brand recognition, Williams-Sonoma set up two stores in Australia last year, its flagship outlet in the new Bondi Junction shopping centre and a West Elm store in Melbourne, and will now quickly plump up its presence.
Chief executive Laura Alber said in her fourth-quarter earnings presentation last week the homewares retailer's global expansion was an important growth vehicle and the company had slated to open eight retail locations in Australia in 2014.
The company's hip homewares and swish furniture have long been popular among Australian shoppers, even before it opened a single store in the region, boosted by Pottery Barn's entrenched place in US pop culture and product placement in TV shows.
Its merchandise was often featured on TV queen Oprah Winfrey's shows while Pottery Barn got a boost last decade from being featured in an episode of TV show Friends.
The investment in Australia is part of the onslaught by overseas chains looking to muscle in on the $37 billion domestic fashion and department store market.
UBS analyst Ben Gilbert believes foreign retailers such as Spanish fashion chain Zara, UK's Topshop and US group Abercrombie & Fitch could drain as much as $735 million in revenue from the domestic sales pool over fiscal 2013 to fiscal 2016, with another $1.69 billion sucked out by offshore online sites.
Most of these will try to emulate the early success of Zara, which in 2012 generated roughly $107 million in sales from just six local stores, with $113 million expected for 2012-13.
''These retailers have been very successful overseas and have significant scale and so they clearly have a model that has been proven,'' CBA retail analyst Andrew McLennan said.
However, growth ambitions could be dented by the tight property market and an inability to secure required sites.
At the same time, the falling Australian dollar has nudged shoppers to return to domestic retailers and their online sites, while the rising popularity of ''click & collect'' - where consumers buy online and collect their goods instore - is also helping local retailers wrest back sales.
Swedish global fashion chain H&M will open its maiden store at the Melbourne GPO redevelopment in the Bourke Street Mall next month.
Source: Sydney Morning Herald
The 47th Jinhan Fair
Jinhan Fair Online Exhibition