Rise in Japan sales tax may hit China exporters
2017.02.15
---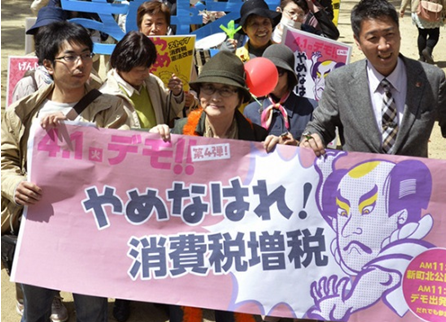 Higher levy seen cutting demand amid slowing economic conditions
Japan raised its sales tax on Tuesday, a move likely to depress Chinese export prices to Japan while bilateral trade remains full of uncertainties amid political tensions, experts said.
"It will have a great impact on the Japanese economy. An economic recession with sluggish demand in Japan will drive down demand for Chinese products," Zhang Jifeng, assistant to the director of the Institute of Japanese Studies at the Chinese Academy of Social Sciences, told China Daily.
"Japanese businessmen will probably take the opportunity to cut prices when bargaining with Chinese exporters. Chinese export businesses have to enhance quality to enlarge profit margins."
An increase in Japan's sales tax will not be a direct "heavy blow" to Chinese investment in Japan or bilateral trade, Zhang said.
Japan's sales tax rose to 8 percent from 5 percent, the first increase in 17 years and a key part of Prime Minister Shinzo Abe's economic reforms, dubbed "Abenomics". The rate will go to 10 percent starting Oct 1, 2015.
The move is set to hurt private consumption and the Japanese economy is likely to slow significantly in 2014, said a blue book released by the institute on Monday.
"The outlook for the Japanese economy is not optimistic as the tax rise will not boost consumption and economic growth. Japan's GDP may grow 0.8 percent this year, compared with 1.5 percent last year," Zhang said. "Abenomics is doomed as all the major economic goals are now unachievable."
Political tensions between the two countries have tightened with Abe's visit in December to the Yasukuni Shrine, which honors Japanese war dead, including 14 Class-A war criminals and a dispute over Japan's nationalization of the Diaoyu Islands that China considers illegal.
Source: chinadaily
The 48th Jinhan Fair
Jinhan Fair Online Exhibition