Top 20 home products (October 2013): Placemats, table linen rejoin list
2013.12.30
---
Three-digit growth rates in October propelled a couple of categories back intoGlobalSources.com's top 20 home products and allowed another to enter the list for the first time.
Placemats landed the higher ranking at 7th on the back of a 250 percent on-month increase in inquiries. YoY requests for information in the line rose more than 170 percent.
Table linen is stronger in terms of growth rates. It gathered 300 and 1,315 percent more buyer inquiries from September 2013 and October 2012, respectively.
New to the top 20 is dog beds. The on-month increase went a little over 200 percent. It reached nearly 400 percent YoY.
Requests for bedding sets information, meanwhile, continue to seesaw. October inquiries slowed 37 percent after more than doubling in September. The same down-up movement was observed in August and July。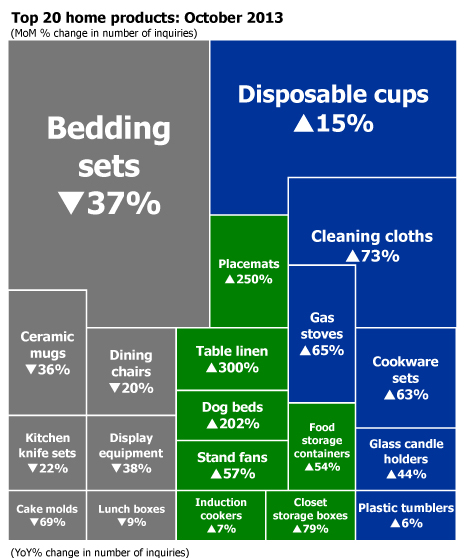 The 48th Jinhan Fair
Jinhan Fair Online Exhibition