Wayfair all in on omnichannel; the new AllModern store sets pace for new strategy
2022.06.28
---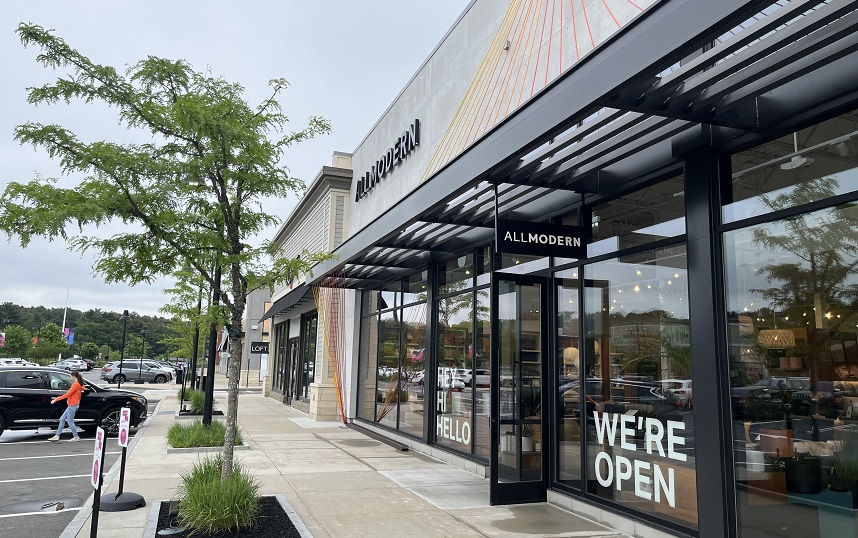 BOSTON — With Wayfair's first physical AllModern brand store in Lynnefield, Mass., the e-commerce giant plans to use its physical retail locations as a gateway into the broader Wayfair ecosystem.
According to the company, it is building on and complementing the online shopping experience with the company's logistics infrastructure underlying both. Wayfair plans to "test and learn" from these locations and to continue to refine its offering and strategy going forward.
The new AllModern store offers 10,000 square feet of space in which a 7,500-square-foot front of house features approximately 10% of AllModern's online offerings for customers to see and experience in real life.
Wayfair selected the Lynnfield location based on a variety of factors, including convenience and accessibility for its customers, according to the company.
With AllModern's manifesto "Good design is the standard for all, not a luxury for the few," the company is seeking to be the provider of modern design through an integrated system of sales channels, to meet the customer on their purchasing and design journey.
"We are excited to bring to our customers the best of modern design coupled with an incredibly simple shopping experience, something that has never been done before," noted Reena Person, president of AllModern. "Our store is intentionally designed to be warm and inviting, where everyone feels welcome, reflecting our belief that good design is the standard for all, not a luxury for the few.
"With our first-ever AllModern physical store, we're inviting new customers to get to know our brand and deepening relationships with existing customers as they have the opportunity to get to know us in real life."
AllModern's message
Signage at the store's entrance says, "Hey, hi, hello," underscoring AllModern's casual welcome and modern vibe. With polished concrete floors and floor-to-ceiling windows, the store features a modern industrial feel.
Individual room vignettes featuring furniture, rugs, artwork, accessories and plants are set up throughout the store, with floor-to-ceiling vertical wooden slated dividers help to separate the spaces. Coordinated home accents to go with each vignette are grouped in display shelving such as pillows, occasional tables and vases for the living spaces and plates and linens for the dining areas.
Currently set for summer, the store features outside furnishing at the entrance, and it expects that seasonal products will be changed out to refresh the selling floor.
Technology resources
Throughout the store, all products have signage that include a QR code. Once customers download the AllModern app, they can scan a product's QR codes to see online reviews, availability and images. The app enables customers to save designs to their favorites list and to add products to their online shopping cart. If a product is out of stock, the app will present a variety of best-selling choices similar to the in-store product.
Flat screen displays throughout the store feature product visuals, shopping guidance and decorating how-to's.
Customers can use the QR code on the back of each fabric swatch to see what other products are available in that fabric if the customer doesn't like the product shown in the store. In addition, all fabric swatches are scanned when customers are given these to bring home so that swatches are automatically re-ordered for the store.
At the center of the store is the "design bar" where associates can assist shoppers with design collaboration and visualizations. Fabric and rug samples are available for in-person viewing, and the store offers complimentary design services as well as free delivery of products, product assembly and installation. Fabric swatches have information on the back of the card for a deeper dive into the product through the QR code.
In order to enhance customer engagement, AllModern's in house design studio takes walk-in customers or meetings by appointment. Store associates can create a mood board for customers' design reference and provide tear sheets for products.
Physical retail reality
As part of a renewed bricks-and-mortar strategy, Wayfair plans to open an additional AllModern store at Legacy Place, a similar open-air center, in Dedham, Mass., later this year.
The mall is operated by WS Development, the same Boston-based real estate developer who owns the Lynnefield property. WS Development is a retail-led, mixed-use developer is one of the country's largest privately owned development firms with more than 20 million square feet under management and an additional 7 million square feet under development.
Working with WS Development, Wayfair is planning to open an additional 152,000-square-foot Wayfair branded store in Wilmette, Ill., at Edens Plaza in mid-2023. The two-story building was formerly a Carson Pirie Scott store.
Wayfair will open a Joss & Main store in the Burlington Mall (a Simon property) in Burlington, Mass., later this year, with additional Wayfair, Birch Lane and Perigold stores to follow over the next two years, according to the company.
There have also been reports that a 100,000-square-foot former J.C. Penney store in the King of Prussia Mall is going to be developed by WS Development with Wayfair as the tenant. Wayfair declined to comment on the possible new store.
Prior forays into bricks-and-mortar space by Wayfair included a pop-up shop in the Natick Mall in Natick, Mass., (10 miles from Wayfair's headquarters in Boston) and the Westfield Garden State Plaza in Paramus, N.J., in November and December 2018.
The company opened a 3,700-square-foot Wayfair branded store in the Natick Mall that had the unlucky coincidence of opening in August 2019, several months before COVID-19 exploded into a full-blown pandemic. The company closed the store in December 2020.
Bringing in the heavy hitters
Perhaps what is different about Wayfair's renewed expansion to physical stores is that, this time, the project is being spearheaded by three key hires who come from the retail and luxury retail segments. Together, these executives bring experience in leadership, operations, marketing, merchandising, strategy and data analytics from outside the Wayfair bubble.
Karen McKibben, global head of physical retail at Wayfair, is a 30-plus-year veteran of retail, having started her career at Nordstrom in 1985. McKibben held various leadership positions at Nordstrom including most recently as president of Nordstrom Rack. In addition, she was the president of Nordstrom Canada. McKibben started at Wayfair in February 2022.
Todd Brisky, general manager, specialty retail, for Wayfair Inc., is responsible for overseeing physical retail for Wayfair's specialty retail brands since October 2020. His previous experience includes chief operating officer for Ascend Wellness Holdings and CEO and managing director for the Art of Shaving, a Procter & Gamble company. He also had earlier marketing management roles at Procter & Gamble.
Reena Person, AllModern's president, started at Wayfair in February 2021. Person came from Chanel, where she was the head of retail for the luxury fragrance and beauty company and the head of strategy and client analytics for Chanel's fashion division. Person also had stints as vice president of merchandising at Marc Jacobs and global director of merchandising at Levi Strauss & Co.
The 49th Jinhan Fair
Jinhan Fair Online Exhibition