Can Diptyque go from luxury candlemaker to whole-home brand?
2022.06.15
---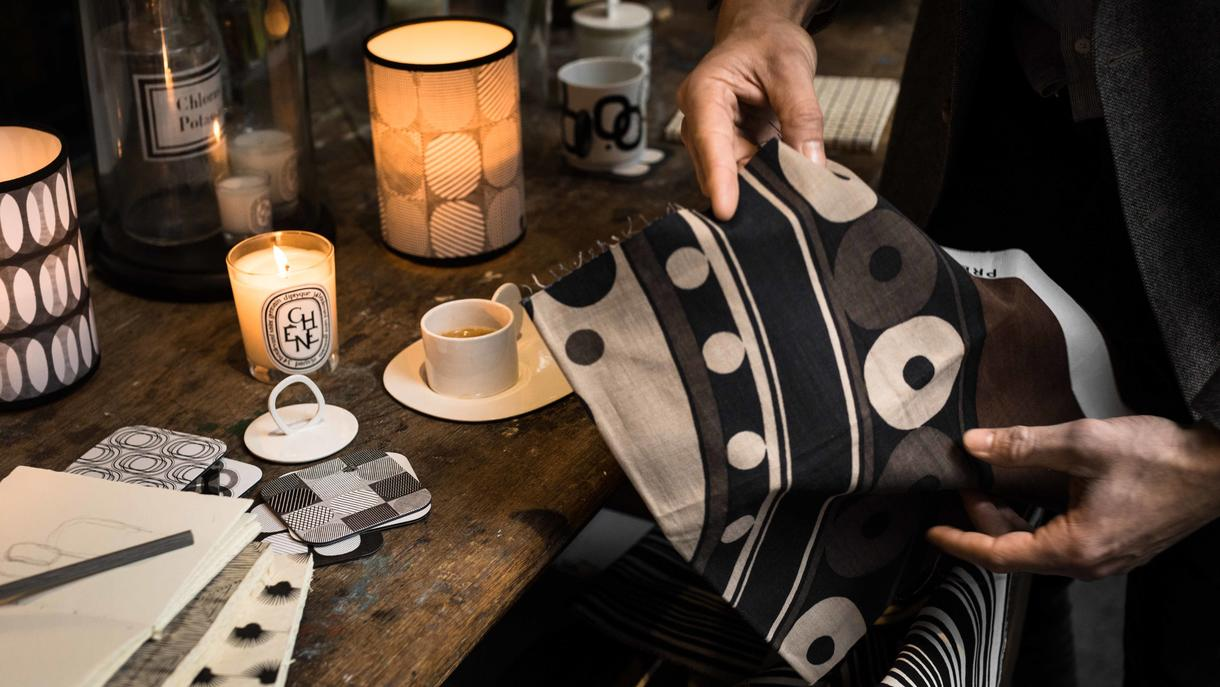 It's tough to burn a candle at both ends, but Diptyque is giving it a go. Recently, the French high-end candle brand has been lighting up its business with a big push into the home decor and accessories field, as well as an expansion of its retail base around the world.
Diptyque introduced—actually reintroduced, since the company traces its 60-year history back to decor products—a line of decorative accessories last year and has now followed that up with a collection of wallcoverings. But the company's leaders have hinted it is far from done exploring the home and is looking at expansions into lighting, rugs and even furniture. Perhaps it's no surprise for a brand whose luxury candles (prices range from $70 into the hundreds of dollars) are as much covetable mantle candy as they are sources of light and scent.
Diptyque's home products include a range of tablewareCourtesy of Diptyque
"The design has always been as important as the scent of our candles," Myriam Badault, senior vice president of decorative products for the company, tells Business of Home. She joined the privately owned company—it was purchased in 2005 by London-based PE firm Manzanita Capital—16 years ago and has led its expansion into home decor.
Originally a maker of upholstery and decorative fabrics, Diptyque (the name comes from the Greek word for a painting or sculpture composed of two parts) later moved into wallpaper before finding its success with candles and phasing out home goods. This recent move brings the brand full circle. The line now includes candleholders—naturally—but also tableware, vases, paperweights and trays and dishes. Some coordinate with candle designs, others are free-standing motifs. Wallpaper joined the collection more recently, relying on Diptyque's archives to create the looks.
Badault says there's much more in the works. It appears Diptyque will be dramatically expanding its home decor offerings within the next few years, with lighting due in 2023 and expansions into floor coverings, furniture and even paint being considered. Badault says she expects home decor will account for as much as 10 percent of its overall sales within five years.
All of these additions will impact the store base for the company, which now totals about 80 in Europe, the U.S., China and Japan. Diptyque also wholesales its products through third-party retailers, like Bergdorf Goodman in New York, although the new decor items are being rolled out to its own stores first. Some products will be developed just for specific locations, reflecting local design tastes, Badault says. A new Paris flagship is also in the works, as is one for New York, both projected to open sometime next year.
That Diptyque has come back its origins is a rather remarkable story in the retail business. Most companies never get that chance (imagine if Abercrombie & Fitch started incorporating camping and hunting gear back into the mix). For Diptyque, Badault says, getting decor right was critical for its brand. "We wanted objects you'll only find at Diptyque, lively and full of surprise."
The 49th Jinhan Fair
Jinhan Fair Online Exhibition