WALL-TO-WALL CARPET IS BACK (AND WE'RE NOT MAD ABOUT IT)
2022.04.08
---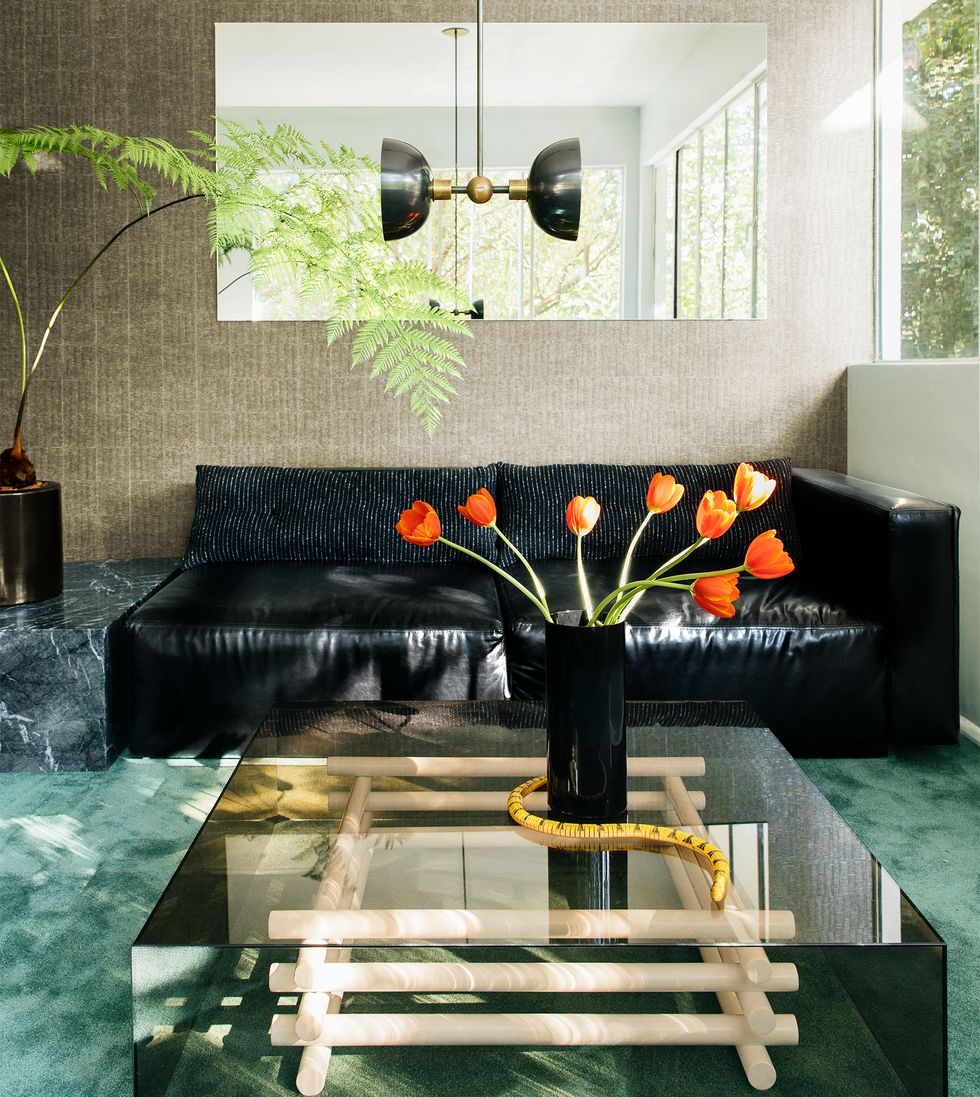 Maureen M. Evans
It's a luxurious product, soft to the touch, cozy, yet boldly glamorous. A fashion statement.
Are you thinking of wall-to-wall carpet?
The furry floor covering might bring to mind a 1970s adult film set more than of-the-moment glamour, but like it or not, all signs point to a resurgence for this misunderstood interior design icon. From chic nightspots to fashion-forward apartments, wall-to-wall carpet is suddenly taking a star turn.
Recent decades have not been kind to wall-to-wall carpeting, which tends to be eagerly ripped out of rooms during renovations with the hope of revealing pristine hardwood floors beneath. Common complaints about carpeting include dated colors, wear-and-tear, and—of course—the challenge of keeping it pristine. But, beginning in the 1950s, it was all the rage, thanks to new synthetic fibers (first developed by DuPont researchers) that made wall-to-wall carpet a plush, newly affordable luxury. Carpeting added color and comfort to postwar homes, and provided a soft surface on which to lounge or play.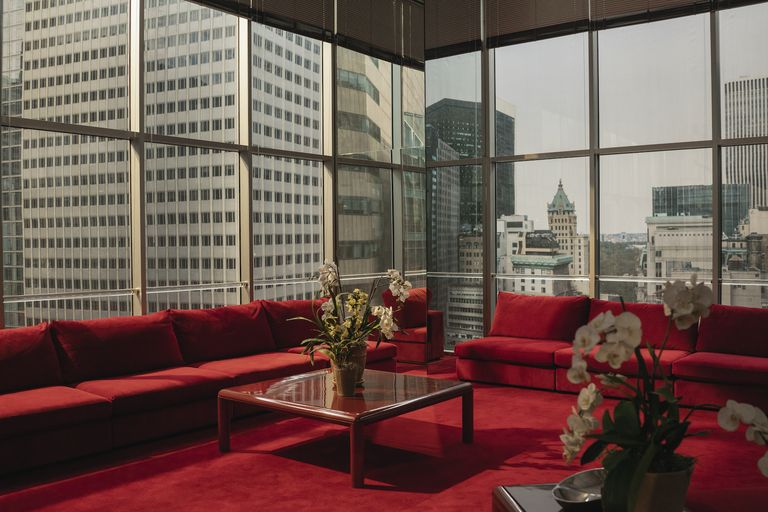 As with so many things in American popular culture, carpet got bigger, shaggier, and more earth-toned throughout the 1960s and '70s. People started putting carpets in (inexplicably) bathrooms and kitchens. By the time the 1980s brought pink-and-blue carpet into pastel-hued interiors full of curved Formica-clad furniture, wall-to-wall carpeting was rapidly losing its luster.

It was the 1990s that signaled its death knell, according to Stark Carpet brand ambassador Tim Sheridan. "The fade of wall-to-wall is microsociological collateral damage from a macroeconomic change," he says. "The dot.com aesthetic was kept lean; no rugs, no accessories, no curtains, but tech-centric. This aesthetic remained as [young tech entrepreneurs] moved out of basement apartments and into penthouses. They wanted nothing to do with 'old'—it was old people or parents with wall-to-wall."
"Wall-to-wall carpet is part of a dream about hotels, casinos, and lounges from old movies."
There were also better options out there, according to Katherine Cohen, head of visual merchandising at FLOR, like hardwood and vinyl tiles. "As such, wall-to-wall carpeting was replaced, and area rugs were utilized that still prioritize high design and comfort underfoot."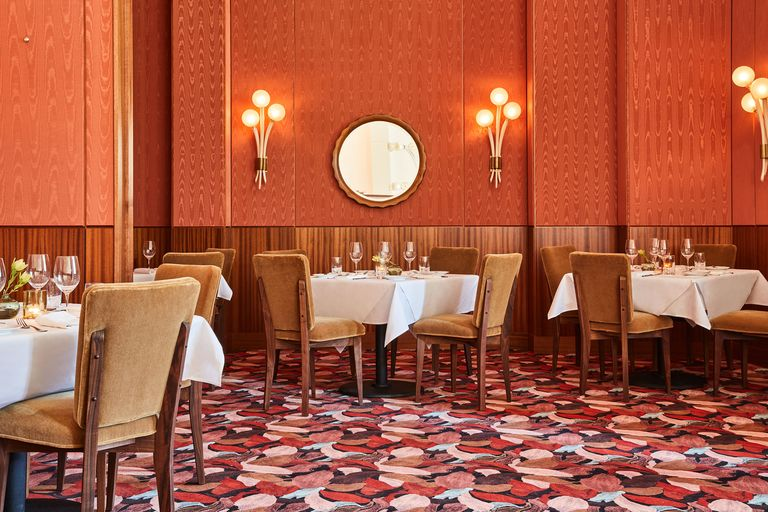 But for designer Harry Nuriev, founder of Crosby Studios, carpet deserves an encore. Purple wall-to-wall carpeting is a signature feature of the NoLiTa apartment he shares with his partner and Crosby Studios colleague Tyler Billinger. The couple bravely transformed their rental into a purple and gray aerie, with curious details like a tiled sink, puffy upholstered kitchen cabinets, and a translucent purple partition that separates the kitchen from the living room. As to whether wall-to-wall carpet is "back," Nuriev asks, "What's wrong with carpet? For me, wall-to-wall carpet is part of a dream about hotels, casinos, and lounges from old movies. Plus it's one solid surface. In that way, it is also a tribute to minimalism."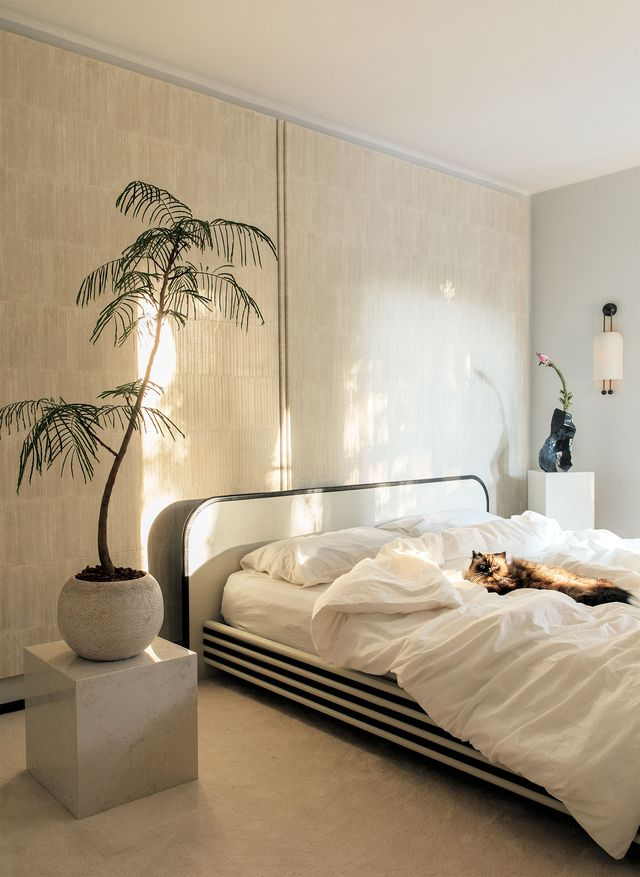 For furniture designer Mark Grattan, the founder of VIDIVIXI Studio, mint green and white wall-to-wall carpeting has made his Mexico City home (the star of ELLE DECOR's April 2021 cover) feel at once sleek and cozy, all while evoking the creativity, glamour, and seismic change of the 1970s and '80s. "Studio 54 is a good example [of that zeitgeist]. Whatever Mapplethorpe and Basquiat were doing, I definitely wanted to be a part of it," Grattan says, noting that the carpeted look to him also signified a thriving era of Black cultural production—from disco to the birth of rap and hip-hop.
"Are you too lazy to take your shoes off in the house? That's a good question to ask yourself."
But carpeting is demanding, and though it certainly deserves a second look, it's not for everyone. "Carpet is for the person who finds pride in cleanliness," Grattan says. "I've installed white carpet in my bedroom. But that is only because the room gets minimal foot traffic. Thinking about how the room is used—and how often—is an important conversation to have with yourself before choosing to install carpet. Are you too lazy to take your shoes off in the house? That's a good question to ask yourself."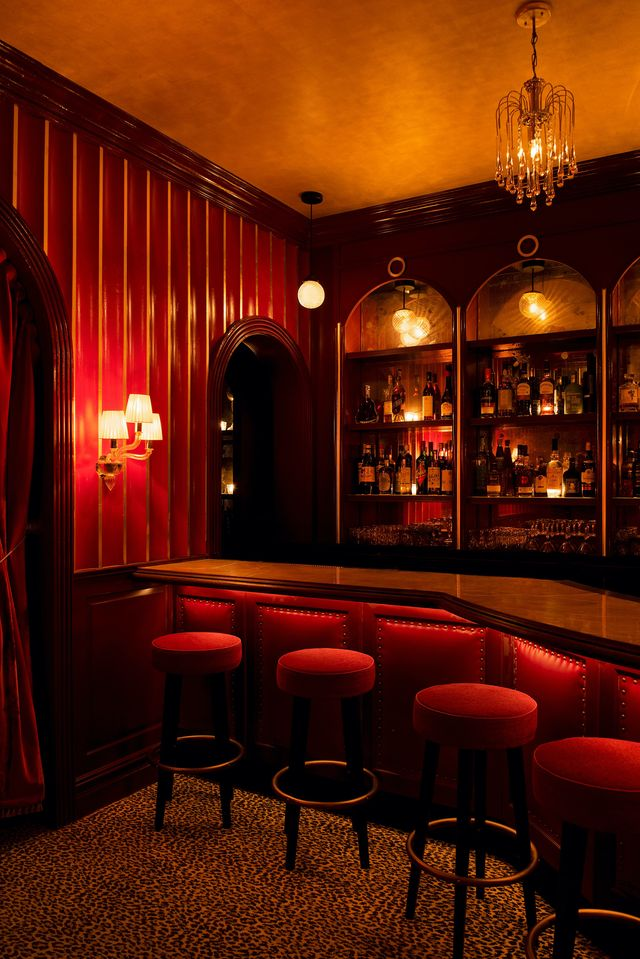 Delicate, pale colors aren't only one option available for designers who are unafraid of broadloom. When he was preparing to open the Nines, his elegant piano bar in NoHo, restaurateur and Golden Age Hospitality founder Jon Neidich followed sage decorating advice from an effortlessly chic woman with an eye for design: his mom, Brooke Garber Neidich.
"Think Halston. But don't think Brady Bunch."

Brooke, a jewelry designer, advised her son to select a leopard carpet from House of Hackney. He had been browsing English florals, but Brooke immediately landed on the leopard pattern. "I was taken aback because it seemed like such a bold move," Neidich says, "but I quickly thought about it, and all sorts of women love leopard: You see it in chic older women, younger women—it runs the gamut." Layered together with antique Murano chandeliers and velvet-upholstered banquettes, the carpet has helped the Nines become an instant hotspot.
Understated or glam, there is much inspiration to be gleaned from the carpeted interiors of the 1970s and '80s, says Stark's Sheridan: "Think Jay Spectre, Ward Bennett, Michael Taylor. Think carpeted platforms. Think Halston. But don't think Brady Bunch."
The 48th Jinhan Fair
Jinhan Fair Online Exhibition