Will COVID-19 lead to a suburban renaissance?
2020.08.04
---
Will COVID-19 lead to a suburban renaissance?
By Fred Nicolaus
The coronavirus may forever change American cities. What does that mean for designers?
In Rowayton, Connecticut, locals can tell that the summer season has truly arrived when the New York license plates start showing up. The picturesque coastal village has long been a magnet for affluent city dwellers looking to escape the stifling Manhattan heat and spend a few months by the water. This spring, however, local designer Elena Phillips noticed something different: There were a lot more bright orange plates than usual. New Yorkers fleeing the COVID-stricken city were flocking to the town—and storming the real estate market.
"People are knocking on doors, asking to rent homes that aren't even for rent—and they're offering obscene amounts of money," she says. "You hear stories about people taking the deal, then scrambling to find an RV to rent for the summer."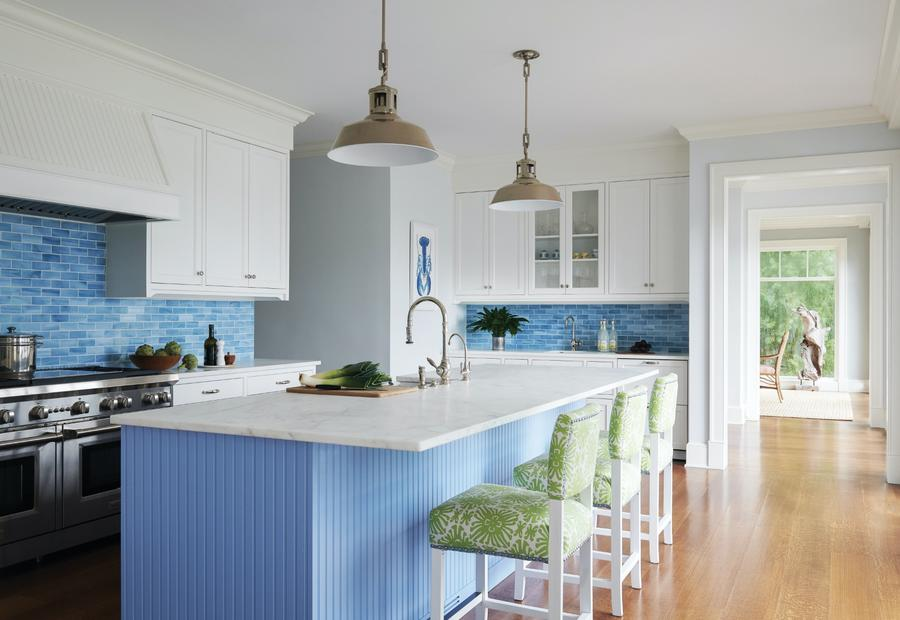 City dwellers escaping to the suburbs often make for ideal clients. Above, a suburban patio designed by Elena Phillips.Jane Beiles
Rowayton is one of many towns in the tri-state area that are facing an influx of new neighbors. In a study of U.S. Postal Service data, The New York Times found that in March and April, double the number of New York residents had asked that their mail be forwarded outside the city. Another report found that about 420,000 people—5 percent of the city's population—had relocated between March 1 and May 1. Of course, these could be short-term relocations. But behind the data looms a larger question: Will people ever feel as comfortable living in crowded cities—cramming into subway cars, pressing greasy elevator buttons, squeezing into jam-packed bars and restaurants—again? And if there is a mass exodus to the suburbs, what does that mean for designers?
Real estate experts tend to be skeptical of doomsday predictions—especially those who have weathered financial crashes and terrorist attacks. Leonard Steinberg, a veteran luxury agent and "chief evangelist" of the tech-enabled New York brokerage firm Compass, says that the demise of big cities like New York, Los Angeles and San Francisco has been exaggerated. "People fleeing the city is the gut reaction you'd expect from something like this, and that certainly did happen just after 9/11," he says. "But as time passes, reality settles in, treatments will be developed, and people will get more pragmatic about the risks."
The coronavirus crisis, Steinberg argues, is less a city-killer than an accelerant. "There's always going to be movement from the city to the suburbs and back again," he says. "I've been speaking to people who have plans to leave the city, and had the same amount of calls from people who say it's time to buy into the city, as prices may go down. COVID has sped up that circle of life."
However, it's undeniable that there are signs of a pending migration. A Harris Poll from late April found that one-third of Americans are considering a move to a less densely populated area. And Steinberg notes that Compass's internal data shows a nationwide uptick in searches for single-family homes and property with outdoor space (as well as a striking jump in demand for swimming pools).
"People are knocking on doors, asking to rent homes that aren't even for rent—and they're offering obscene amounts of money."
ELENA PHILLIPS
Some designers are seeing a shift in real time. Phillips has had two recent inquiries from New Yorkers moving to her region, both looking to decorate their new homes quickly. Another Connecticut-based designer, Jonathan Gordon, has heard from real estate agents that city dwellers have been snapping up local property left and right as they settle in for an extended stretch of remote work.
For suburban designers, the city mouse looking for a country house may be an ideal client: There is a lot of space to fill with design. "The client is going to find that their dollar goes a whole lot further in the 'burbs, in which case they may be able to pick up a house and renovate it and furnish it," says Gordon. "They're moving from a 400-square-foot apartment in the city to a 3,500-square-foot house in Milford. Suddenly you have a foyer, a living room, a dining room, a den, a kitchen with an eat-in area, and a mudroom—rooms you forget exist living in a city."
There are plenty of challenges—speed and a realistic budget, for starters. "You always need to start by setting clear expectations around budgets and lead times," says DuVäl Reynolds, a Fairfax, Virginia–based designer who has helped several clients upsize their digs. "Clients leaving dense cities are often unaware of how much furniture is needed to fully finish the new home. Moreover, clients are always surprised by how many windows exist in single-family homes, which are generally in need of covering—it can add up very quickly!"
Another hurdle is hooking the client in the first place. It's a unique marketing challenge to let potential customers know that you're available to help with COVID-motivated design work without coming across as crass or opportunistic. It's why, in recent months, a flurry of designers have added "home office specialist" to their public listings, without spelling out precisely why. Many are keeping their marketing efforts fairly low-key, reaching out to local real estate agents and hoping that word of mouth does the trick.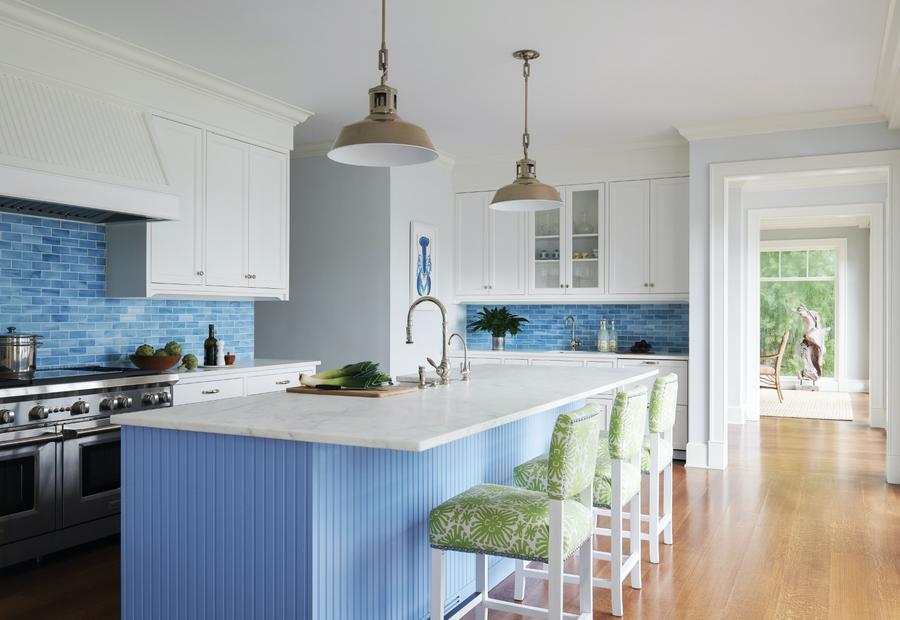 A kitchen from a suburban project designed by Elena PhillipsJane Beiles
"This is a tragedy, not an opportunity," says Gordon. "But the fact [is] that designers can help. There is a need for our services here. I'm a big believer in empathy—you don't want to approach [reaching out to clients] as, 'I'm going to make a buck on this.' It's not the way someone wants to be treated, especially as they may have had a loss in their own family. Sensitivity is key."
Of course, real estate is nothing if not a local business, and migration to the suburbs is likely to correspond closely to the areas impacted most by the coronavirus. New York, the original epicenter of the epidemic in the States, has been hit particularly hard, and it makes a kind of grim sense that Manhattanites would seek refuge outside the city. In San Francisco, where local governments shut the city down early, the region, as of press time, was spared a serious outbreak. Coincidentally or not, local designers aren't seeing as much churn.
"It makes for a good story, this idea of people fleeing, but I haven't felt that by any means," says Marin County–based designer Julie Rootes. "People are very entrenched. They have kids, they spend all this time getting them into schools—those people are really not going anywhere." However, she has noticed an increase in another kind of business: the shelter-in-place glow-up. As the Bay Area's tech companies have more or less given their employees carte blanche to work remotely indefinitely, many are taking the budget they might have set aside for a vacation and reinvesting in their homes. Rootes says that the day her county allowed construction to restart, her phone started ringing incessantly: "That Monday, so many designers I know were slammed—it was instant."
Gina Gutierrez, another Bay Area designer, concurs. "I was nervous about what the shelter-in-place orders would mean for our business, but we got a lot of inquiries," she says. "People aren't necessarily looking to move, but they are looking to make their homes a safe haven: sprucing up paint colors, mixing up the furnishings and getting new kitchens."
It's an experience that will likely be familiar to designers across the country. It's far too soon to tell whether the coronavirus will inspire a vast reshuffling of America's cities and suburbs, but one effect of the pandemic on interior design has been far more immediate: Wherever they live, people have become more deeply invested in their homes.
Homepage image: Jane Beiles
This article originally appeared in Summer 2020 issue of Business of Home, Issue 16. Subscribe for more.
---
Jinhan Fair online exhibition will be held this October from 21 to 27.Should you have any query, we are glad to extend help at marketing@jinhanfair.com or you may reach us by a phone call to 0086-20-89308925.
To discover more about JINHAN FAIR, Please click to view the previous post-show reports.
The 48th Jinhan Fair
Jinhan Fair Online Exhibition