How Macy's And Wanamaker's Dealt With Two Pandemics, 102 Years Apart
2020.05.15
---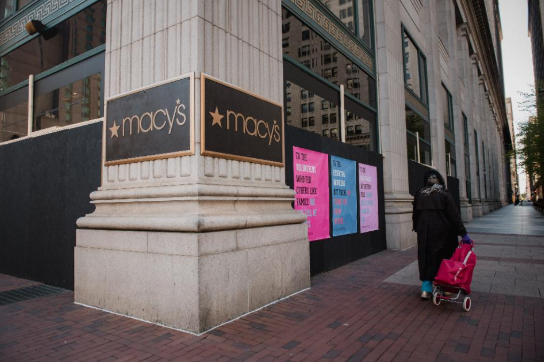 A woman passes a closed Macy's Inc. in Center City, Philadelphia, Pennsylvania, U.S., on Wednesday, ... [+] © 2020 BLOOMBERG FINANCE LP

Will the reopening of Macy's bring a sense of normalcy back to America's retail scene? Department stores, formerly regarded as America's temples of commerce, survived the 1918 pandemic. Can they survive the current one?
There was a time when department stores anchored cities and towns of all sizes. But today they are smaller, fewer and weaker. When governors initially released their individual stay-at-home orders, most retail stores were ordered to close. Businesses that carried health, food and home improvement items were deemed "essential." Most department stores dropped those lines at least 30 years ago.
On Monday, 68 Macy's stores, largely located in southern states, opened for the first time in six weeks. The Shops at Willow Bend Macy's, located in Plano, Texas, was one of those locations. But when the doors were unlocked on Monday, there were no lines. By mid-afternoon, only about 10 shoppers walked the aisles. Registers were quiet and fitting rooms were empty. As some customers chose curbside pickup and others avoided leaving their homes for shirts and sauce pans, Macy's reopening didn't appear essential.
Department stores used to be essential. Most merchandise was traditionally available at department stores. Even televisions and washing machines debuted at department stores. Cities couldn't survive without their stores or their civic leadership. John Wanamaker, one of America's greatest merchant prices, operated his great emporium right in the heart of Center City Philadelphia. He was a community leader and joined the U.S. fight for victory during World War I.
source: Forbes
The 49th Jinhan Fair
Jinhan Fair Online Exhibition