Top Gift Markets: What to Know Before You Go
2019.12.13
---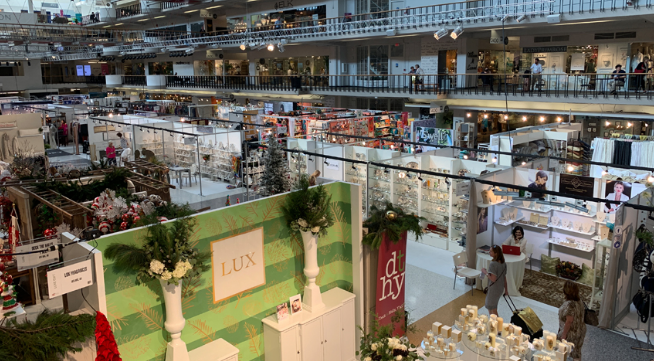 Many gift shop retailers agree that visiting gift and housewares markets and industry trade shows is one of the only ways to stay ahead of the market. The challenge for busy retailers is deciding which shows and gift markets to attend to make the best use of limited time and funds. There are several huge markets throughout the year, plus a growing number of niche events, tailored to specific retail categories and interests from surfing to wellness, to jewelry or collectibles.
We chatted with a handful of gift industry professionals to find out which shows are a must, to help you make travel plans that will pay off for your shop.
Gift shows rule for networking and discovery
First of all, it's a good idea to ask yourself, should you attend any gift markets in the coming year?
According to the pros we talked to, making the trip to at least one major gift show each year can be a fantastic use of your time as a retailer, helping you find the newest inventory to stock your shelves. It can also be fun, energizing, and a great way to network and discover new brands.
"Gift shows are a great way to learn about new trends and products in the marketplace, what's about to go viral and what's not," says Nicole Schaefer, founder of TheGiftingGoddess, a service in Portland, OR, aimed at helping people find the right gifts for their loved ones and clients. "Shows are also a great way to connect and network with your peers and to learn with educational seminars … (and to) get an unfiltered look at what the competition is up to since information is almost always readily available and accessible (at the show)."
While it does cost money and time to attend any event, if you do your research beforehand and go in with a plan, it can be worth the effort.
Atlanta and Las Vegas are mainstays
If you want to see everything in one place, the 53-year-old The Atlanta International Gift and Home Furnishings Market at AmericasMart Atlanta might be the one for you. With over 7 million square feet of exhibit space, it's one of the largest such markets in the world. The Summer Market (scheduled this year for July 9th through 15th) alone has 8,000 brands exhibiting.
For a similarly vast experience closer to the west coast, the Las Vegas Summer Market, coming up July 28th through August 1st at World Market Center in Las Vegas, is a good alternative. (The Winter 2020 market is January 26th through 30th). With 4,300+ exhibitors, it's a bit smaller than the Atlanta market, but some may find it easier to handle.
PR Manager Dallas Britt told us that the focus is on "exclusive products and programming" not easily found at other events, such as fundraisers for charitable organizations, celebrity appearances, and design awards.
"Must do" shows in New York

There are some great choices for east coast retailers, too. For example, NY Now is a wholesale show that many industry pros (including Schaefer) consider "a must" for gift brands and retailers.
NY Now takes place at the Javits Center in Manhattan, with 2,300 exhibitors and more than 25,000 attendees. This year's summer show is August 10th-14th.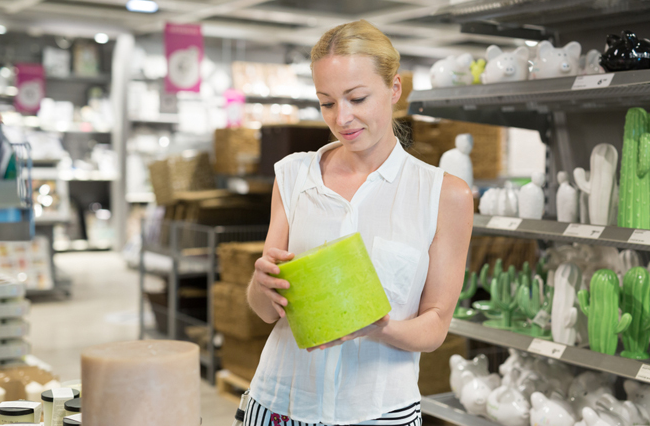 Also in New York, ShoppeObject is a new, up-and-coming show, held at Pier 36 in the city. ShoppeObject coincides with NY Now's dates, making it easy for visitors to do both shows on the same trip.
Stacy Maiano of Red Sail, an accessory, home and gift boutique in Portland, OR, says she has found hundreds of designers that she loves at ShoppeObject. She told us she loves that the show is much more curated than some of the others she has attended and that the quality of the designers is impeccable.
Minya Quirk, ShoppeObject's co-founder, said, "We have an eye on advanced and progressive design-minded brands." According to Quirk, they make an effort to bring in sophisticated exhibitors who cater to top-tier buyers. She says she anticipates around 400 brands and 8,000 attendees at the summer show.
Before you go, set up your finances

With so many shows in the growing gift industry, these are just the beginning. We put together this cheat sheet, to help you research and plan.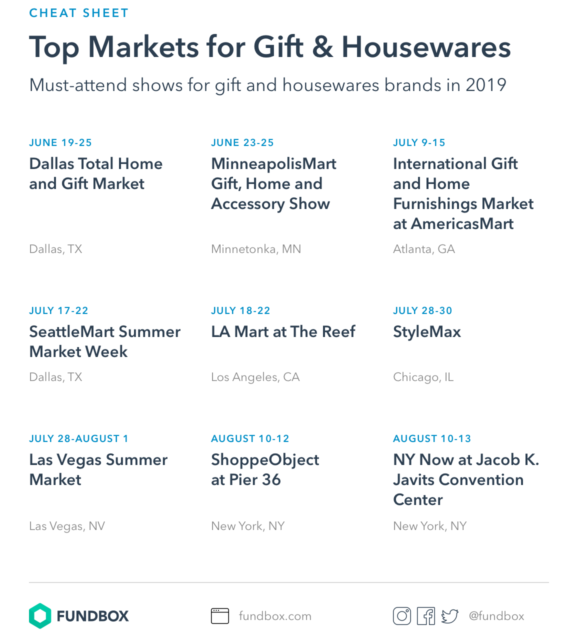 Doing some advance planning and knowing what you're looking to add to your inventory before you go is key. For example, you might eliminate whole categories of products if you already know they just won't fly off your shelves—and then save yourself time by focusing only on other items.
If you plan to make orders at the market, it's a good idea to consider financing before you go, as well. For many of our transactions, both as consumers and as business owners, we rely on credit cards. At the market, that's no different: many of your orders will probably be on credit cards.
However, there may be times when credit cards don't offer either the credit amount or the payment flexibility you want. To sidestep these issues, consider setting up payment terms ahead of time, by applying for Fundbox Pay before heading out to market.
With one fast, simple online application, Fundbox allows approved retail buyers to get free net-60 terms on their purchases. Many leading marketplaces and gift brands accept Fundbox for payment, meaning that if you arrive already approved for Fundbox credit, you can use that credit with multiple orders—all without filling out any new trade credit applications or paperwork.
With a game plan and wish list, and your financing figured out ahead of time, you're more likely to make your next gift market a success.
Souring: giftsanddec.com
---
On April 21-27, 2020, the 41st Jinhan Fair for Home & Gifts will be held at the Guangzhou Poly World Trade Center Expo.Should you have any query, we are glad to extend help at marketing@jinhanfair.com or you may reach us by a phone call to 0086-20-89308925.
To discover more about JINHAN FAIR, Please click to view the previous post-show reports.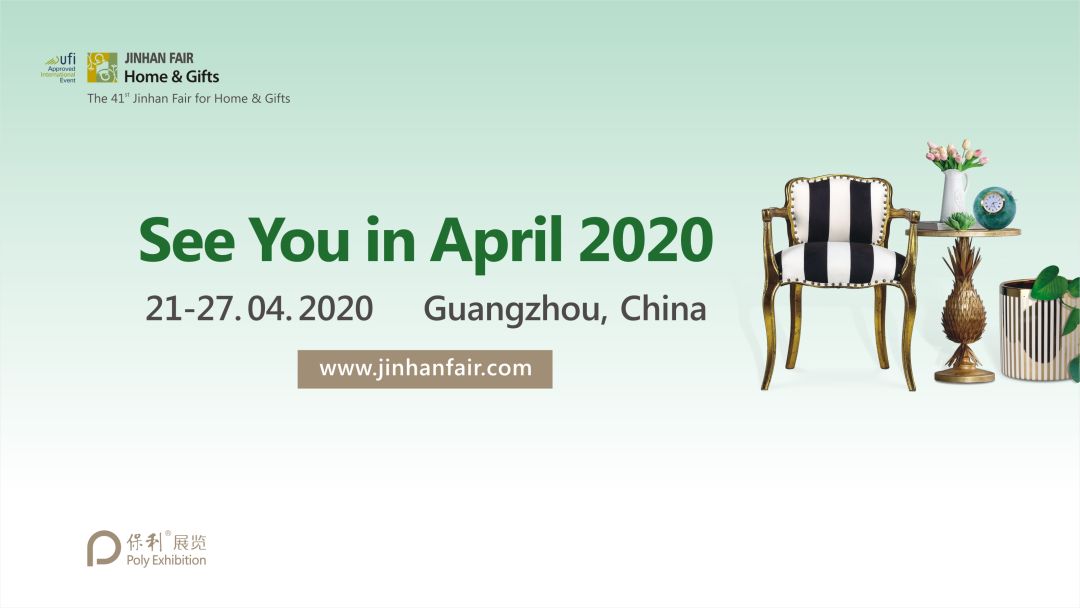 The 49th Jinhan Fair
Jinhan Fair Online Exhibition