5 Retailers Getting the Most Out of Social Media
2016.09.14
---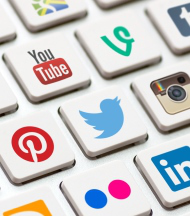 Social media is a key component of any successful retail marketing campaign. The ability to push your products and messaging out to thousands of followers free of charge has tremendous upside — if you do it right.
Internet Retailer's Top 500 E-Commerce Sites ranks e-commerce retailers in a multitude of categories, including which retailers are driving the most percentage of their traffic via their social media efforts.
Below is a quick look at the five e-commerce retailers that are having the most success driving traffic to their websites with social media. The commentary is based off of an analysis of the brands' activity on Twitter, Instagram, Facebook and Pinterest.
Nasty Gal. The apparel, footwear and accessories retailer's website sports both handpicked vintage clothing and a highly curated selection of up-and-coming designers, providing shoppers with unique items that can't be found elsewhere. A whopping 19.9% of the retailer's e-commerce traffic originates via its social media channels. The majority of its posts are product driven across Twitter, Instagram, Facebook and Pinterest, but the brand does a great job mixing in inspirational quotes, vintage images and celebrity photos. The retailer's greatest influence is felt on Instagram where it sports a whopping 2.2 million followers. Traffic Originated From Social: 19.9%.
Evine Live Inc. Evine is a shop-at-home television network. The network and its corresponding website feature a wide range of products across numerous categories including: jewelry, fashion, beauty, home goods and electronics. The retailer's main competition is HSN and QVC. Evine Live has the enviable position of being able to leverage its on-air talent as social media personalities. For instance on Facebook the retailer has 478K on its main brand page, while most of the personalities have individual Facebook pages that sport Evine Live branding and has thousands of followers each. Most of its posts on Instagram are promotional in nature, but in a cleaver manner. For example, the brand posted a picture of delicious looking biscuits to promote that Paula Deen was coming in the next day to demonstrate her induction cooker. Traffic Originated From Social: 11%.
Babyhaven.com. As its name implies Babyhaven.com sells everything a baby and its parents need. The brand stocks innovative and original products across a wide variety of categories including clothing, health, nursery, toys, safety, etc. On Facebook the brand runs contests, inspirational and funny parenting memes, videos, and product-based promotions — promotional posts are approximately 25% of the brands posting on the social network. Product-based posts are even scarcer on Instagram. The brand engages its nearly one thousand followers with educational posts like 25 tips for camping with kids, making homemade popsicles, tips on breastfeeding, etc. Traffic Originated From Social: 10.5%.
Sole Society. Sole Society sells on-trend women's and children's shoes at reasonable prices. The brand's social strategy is simple; it posts beautiful photos of shoes and accessories with the occasional promotional offer or contest mixed in. The retailer's largest audience is on Facebook where over 640K people like the page; on Instagram Sole Society has 118K followers. Traffic Originated From Social: 10.5%.
JJBuckley.com. JJBuckley is focused on selling one thing: wine. The wine retailer has a captive audience on social media. Those that choose to follow the brand are wine drinkers interested in not only purchasing and drinking wine, but gaining insider knowledge about the industry. JJBuckley's social media presence is a mix of event information, collated wine-based article, wine memes, and product/promotional offers. Traffic Originated From Social: 8.6%.
Source from: RIS
The 48th Jinhan Fair
Jinhan Fair Online Exhibition