MARKETING GLANCE: Top 5 Retail Trends to Watch in 2016
2017.02.15
---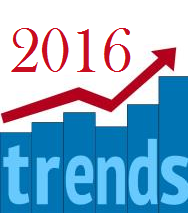 Amazon did not take over the entire retail world. Apple Pay did not eliminate the cash equation in retail stores. Drones are not yet delivering product to our homes. Most CMOs did not become CIOs and it does not look like the IT department is taking over marketing any time soon (if anything, marketers are becoming more technically and digitally adept – more on this below).
Omnichannel is no longer "the" hot buzzword and instead is now mainstream in retail strategy. The holidays were good and with unusually warm weather, a number of retailers will no doubt use this as the excuse for any sales misses. And finally, anything and everything with a Star Wars logo or branding attached sold-thru rapidly.
In 2016, retailers will escalate mobile-first investments and deploy new and evolving technologies in-store while delivering greatly improved online experiences leveraging, evolving content delivery and curation capabilities. Here are several retail areas to watch in 2016.
Mobile First. Three years ago, "omnichannel" was the hot buzzword in retail. Anybody that wanted to be anybody in retail, talked about omnichannel go-to-market strategies like they invented the word (Note: At least three of my analyst colleagues tell me that they came up with the word/concept first…). But now, with the proliferation of mobile devices, retailers will and must take a mobile first strategy approach to digital investments.
A recent Forrester report states that by the end of 2016, 4.8 billion individuals globally will use a mobile phone and smartphone subscribers will represent 46% of the global population, driven by an accelerated adoption in Africa and Asia. In 2016, Forrester forecasts mobile and tablet commerce will reach $142 billion in the US and €86 billion in EU-7, representing respectively 38% and 32% of online transactions. In the US, more than 30% of sales will have a mobile cross-channel component, meaning consumers will use mobile at some point throughout the purchase life cycle, from product research to in-store interactions.
Mobile first in retail means that retailers will increasingly design their products and services for mobile phones or other electronic devices before making parallel investments in traditional desktop and laptop user interfaces. Mobile first requires a new approach to planning, UX design, and development that puts handheld devices at the forefront of both strategy and implementation. This enables a user to view sites created specifically for their mobile device (not just view standard websites on a mobile device).
While discussed for the last two to three years as a "priority," retailers will adopt a mobile first mindset to ensure they capture these consumers before going after users who are still tied to larger and less portable screens.
As consumer expectations of convenience escalate, the pressure will be on retailers to tap new technologies to serve consumers in context where they already are, not where brands find it convenient to serve them. Firms will look to use context both to assemble and deliver experiences dynamically on their own and third party platforms.
Digital Strategy. Defining a digital strategy is an essential part of developing a successful product or brand. For retailers, digital strategy for some has meant e-mail campaigns, websites (including content, community, ads, personalization), and possibly the development of an app. A laptop user experience strategy differs from a mobile user experience strategy in that one is designed for keyboard and mouse interactions while mobile is designed for touches and gestures. The user experience strategy must take into consideration the context, the behavior, the audience, the targeted behavior and the technology channel.
As retailers expand digital marketing investments, expect digital marketing departments to grow in parallel. Digital utilizes many of the content and communication aspects of traditional marketing channels with the infusion of new technology capabilities. Digital marketers bring marketing experience infused with technology to a retail marketing team.
From a digital media strategy perspective, an evolution is taking place. Spending on digital media continues to move at a rapid pace from traditional to digital products and services. Global spending on media is forecasted to rise at a compound annual rate of 5.1% during the next five years, to $2.1 trillion in 2019, from $1.6 trillion in 2014, according to a new study by McKinsey. Digital advertising was the fastest-growing category in 2014, says the report, with a 16.1% increase in spending. By 2019, the report says that digital will account for more than 50% of the overall total for media. Retailers will continue to shift marketing investments to digital channels to accommodate growing consumer reach opportunities in areas like digital advertising, TV advertising and video games.
Analytics and Data-Driven Decisioning. The tools, techniques and available staff with the skill sets to dig into large, varied types of data greatly increased in 2015. 2016 will see continued investment and growth in analytics capabilities within retail organizations — for some it will reside within marketing and others, in IT.
Analytics as a discipline and career focus is hot and many talented, skilled and interested individuals are entering the workforce fresh out of data management-analytics-engineering-oriented undergraduate and masters programs. The timing is excellent for several reasons: new and varied types of business data are becoming available and quickly accessible; storage technology costs are largely decreasing; new and flexible (and even business-centric) analytic tools are evolving quickly; greater, more secure cloud resources are rapidly proliferating; and the value of data-driven decisions is becoming a mindset with c-level decision-makers as "old-school" is quickly becoming irrelevant in the world of digital and fast-moving consumer sentiment shifts. 2016 will present retailers the opportunity to truly do more with their data.
From a digital marketing perspective, analytics is built-into most leading CRM solutions thereby driving segmentation of lists, decisions on offers and promotions to consumers, and personalization routines across channels. The marketer skill set continues to evolve include not only digital, but also elements of analytics.
Fun-Tech (Fun With Technology!). In 2015, we saw the growth and expansion of a number of interesting, cool, fun and engaging technology products, services and capabilities thereby shaping, enhancing and changing the guest shopping experience in different ways. Expect fuel to be poured onto the innovation fire in early 2016 as these will be absolute retailer differentiators.
Wearables: Wearables (fitness monitors, watches, glasses, etc) are showing up everywhere — from Belk's men's department to Verizon retail stores. Evolution and proliferation will continue as new and evolved products hit the market in 2016. Expect the "connected life" and "connected home" concepts to resonate with "connected" consumers.
A/R: Augmented Reality (A/R) has been a topic of discussion for the last two years and recently, Victoria's Secret launched an A/R program to tie the VS app to their winter catalog. The retailer used augmented reality built specifically into the Victoria's Secret mobile application and launched the feature to work with the brand's new winter style guide catalog. The capability leverages a mobile device's camera to let consumers unlock exclusive content from the brand. This same capability could be deployed in retail stores, mailers, e-mails, etc. and provide additional value delivery via the retailer's mobile app. Given the growing connection between print and mobile, it is likely that more retailers will harness the power of augmented reality within print and catalogs to trigger a purchase.
Beacons: According to Business Insider, beacons are among the most important new mobile technologies helping real-world merchants win back sales. These low-cost devices communicate with smartphone apps indoors through a Bluetooth signal. Retail chains are using them to communicate with mainstream consumers in store and according to Shopkick, half of beacon-triggered messages sent currently are some form of coupon. This will evolve into loyalty offerings as when beacons and loyalty apps are used together, they can generate instant rewards, experiences, or location-based offers for the end consumer.
More Fun-Tech: Other interesting and fast-evolving technologies that could surface in 2016 include sensor movement technology on shopping carts, on-shelf availability cameras to provide real-time out-of-stock notification, in-store heat-mapping, virtual stores, QR code track and trace, same-day delivery via programs like Roadie, and mobile scan-pay-and-go.
IOT
Twice as many "things" vs. people connected to the Internet today. Nine billion connected devices by 2018. The Internet of Things (or IoT) refers to the notion of extending the communication revolution to objects — a new reality where objects are interconnected and tech-enabled.
When objects connect to the Internet, they become smart and can take actions based on their environment and track surroundings to help another device or "thing" make a decision. The question is not whether the Internet of Things will happen but how fast and how pervasive it will be.
The IoT will essentially be an enabler of devices, sensors and computing power that powers consumer, business-to-business and government industries. Formerly standalone devices, machines and components become sensor-laden intelligent devices that can communicate with the other gadgets in our lives. In the consumer space, many products and services have already crossed over into the IoT, including kitchen and home appliances, lighting and heating products, car monitoring devices, and more.
With an influx of connected devices in retail, we will also see an influx of data that will continue to fuel the boom in data management, business analytics, strategic insights, capabilities and people (see analytics reference above). IoT will allow companies to measure, collect and analyze an ever-increasing variety of data and information — structured and unstructured. From a product planning, marketing and execution perspective, the mash-up or correlation of data will revolutionize the methods by which CPG and retail companies target, engage and interact with consumers.
There are many efforts underway already by companies to embed identifying chips and scanable codes into as many devices as possible that are connected to our homes and businesses. Three trends are powering the IoT evolution:
 Mobile penetration: Penetration of smartphones, tablets and associated advancements in the underlying infrastructure; digital marketers will have another highly targeted and personal platform to push out their message.
 Cloud advancement: Increases in storage and computing power; flexibility in data access models and increased security; reduced cost to access and store.
 Hardware and software innovation: Chips are becoming cheaper, faster, and more efficient; standardization of device communication protocols is simplifying the hand-offs in data transfer.
From a marketing perspective, there are many questions including how to reach consumers on multiple devices and what role a brand can play with wearable technology or in a connected home. Marketing will be transformed by this connectivity and sea of data that enables truly real-time offers and promotions or interactions with consumers.
Great marketing will be about superb content, emotional connections and less hindered by device or platform constraints. Overall, the Internet of Things is going to challenge marketers to shift power to the consumer.
The winners will be those that shift quickly into a data-driven business model and allow data to drive consumer interactions in real-time where possible while enabling product and service innovators to use a mash-up of data to power innovation cycles. Along with IoT in 2016, the Edge Analytics concept will emerge and become front and center with IoT as the opportunity grows to complete "simple" analytics at the device level without having to bring all of the data into a data center to complete.
Here's to an epic 2016!!
Source from: Retail Info Systems News
http://risnews.edgl.com/retail-news/Top-5-Retail-Trends-to-Watch-in-2016103949
The 33rd Jinhan Fair for Home & Gifts
21-27. 04. 2016
Online Registration available at
The 49th Jinhan Fair
Jinhan Fair Online Exhibition