Walmart acclerates omnichannel agenda in China
2015.08.18
---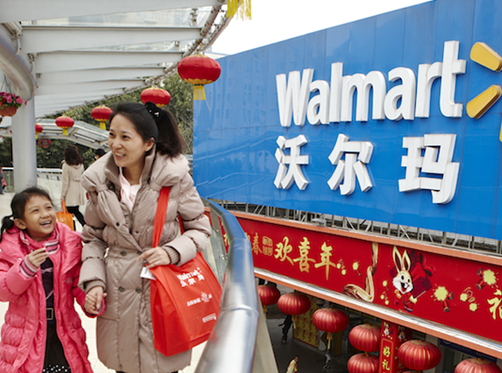 Walmart wants to advance its long-term growth prospects in China and has acquired full ownership of an e-commerce company in which it already held a majority stake to further that objective.
Walmart already owned 51% of the shares of China's online supermarket retailer Yihaodian and in its recently announced deal acquired the remaining 49% from the Ping An financial service group and the company two co-founders. Rumblings of the deal emerged last month when co-founders and former Chairman Gang Yu and former CEO Junling Liu announced they were leaving the company.
The pair founded Yihaodian in 2008 and in May 2011 Walmart made its initial investment in the company. At that time, Yihaodian offered 75,000 products, but less than a year later in February 2012, Yihaodian had increased its offering to 180,000 items and Walmart announced plans to increase its ownership stake to 51%.
During the past four years with Walmart in majority control Yihaodian's product offering expanded to eight million items across 14 product lines including food and beverage, imported food, nutrition and health care, personal care, mother and baby care, home goods, consumer electronics, clothing and gift cards.
With Walmart in full control, Yihaodian will continue operating under its current name and be led by Wang Lu, president and CEO of Walmart Global eCommerce in Asia. In addition, Walmart said it plans to invest in both accelerating e-commerce and creating a seamless experience for customers across online, mobile and stores, but offered no specifics regarding planned investments or new initiatives.
"Yihaodian has excelled as one of China's top e-commerce businesses. We're excited about the team at Yihaodian and their strong local e-commerce experience," said Neil Ashe, president and CEO of Walmart Global eCommerce.
"This local experience, combined with Walmart's global sourcing and our strong local retail presence and supply chain will allow us to deliver low prices on the products customers need in new and exciting ways. Our investment in Yihaodian is part of our long-term commitment to grow in China, and we look forward to continuing to play a positive role in the development of the e-commerce industry."
Walmart has had a long-term commitment to China for a long time. It was one of the first markets the company entered when it began making international forays more than 20 years ago. And in the late 90's, former Walmart International president and CEO John Menzer famously predicted that Walmart's business in China could someday surpass the U.S. business.
It still has long way to go. Walmart currently operates about 410 stores in China, compared to more than 5,000 U.S. locations. However, Walmart does view China as one of its more strategic markets and by 2017 plans to open 115 new stores in China.
Source: Retailing Today
The 48th Jinhan Fair
Jinhan Fair Online Exhibition