Honeycomb Shapes Are the Bee's Knees
2015.06.04
---
Arising out of our continuing love affair with facets and geometric patterns, the six-sided hexagon was bound to be a big hit as a stand-alone shape and all-over pattern. We saw it first in tiles and soon after in drop-repeat patterns on rugs and wallpapers. Now the shape is finding favor in other decor items, too. In side tables, mirrors, shelving, even forming the shape of an armchair, the hexagon is not just beloved by bees for their hives, but is now an interesting geometric shape in our homes, too.
Wallpaper. The beauty of a hexagonal wallpaper pattern is that it can work with either casual, colorful decor or a sophisticated look. The bigger the shape and the more vivid the color, the more suitable it is in a bright, modern room. Small-scale geometric shapes, on the other hand, are a design classic, especially when the pattern is offered in dark and light contrasting colors, and especially when a metallic is part of the general decor, as pictured below.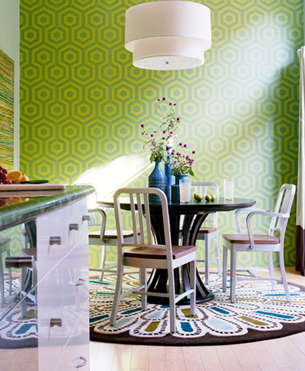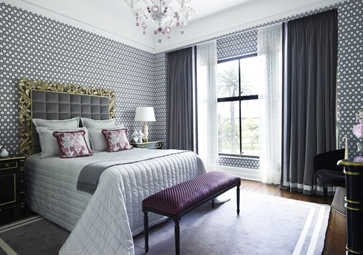 Bathroom tile. Larger hexagonal bathroom tiles are the contemporary version of the small white tile once popular in midcentury bathrooms, hotel powder rooms and even in shared washrooms in public hospitals. In lieu of this smaller tile, the new, big hexagon still lends itself to institutional decor but looks so modern and clean. It works equally well with wood features in vanity cabinetry.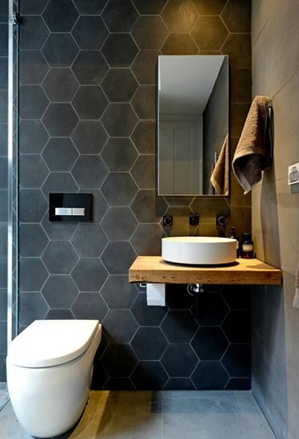 Backsplash. A hexagonal-patterned backsplash can give a kitchen a utilitarian look, but the rhombic shapes also lend themselves to a look that creates a dappled effect when every alternate tile is a different shade of the same hue. The individual shapes can also be varied in texture, as seen below in a kitchen backsplash made with low-relief tiles with a bubble profile.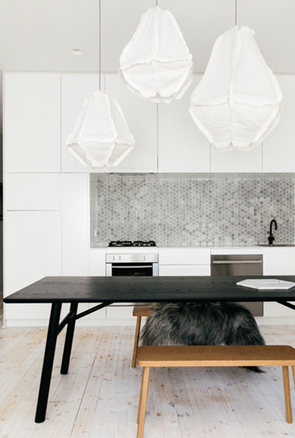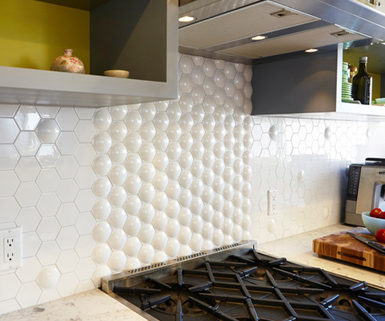 Display case. Why store your stuff in boring squares and rectangles when a handy hexagon can accommodate all you want to display? Crafted in wood, hexagonal display cases or wall boxes have natural appeal while still providing a fun, decorative element.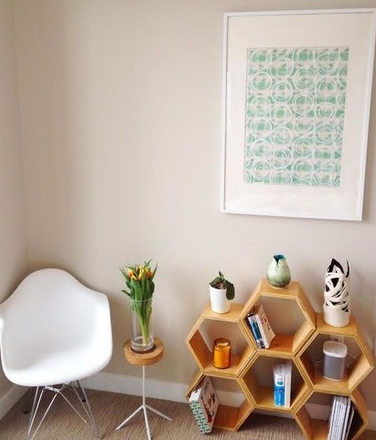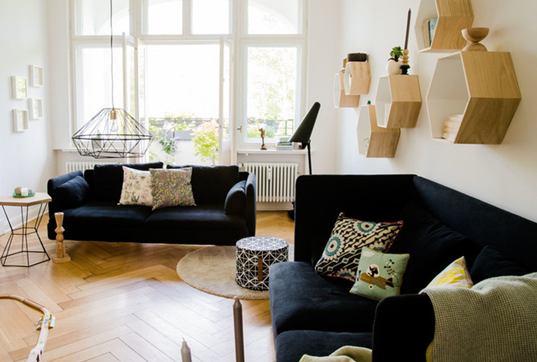 Buffet. There are so many exciting ways to jump on the hexagon-decor trend these days. This buffet is all Hollywood glamour and style, but with a honeycomb pattern on its facade, it is not just fabulous but fashion-forward, too.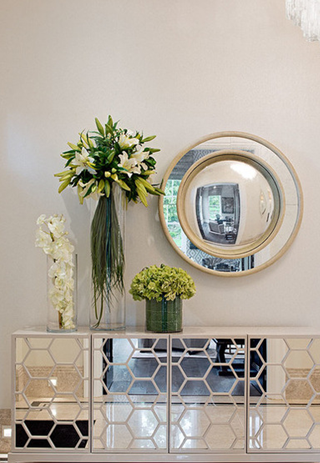 Side table. As a side table, the hexagon shape has no equal. Its angular surface is ample enough to support a variety of objects but unusual enough to work in a stylish environment. Another benefit is that as the hexagon is a shape with six equal sides, a group can fit together without any space between them. The clusters of hexagonal shapes featured in the two living room images below are interesting alternatives to the traditional rectangular nests of side tables.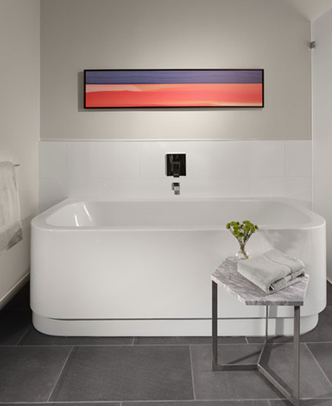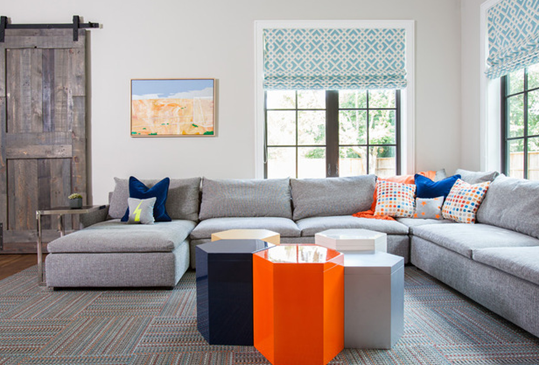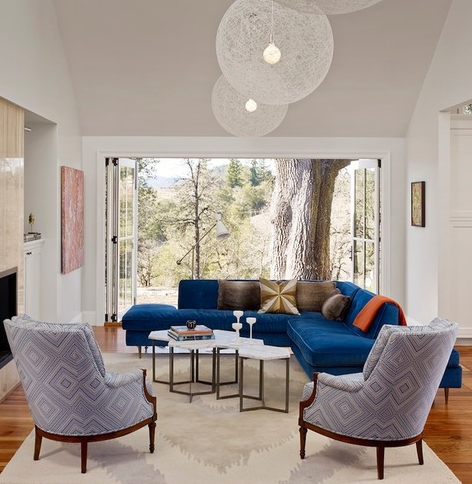 Armchair and ottoman. Elegant, refined and contemporary, the hexagon shape lends itself to furniture of all types, but as an armchair it takes on a new versatility, with low, angular arms and soft upholstery. Pair it with a hexagonal ottoman and your living room, no matter how conservative in style, will never be viewed as "square" again. If you don't want to be too directional but still want to introduce the hexagonal shape to your sofa setting, upholster a favorite armchair or couch in a small hexagonal-patterned textile, as in the bedroom below.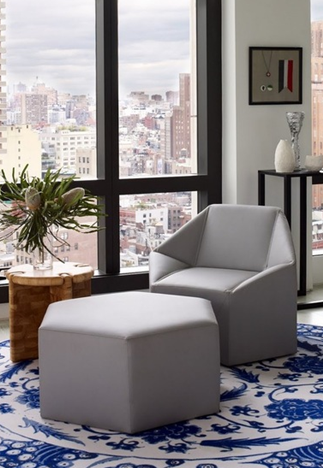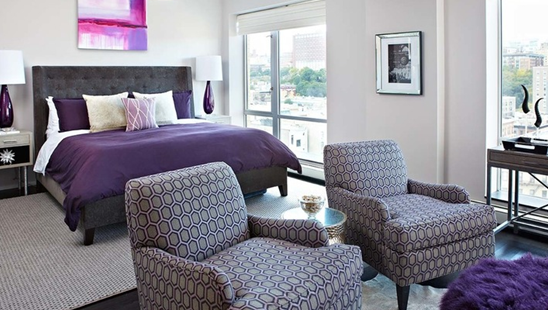 Wall art. The best thing about the hexagon is that it can interlock to form a larger shape. Get creative and attach a series of shapes to a wall to form both a functional mirror and wall art.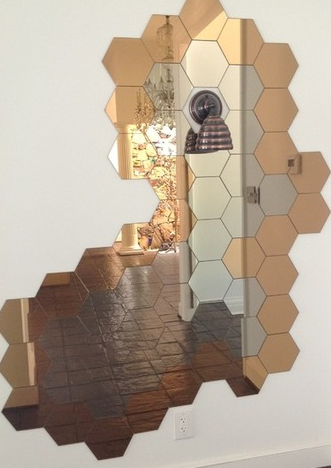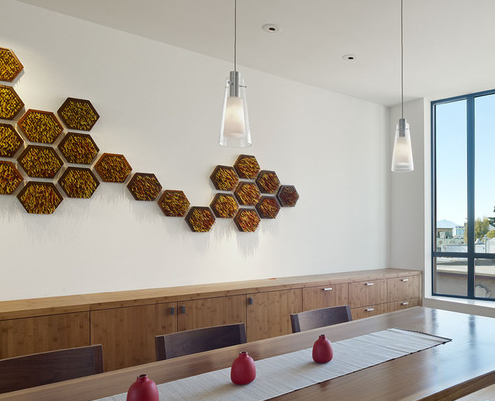 Pendant lamp. Bring a touch of glamour to urban traveler style with an exclusive pendant light crafted in metal-framed glass hexagons showing a delicate honeycomb design. In this master bedroom, the motif is repeated in a couple of strategically placed mirrors on either side of the bed.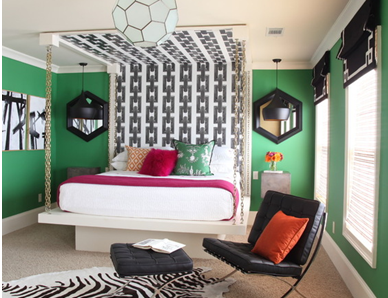 Carpet and floor coverings. Move over, circles and squares; the new shape in town is the hexagon. It's quite interesting on its own, but when paired with others it makes a honeycomb pattern that feels fresh and new. For a subtle effect, choose a rug with a honeycomb pattern and texture in one block color. Alternatively, create a dramatic contrast to carpet by painting the floor with a bold hexagon design in black and white, as seen below.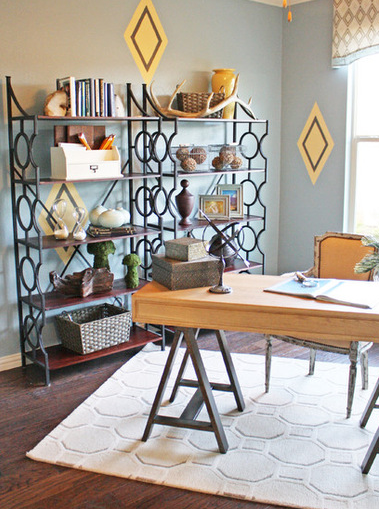 Source: Houzz
The 49th Jinhan Fair
Jinhan Fair Online Exhibition