9 Ways to Jazz Up Your Decor With Pattern
2015.05.29
---
These ideas show how to add oomph to a space without going overboard
Whether you're a lover of neutrals or partial to simple color blocking, a well-chosen pattern is a great way to tie together a color scheme, bring focus to a space and define the theme of a room. See some of the myriad ways Houzz pros have sneaked pattern into decor that wouldn't scare even the most pattern-shy among us.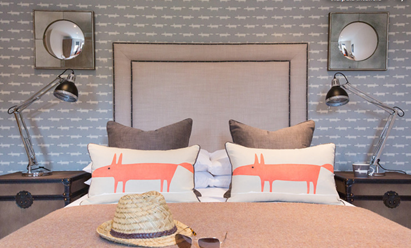 1.Put it on repeat. Repeating a motif in different colors and sizes, as this designer has cleverly done with a fox print, is a subtle way to incorporate pattern throughout a room without swamping it with shapes. The flattering contrasting palette picks up the print and prevents this theme from looking too matchy-matchy.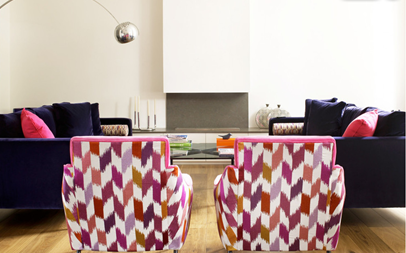 2.Give neutral a twist. Vibrant upholstery, limited to one or two pieces of furniture, lends a refreshing feel to an otherwise minimalist room. A shot of color, as in the fabric covering these armchairs, keeps white from looking too sterile and brings a welcome focus to the room. Add a couple of throw cushions in a complementary print to garnish.
3. Raise expectations. The word "wallpaper" can be misleading. After all, why would we think to wallpaper our ceilings? But this unexpected take on convention is one that would have me gazing dreamily upward all day. Think outside traditional decor rules by adorning plain walls with decorative moldings, and keep the color scheme neutral so you can be more adventurous with artwork that complements, rather than overwhelms, your choice of wallpaper.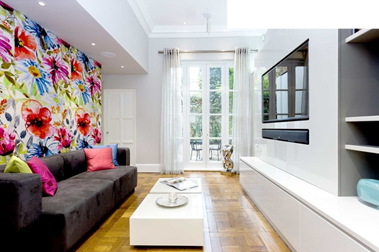 4.Have a wonder wall. This could have been a masculine-looking space, but the sleek lines and glossy textures are about as far from a bachelor pad as it gets, thanks to the glorious meadow adorning one wall. The pattern provides the perfect backdrop to the neutral decor, with the stunning watercolor flowers keeping the room light and airy.
5. Make it a mosaic. Patterned tiles are perfect for adding a Mediterranean feel to a bathroom. Rather than limiting brightly colored tiles to just walls or the floor, take it a step further and try a cascade of tiles down one wall to blend vivid prints and plain white for a cohesive design.
6. Extend your interior. Echoing a backdrop, such as the monochromatic urban setting in this photograph, with patterns in a complementary color is a cohesive way to bring the outdoors in. Repeated details, such as the stripes in the photograph and on the drinks bar, are a subtle way to echo a print, and the gray checkered rug ties the pattern theme together while keeping the space cozy with soft textures.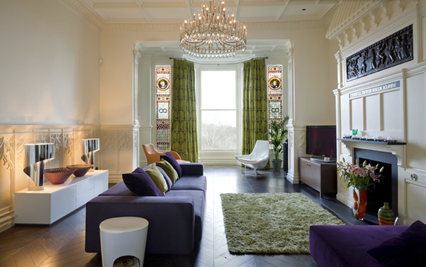 7.Dress the windows. There's nothing quite like stained glass windows to bring character and elegance to a home — and they also serve as an unexpected way to incorporate pattern. The period feel of the cornices and chandelier in this room perfectly complements the vintage glass, while contemporary furniture and a bold color scheme that picks up the bright hues of the window keep the room looking modern and fresh.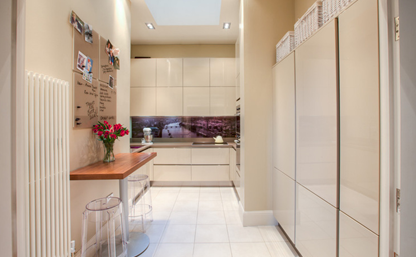 8.Take it to another dimension. A printed backsplash is an inspired way to add depth and dimension to monolithic kitchen cabinets like these. The urban cityscape is the perfect pairing for the sleek lines and modern textures of this kitchen, and the unexpected hue is a flattering alternative to black and white. For a more traditional kitchen, a floral print or patterned ceramic tiles would work just as beautifully.
9. Double-check your decor. Pattern-shy decorators, take note: Patterns can be combined to surprisingly subtle effect. The checked fabrics of the upholstery and rug in this room are complementary and unobtrusive — the key here is that one is quiet and the other does the talking. The rug picks up the warmth of the wooden interior and the rich hue of the curtains.
Source: Houzz
The 49th Jinhan Fair
Jinhan Fair Online Exhibition