21 Reasons to Decorate With Purple
2015.03.11
---
Helen Mirren caused a stir in the media recently when she had the chutzpah to ride the New York subway, sitting next to — shock, horror — a real person. But what also got people going was that she was wearing — wait for it — purple gloves. If she had been wearing black, green or even orange gloves, her handwear would hardly have warranted a mention, but purple, and it's a headline.
You see, purple can be a quirky color. It's not always easy to get right (Mirren did), and it's a color that people tend to either love or find repellent. I'm definitely in the former camp, but I've been a bit scared to use it ever since painting my bedroom a pretty shade of lavender, only for a friend to remark some time later, "Yuck, who would ever choose that color paint?" But as these photos show (not one a child's bedroom), purple in all its hues — whether a little bit or a lot is used — can be lovely and even sophisticated.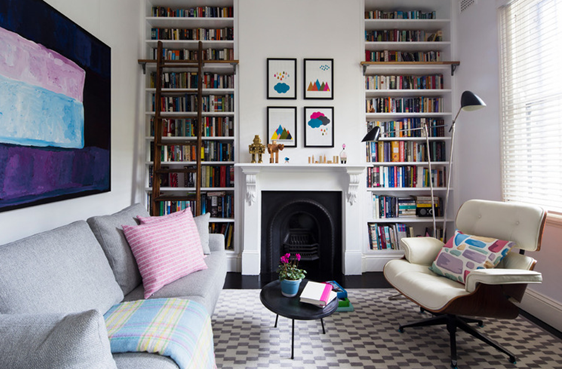 1. Subtle and stylish. There's not that much purple here, but what there is, is featured strongly — a striking presence in the artwork and more subtly in the beautiful rug. White forms the backdrop, with shades of pink, blue and gray, all working rather perfectly together.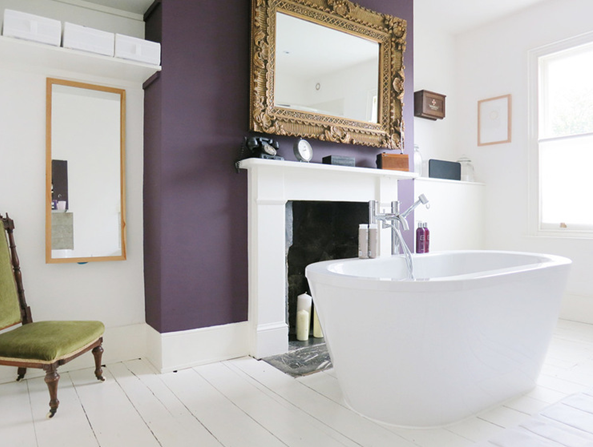 2. Dark and dreamy. An aubergine-y kind of purple in the bathroom, among mainly white and a touch of green, is classic and deeply relaxing.
3. Proudly purple. Even as a confessed purple lover, I would never have thought of painting so much exterior in purple, but this shade takes the contemporary, angular home to another level.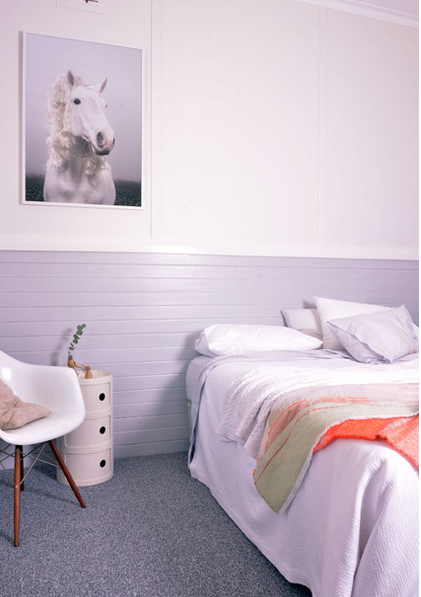 4. Cool and calm. Who'd have trouble sleeping in this lovely, dreamy bedroom, awash in the palest, washed-out lilac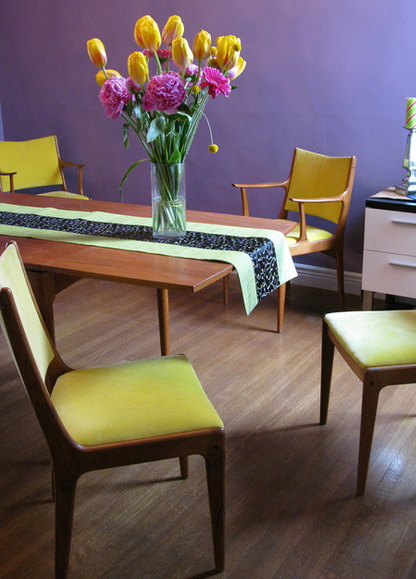 5. Midcentury. Purple doesn't necessarily spring to mind when we think of midcentury colors, but here with the chartreuse chairs, it's a striking backdrop.
6. Stunning with white. If you love purple but are afraid to use it, try it in the bathroom. Use a dark, moody shade and pair it with white porcelain for a calming and clean look.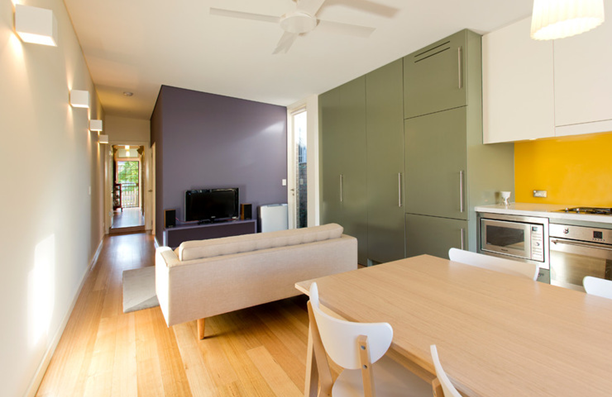 7. Naturally with green. Purple makes a great accent color. Purple and green is a combination often found in the natural world. Pair two equally washed-out shades and they'll get along great together.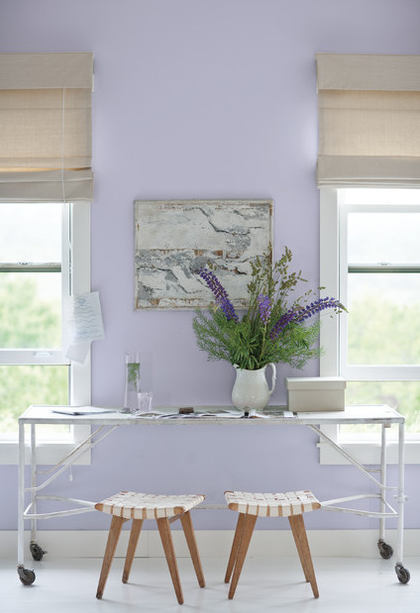 8. Palest of pale. Washed out and pale is one of the most beautiful versions of this color for the home. Add a touch of nature.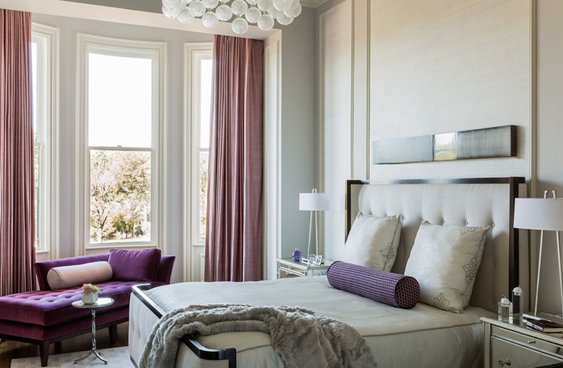 9. Regal roots. Of course, purple is perhaps best known as the color of royalty, so give your bedroom a regal touch with hints of dark purple.
10. Plush purple. Or bring plummy accents into your soft furnishings for a plush and relaxed feel.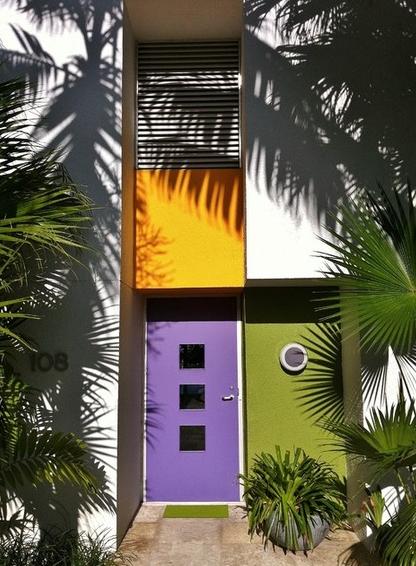 11. Front door appeal. If you're going to use purple in only one place, consider making a splash on your front door.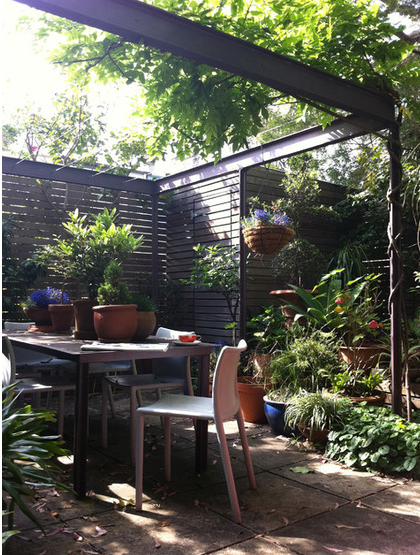 12. Outdoor appeal. As we find purple shades often in nature — think of the beautiful hues of lavender, heather, plums and berries — consider adding some to your outdoor living areas. Here it's understated in the painted outdoor structure.
13. Purple pleasures. Here it's bolder but still calm and relaxing in the inviting outdoor furniture, contrasting with nature's green.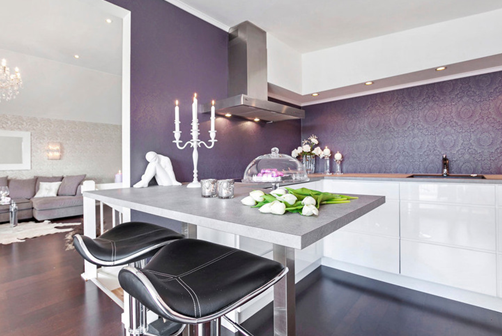 14. In the kitchen. Purple and white in the kitchen is a bold and stylish choice.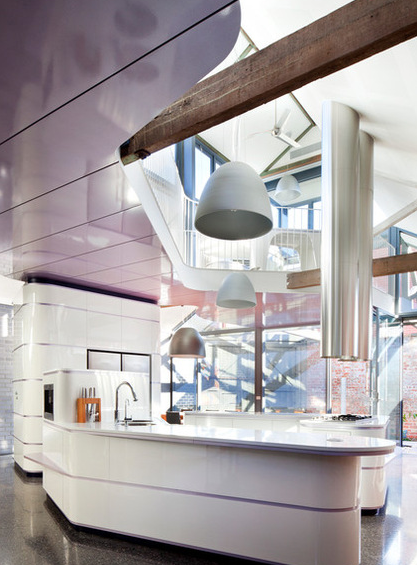 15. Purple heights. Here's another purple and white kitchen, but unexpectedly, the purple is found in the dramatic ceiling.
16. Sitting pretty. If you love purple but don't want to commit to it on your walls, adding pops of purple hues in the form of furniture is a great idea. Here the chair covers are enticing in a vibrant shade of violet.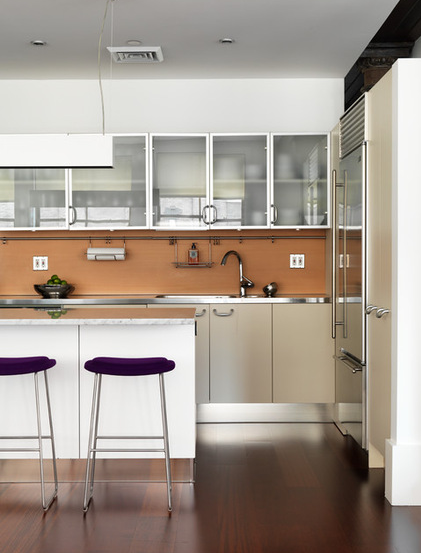 Kitchen stools are a great way to add a dash of the color without its being overpowering.
17. Purple pops. This New York City loft is full of strong hits of purple — the dark ottoman takes center stage in this laid-back room. Shades of gray are perfect partners to bring sophistication to a purple palette.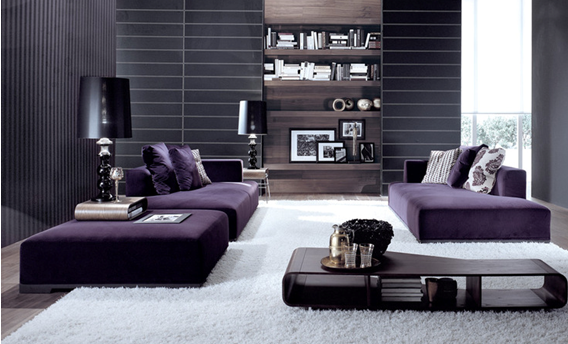 18. Toned down with charcoal. Shades of charcoal and a deep purple make for a soothing palette for an intensely relaxing sitting area.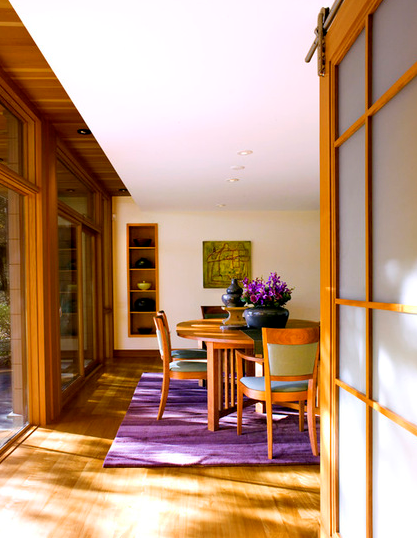 19. Add a rug. Another way to add your favorite color is in the form of a rug. This violet one is the star in this wood-accented dining area.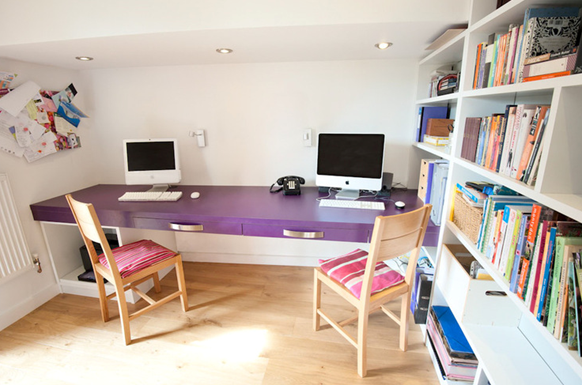 20. Purple power. Enliven your home office area with a purple hit — and an unusual color choice — for your desk.
21. Stairway to heaven. Purple has always been associated with the mystical and supernatural. So introducing some unexpected purple touches to your home is a way to inject some magic. While it can be sophisticated, it can also be fun.
Source: Houzz
The 49th Jinhan Fair
Jinhan Fair Online Exhibition