Michel Toys, a German Big Buyer's Way in Choosing Suppliers
2015.03.10
---
【Company Profile】
Almost all importers and exporters of the home products industry are familiar with Michel Toys. This German big buyer has been importing and wholesaling gifts, home decorations, discounted products and holiday products for more than 40 years.
Although there is "toys" in the name of Michel Toys, the company does not only trade toys. It started from a small shop which sold wooden toys and tables near the famous Michel church of Hamburg. Today's Michel Toys has diverse business area that covers 7000 kinds of products in home decorations and holiday gifts; it owns a 1200 square meters' show room, and has more than 12,0000 stable customers across Germany, New Zealand and even Argentina.
Michel Toys has been a loyal buyer in JINHAN FAIR ever since the first session. In the past 30 sessions, buyers of Michel Toys were sighted busy sourcing around. In last session, Michel Toys brought a team of 7 buyers from their headquarters in Germany to source at the FAIR "simultaneously", identified new products and designs which would be mostly welcomed in the market. Now, JINHAN FAIR has accounted 20-25% for the global sourcing amount of Michel Toys.
Lutz Biermanski, the sourcing leader of Michel Toys said, "It is such an enjoyment being in JINHAN FAIR. We are here to buy and meet many new people and old friends……. I also found that it's always easier to find new trends here at JINHAN FAIR, this brings us with more inspiration. Exhibitors of JINHAN FAIR focus more and more on product design and innovation; the display of exhibits are more esthetic and clearer, this allows us to easily get the design concepts of products.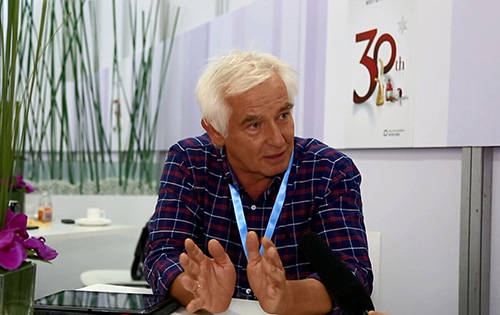 【Sourcing Habits】
Michel Toys normally dispatches a 10 persons' sourcing team to work together with agents from Hong Kong and Taiwan. They progress according to product lines and hold meetings periodically to communicate on the sourcing progress and discuss about the ordering situation;
Their sourcing covers the 6 categories of products at JINHAN FAIR.
【Preferred Suppliers】
Michel Toys have innovated design and solid quality; focus on the work environment of staff to ensure Fair Trade. Michel Toys examines the factory of each supplier, to understand directly the manufacturing capacity and staff's work environment.
【Products】
Mainly gifts and home decorations, discounted products and holiday products, toys, etc. Such as, party supplies, porcelain and iron small ornaments, candle-stands, national flags, iron gardening products, wine-holders, cloth and wooden home drawers/boxes, photo-frames, plastic and porcelain dishware; wigs, bracelets and necklaces, hats; seasonal decoration like, Christmas lights, Christmas Tree balls and wall ornaments, Easter ornaments, Easter eggs, etc.
【Products Demonstration】
The 48th Jinhan Fair
Jinhan Fair Online Exhibition