Top Design Trends From the Winter 2015 Las Vegas Market
2015.01.26
---
Designers from 76 countries and all 50 U.S. states have descended upon Las Vegas this week to check out the newest offerings from the leading home decor manufacturers, lines and brands at the winter 2015 Las Vegas Market for furniture, home decor and gifts. The market building spans 16 floors and is 1.2 million square feet. More than 420 temporary exhibits in more than 90,000 square feet will be on view until January 22.
Interior designer Shannon Ggem is in the middle of it all, wearing out her feet and her iPhone spotting new trends, comparing notes with other designers and reporting them back to us. Some have made their way to the U.S. from other countries, some are twists on existing trends, and others are fun surprises. There are beautiful textures, shapes, finishes and interesting combinations of all of the above to feast your eyes on. Enjoy and please weigh in on which ones you'd like to incorporate into your home in 2015.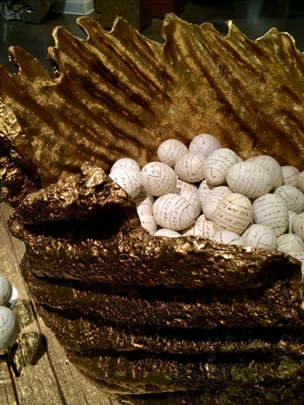 Sneak preview: This photo incorporates three of the trends mentioned below. Extra points for whoever can name all three in the Comments section.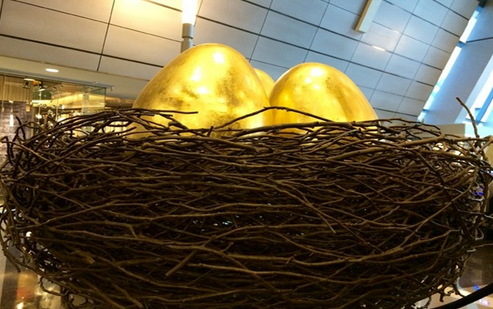 Eggs. The first trend is a farm-fresh surprise. Though I suppose with hip urbanites harvesting eggs from their backyard chicken coops, it was only a matter of time before eggs caught on as a design trend.
Clearly the Las Vegas Market agrees with celebrating eggs, as they are making a first impression with this sculpture — called "Home," by Michael Aram (not for sale). The sculpture greets visitors at World Market Center, home of the Las Vegas Market. "Eggs are so evocative, because they are the promise of things to come," Ggem says.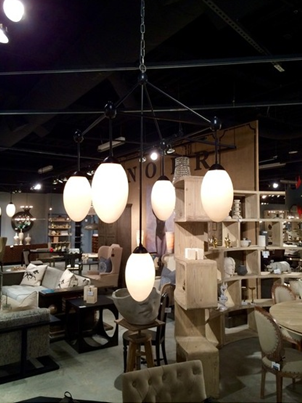 From light fixtures to nesting boxes, egg shapes are everywhere at the market.
The Sedna Chandelier from Noir is a beautiful combination of dark metal and egg-shaped glass pieces.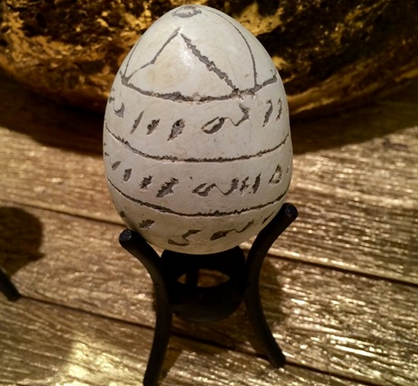 "Eggs are about creation, family and my fried eggs to get me through the day!" says interior designer Judy Bernard.
Rose-gold hues. Warm metals, like brass and shades of gold, have been gaining popularity for the past few years, but we hadn't seen a lot of rose-gold tones in home decor lately in the U.S., until now (though the team at DKOR Interiors predicted it was making its way across the Atlantic after their visit to the Milan market last year).
"Rose gold is making a big appearance this year," Ggem says. She's seeing it "in a variety of ways, from a contemporary geometric chair from Bend to a set of leaf platters from Interlude, as well as enhancing natural shapes at Phillips Collection."
"A pinky copper color like rose gold is optimal when you want to use a metallic but don't want it to be cold," Ggem says.
Isla Leaf Trio in gold: Interlude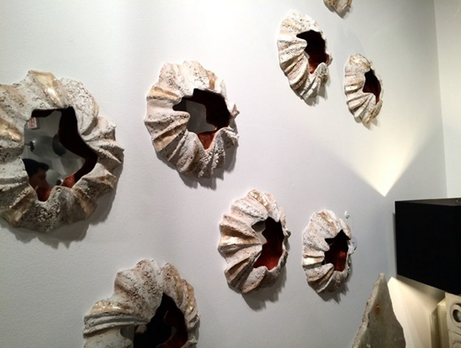 Organic shapes. "This year's market is a texture festival," Ggem says. While the geometry trend is still strong, all sorts of organic shapes are popping up in sculptural ways. They range from eggs to leaves, from branches to these Barnacle Wall Art pieces, encrusted with rose gold, from Phillips Collection.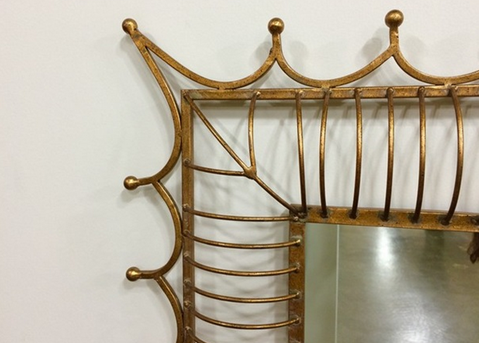 Gold leaf. Rose gold isn't the only metal having a shining moment at this market. Gold leaf is "all over the market this year. We saw it on a stunning Bunny Williams for Mirror Image Home mirror [this photo], on the most fantastic faux bois legs of a shell-top table at Made Goods [next photo], creating silhouettes in Wendover ArtGroup's collection, shimmering against a Venetian mirror in Go Home and making an elegant impact at Phillips Collection," Ggem says.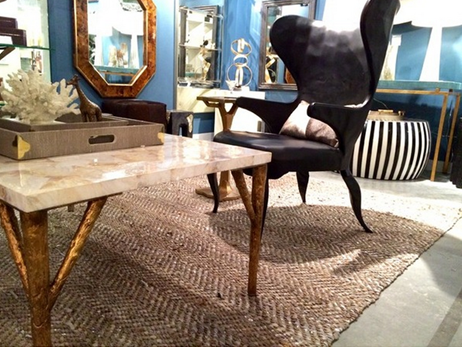 "I love how gold leaf has become something you can mix into a casual setting. It used to be only for heavy formal estates, but now you stick it next to a raw linen slipcover and it looks just right with your remote control on it!" Ggem marvels. "How did that awesomeness happen? It is so pretty!"
At Made Goods, the Magar coffee table has legs with a wood-grain-textured gold-leaf finish. They pair beautifully with the table's heat-pressed shell top.
Wood and resin. Even the roughest-hewn wood is getting some gloss this year. "I was so excited to see wood and resin at all different price points in all different shapes and sizes," Ggem says. "The resin adds a little shine and puts the focus on the beauty of the wood."
Some makers have added recycled glass or metallic flecks to the resin, while Made Goods is keeping it clear on its Kas nesting tables. The tamarind wood is encased in acrylic resin, giving the aged pieces a more contemporary look.
"The combination of wood and resin reminds me of the Japanese art of kintsugi, when broken pottery is repaired with gold," Ggem says.
Each of the Glitz Stools from Phillips Collection is unique; they are made of discarded teak-root remnants. The voids in the wood are filled in to create a block with embedded crystallized-look resin and recycled glass.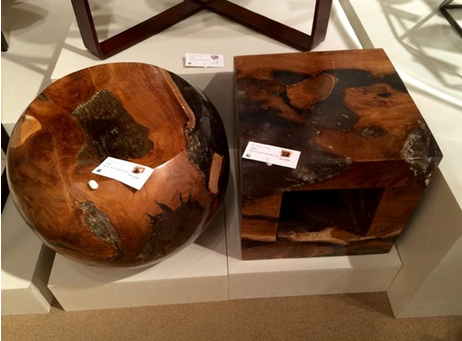 "These teak and acrylic pieces combine texture and warmth — they have an earthy elegance," says interior stylist and shop owner Jennifer Maxcy.
Interlude's Holloway pouf and Machans cube are composed of natural teak and cracked resin.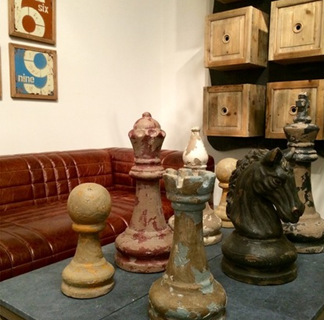 Fun and games. Fitting for the Vegas surroundings, game and card motifs will be big in 2015.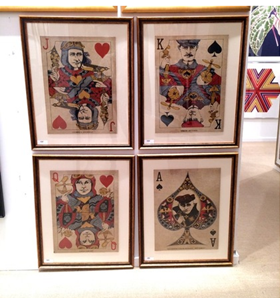 Ggem is noticing "a vintage-game and playing-card thread through the market," she says. "These playing cards, from Wendover Art Group, are notable because they feature famous pilots. The Wright brothers, Amelia Earhart, the Red Baron and Charles Lindbergh are represented on these wonderful pieces."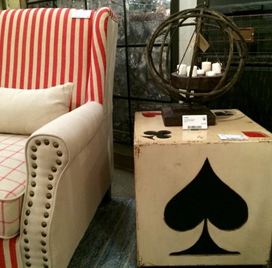 A carnivalesque black, red and cream color palette springs up from the hearts, spades, diamonds and clubs on Uttermost's Gin Accent Table. "There was something very 1940s about some of these looks to me," Ggem says.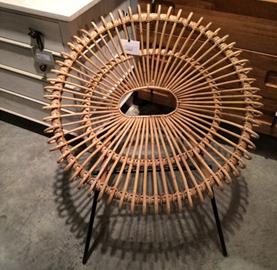 The "Papa-Pulco." Noir is calling this the Scoop Chair. It's a simple mix of rattan, rattan peel and metal, and it's a new twist on a familiar shape. However, Ggem and her colleagues keep running into different version of this chair all around the market and have come up with some names of their own for it. "It reminded Jennifer Maxcy of Acapulco chairs and reminded Judy Bernard of papasan chairs," she says. "We have been calling them 'Papa-Pulcos!'"
Or should they be called "Aca-sans?" Do you have a better name for them? If so, please share it in the Comments section. We'd also love to know if any of the trends from the winter 2015 Las Vegas Market will be making their way into your home — or if
Source: Houzz
The 47th Jinhan Fair
Jinhan Fair Online Exhibition