Clever Ways to Rethink the Linen Closet
2015.01.26
---
he Hardworking Home: Get rid of those toppling piles with these ideas for organizing bedding, towels and more
If you've been living with a linen closet crammed too full or jumbled and messy, bring order to the chaos by rethinking this hardworking space. From dividing and conquering (towels in the bath, sheets in the bedroom) to installing smart closet organizers, these solutions can help.
Hardworking space: The linen closet.
The challenge: Keeping an entire household's sheets, blankets, towels, extra pillows, duvets and tablecloths in one little closet is asking for trouble. Too-high piles teeter and fall, and pretty soon the whole closet is a mess. Get things under control by thinking through exactly what kind of storage you need and where to put it.
Good to know: Check your linen stash before settling on any new storage system. Count the total number of towels, sheets and duvets to get a full picture of the storage space you'll need.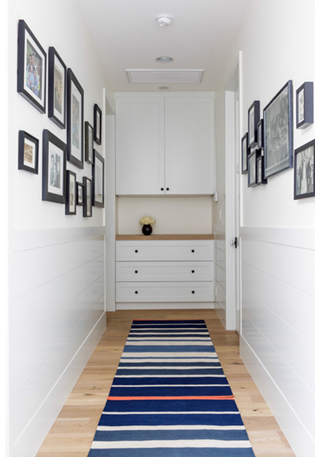 Design idea: Built-in chest of drawers and cabinet in the hall.
Why: Drawers keep smaller linens contained, while upper cabinets provide more room for bulky items like spare pillows. The counter makes a handy surface for folding and sorting laundry.
How: Work with a cabinetmaker to design a chest of drawers and upper cabinets with the right combination of storage space to contain your linens. A built-in unit like this one puts every inch of space to work, but if you rent or are looking to keep costs down, a freestanding dresser would also work.
Cost: About $900 to $1,200 (and up) for built-ins, depending on size, materials and regional rates.
Design idea: Linen cupboard in kitchen.
Why: Storing things where you use them makes life easier. Store tablecloths on pullout hanging rods to keep them wrinkle free, and napkins and placemats in a sliding drawer.
How: If you are planning a kitchen remodel, speak with your kitchen designer to get the details you desire. If you want to add this feature to an existing cabinet, you can install ready-made components yourself or contact a cabinetmaker to make them for you.
Cost: About $200 to $300 for a cabinetmaker to add a pullout linen hanger and drawer to an existing cabinet.
Design idea: Outfit a traditional linen closet with organizers.
Why: Avoid the dreaded toppling pile of linens by subdividing your linen closet using smart organizers, and find what you need without a fuss.
How: Shelving, towel racks on the back of the door, shelf dividers, and storage baskets and boxes make a linen closet far more functional. Pick up components yourself at an organizing store or a home improvement store, or hire a closet designer to create the perfect linen closet for you.
Planning tips: Think about the type and quantity of linens you need to store, and pare down before going shopping. A bit of careful planning will prevent unnecessary purchases.
Cost: From about $200 for a bare-bones setup for a smaller closet to around $700 for a more elaborate design with help from a pro.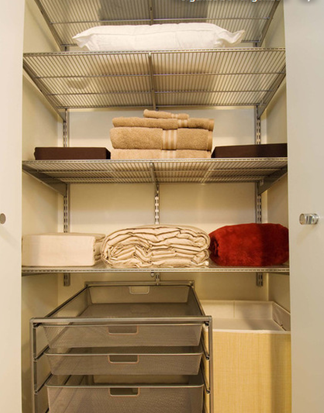 Space saver: Use adjustable shelves. Being able to lower or raise shelves easily will help your linen closet work harder. That way when something changes (say you take off your big duvet at the end of winter), you can quickly make space for it in the closet.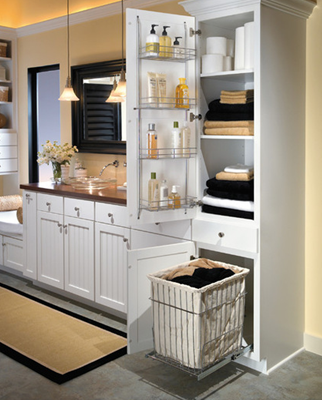 Design idea: Customized bathroom cabinet.
Why: Storing towels in the bathroom is convenient, and incorporating a spot for dirty laundry and bath essentials makes the space work even harder.
How: Outfit an existing cabinet with a pullout laundry bin, wire door storage and adjustable shelves. If you are planning a bathroom remodel, work with a bath designer to incorporate the features you want.
Cost: About $150 to purchase a pullout laundry bin and door storage unit for an existing cabinet.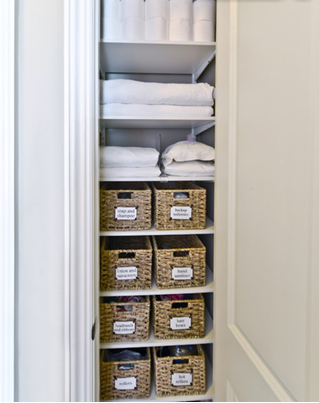 Organizing tips:
Use labeled bins for storing small items to save time and avoid confusion.
Place sheet sets inside a pillowcase or basket, so you can grab the entire set at once.
Tuck a slim stepladder inside your linen closet to make reaching the upper shelves easier.
Design idea: Glass-front cabinet in the bedroom.
Why: In a home without much closet space, a freestanding cabinet can provide storage for bedding and can look good doing it. Kept in the bedroom, it also is convenient for making the bed.
Extras: If you need to store more utilitarian items in a glass-front cabinet, use labeled bins to keep things neat and easy to find.
Cost: Expect to spend $800 and up for a freestanding glass-front bookcase or cabinet, either new or antique — although bargains can be found if you're willing to hunt around.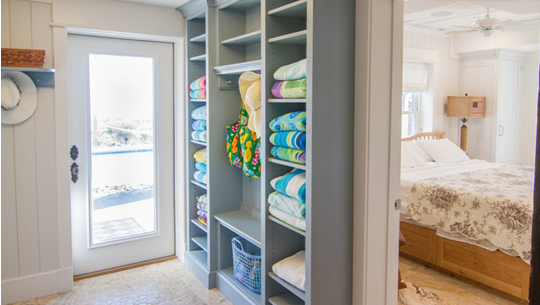 Design idea: Open shelving.
Why: Keeping storage open makes it easy to find what you need quickly, which can be a blessing in busy households.
When this works: This works well in a home with the bedrooms and bath upstairs, so you don't need to worry about visitors seeing your linens if it gets a little messy. If you know that members of your household aren't likely to manage putting things away relatively neatly (and if that will bug you), it may be better to go with closed storage.
Safety tip: Whenever you use a tall, heavy piece of furniture (especially if kids are in the house), it's a good idea to anchor it to the wall.
Cost: You can purchase basic bookcases for $100 and up each. Expect to pay much more for bookcases made from solid wood.
Source: Houzz
The 49th Jinhan Fair
Jinhan Fair Online Exhibition