Australia attracts more of the world's retail chains
2017.02.15
---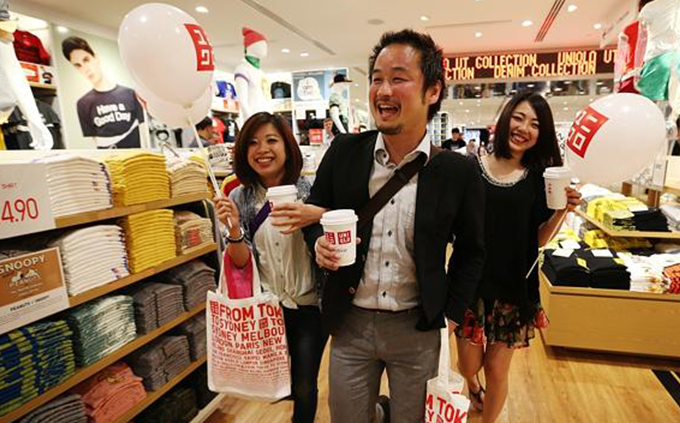 Japanese clothing company Uniqlo is looking to open in Brisbane.
AN expected expansion by global retailers such as H&M, Uniqlo and Zara into Queensland this year underscores a growing push by international brands into the Australian market.
A new report by Deloitte to be released today reveals a growing number of the world's top 250 retailers now have physical outlets in Australia.
A falling Australian dollar is expected to attract more retailers in the future as they bolster their considerable online presence here with "bricks and mortar" outlets.
Of the world's top 250 retailers, 37 now have stores in Australia, up from 30 in 2013. Those opening their doors for the first time last year included fashion retailers H&M, Uniqlo, Forever 21 and Sephora.
US cookware chain Williams-Sonoma, which also owns furniture brands Pottery Barn and West Elm, is also reportedly eyeing Queensland.
Williams-Sonoma opened its first Australian store in May 2013, the first company-owned outlet outside North America. It now has 13 outlets in Sydney and Melbourne.
A Williams-Sonoma spokesman said the company was "exploring other key cities in Australia."
H&M will open their first Queensland store at Indooroopilly in March followed by another outlet later in the year at the revamped Broadway on the Mall in the Brisbane CBD.
Uniqlo also recently committed to opening an outlet at Broadway on the Mall, which is currently undergoing an extensive refurbishment.
Zara, after opening its first shop on the Gold Coast last year, is reportedly pushing ahead with plans for a Brisbane outlet later this year at 155 Queen Street Mall, in the old HMV Centre.
Deloitte Australia retail industry leader David White said the weakening Australian dollar and increasing competitive pressures were driving the push by foreign retailers into the local market.
Mr White forecast new global players will continue to enter the Australian market and those already here will expand their store footprint. "Australian retailers will continue to face significant challenges and increased competition," he said.
International cosmetic company Sephora, which is owned by Louis Vuitton, and Japanese home ware giant Muji are still looking for significant space in the Queen Street Mall.
Knight Frank director of retail leasing Michael Hanscomb said he expected the retail market this year to be "dominated by fast-fashion international niche retailers" such as H&M and Uniqlo.
Uniqlo Australian chief executive Sho Miyasaka said the local retail market will be strengthened by the entry of various international brands.
"We believe the Australian market will provide Uniqlo with some great opportunities" Mr Miyasaka said.
Source: couriermail.com.au
The 47th Jinhan Fair
Jinhan Fair Online Exhibition